40 Halloween Makeup Ideas & Looks To Try This Season
This ultra-hydrating, blood-red lip-liner doesn't just contour the lips effortlessly. It's infused with the benefits of Hyaluronic Acid, Argan Oil, and Vitamin B5 that nourish the lips thoroughly. It's smudge-proof and leaves behind a creamy-matte finish that feels so light on the lips.
11. Weird Barbie Halloween Makeup
Yeah! This Halloween makeup look is a literal representation of Barbie and Vamp in one frame. This is one of the funniest and spookiest looks you can create for your Halloween party.
12. Scaredy Cat
There's no doubt cats are cute. But they look spooky too sometimes. So to achieve this easy-to-do Halloween makeup look, you could draw last-minute whiskers on your face with eyeliner and call yourself a Halloween-cat!
13. The Joker Halloween Makeup Look
This Joker Halloween makeup look is one of the most popular and scariest of all. DIY with face paint, line your lips with black lipstick and take this look a level higher!
14. Scarecrow Fever Halloween Makeup Look
If you're going solo as a scarecrow at your Halloween party, this Halloween makeup look is so cute that you can't go wrong with it.
15. 60s Halloween Makeup Look
False lashes, dark bold eyeliner, plumpy pink lips and not-so-tamed eyebrows make up a great Halloween makeup look.
16. Electric Eyeliner Halloween Makeup Look
The beauty of any makeup look is when you can carry that in confidence. All you have to do is create those electric waves near your eyes, paint your lips black, colour those eyelids in shimmery eyeshdaow and you'll achieve an amazing Halloween makeup look!
17. Ice Queen Halloween Makeup Look
This is the time to pile on glitter on your face! A mix of white paint with your foundation will give you that frozen makeup look. You can finish off this Halloween makeup look with holographic blue lipstick.
18. Pikachu Halloween Makeup Look
Some strategic paint with a yellow tint on the face with 2 red dots on each cheek is the perfect way to achieve this Halloween makeup look. Try this look if you want to do it differently this year!
19. Webbed Masquerade Mask Halloween Makeup
Halloween is the best opportunity to try different interesting masks. You can draw an eyeliner on one cheek and try a stick-on for another.
20. Sun & Moon Halloween Makeup Look
A picture of this Halloween makeup look looks from a galaxy from not so far away. It's unique and fun at the same time.
21. Ouija Board Makeup
The spirits speak through this picture. Isn't it!? This Halloween makeup look is guaranteed to fetch compliments!
22. Deer Halloween Makeup Look
If you want to spread cute vibes more than spooky, this Halloween makeup look is perfect for you!
23. Wonder Woman Halloween Makeup Look
The pop-art take on this wonder woman is absolutely stunning. So give this makeup Halloween a try and steal everyone's attention!
24. Zodiac Sign Halloween Makeup Look
Even if you don't believe in zodiac signs, you can give this enchanting Halloween makeup look a try!
25. Mother Nature Halloween Makeup Look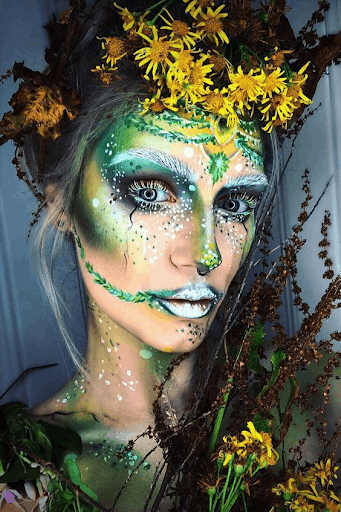 This Halloween Makeup Look gives a huge shoutout to Mother Nature with different layers of flora on the face.
26. Autumn Halloween Makeup Look
Don't be surprised if you freak out folks in the crowd seeing this Halloween makeup look! The falling leaves on the face look classy, scary and not so complicated to create.
27. Lite Bright Pixie Halloween Makeup Look
Pearls and glitters in cotton candy colours in this Halloween makeup look can look sinister and sweet.
28. Jigsaw From Saw Halloween Makeup Look
This Halloween makeup look is known to be one of the most scariest makeup looks of all!
29. South Side Serpent Makeup
If you are someone who's all about 'I do what I want to', this ballsy Halloween makeup look is for you.
30. The Terminator Halloween Makeup Look
Take on this Terminator Halloween makeup look with this half-woman and half-machined styled look.
31. Broken Doll Makeup Halloween
This Halloween makeup look is a perfect mix of cute and creepy vibes. You can pair this look with a pink floral dress and high socks.
32. Zombie Makeup For Halloween
Shaded eyelids with painted grey lips could be your ultimate Halloween makeup look for this year!
33. Galactic Mermaid
Be it near an ocean or a galaxy far away, glitter is always an appropriate accessory for an ideal Halloween makeup look.
34. Cute Clown Halloween Makeup Look
Take out the dark factor of clown costumes this year with this red and pink makeup look. This is one of the most popular and best Halloween makeup looks of all time.
35. Glow In The Dark Skull Makeup
If you really want to go all out and make your face actually glow in the dark, this is the best Halloween makeup look you should give a try.
36. Picasso Painting Halloween Makeup
This Halloween, paint your face like a beautiful yet scary artwork!
37. Genie Halloween Makeup Look
Get this Halloween makeup look with blue face paint, black lipstick, holographic glitter and black eyeliner!
38. Pop Art Tears
Keep your face bare in its natural tone with half the work to create with tears in blue paint falling through your eyes. Pair this Halloween makeup look with blue lipstick to add an oomph factor to this look!
39. Spider-Woman Halloween Makeup
To achieve this easy and impressive Halloween makeup look, paint half of your face like a spiderman mask and you're ready to step out.
40. Melting Pop Art Makeup
If you're up for going all experimental in your Halloween party, let this melting pop art Halloween makeup serve as your inspiration!
Which Halloween makeup look did you like best?

Also Read
Also, Look For
Popular Categories
Makeup Products | Skincare Products | Hair Care Products | Bath & Both Products | Sanitizing Care Products | Lip Makeup Products | Face Makeup Products | Eye Makeup Products | Nail Makeup Products | Makeup Kits | Bridal Makeup Kits | Lipstick Set | Makeup Accessories | Cleansing Products
Trending Searches
Lipstick | Cleanser | Foundation | Nude Lipstick | Highlighter | Matte Lipstick | Liquid Lipstick | Nail Polish | Lip Balm | Sunscreen | Face Wash | Compact Powder | Lip Gloss | Eye Kajal | Eyeliner | Face Blush | Concealer | Lip Tint | Shampoo | Mascara | Eye Shadow | Face Primer | Crayon Lipstick | Face Serum | Hair Serum | Lip Liner | Hair Oil | Loose Powder | Pink Lipstick | Brown Lipstick | Purple Lipstick | Red Lipstick | Peach Lipstick | Sheet Mask | Night Cream | Sindoor | Moisturizer |