30 Halloween Nail Art Designs To Get Spooky With This Season
Halloween is right around the corner and it's most definitely time to figure out how you're going to celebrate this fun day. Now, whether or not you're big on halloween costumes, you still can celebrate Halloween with minimal effort; just get your nails done in a cool halloween nail art design. And if you're looking for the perfect one to go with your spooky personality this season, we have a unique selection of nail art designs just for you.
What is Halloween Nail Art?
Halloween nail art is inspired by Halloween and typically involves scary or villainous themed artworks on the fingernails. Since people dress up in scary costumes to celebrate the festival, halloween nail art is an easier and stylish way to get in with the celebrations. 
Top 30

Halloween Nail Art Designs Ideas To Try
Want to get your nails halloween ready? Here's a list of 30 halloween nail art designs that range from quirky and cool to edgy. There's something for everyone.
1. Bloody Disco Nail Art
Go glamm with a silver glitter nail polish on stiletto shaped nails and then splash on some red nail lacquer for a bloody effect.
2. Harry Potter Nail Art
Calling all Harry Potter fans! This black and white nail art design is made specially for Potterheads on Halloween.
3. Slytherin Nail Art
Do you identify with Slytherin house or the death eaters from Harry Potter? Then this nail art design is something you just can't pass up on. It's got snake skin, the deathly hallows symbol, and the death eater's symbol with black glitter polish too.
4. Eye Of Sauron Nail Art
Lord of The Rings fan? Then this Eye of Sauron inspired Halloween nail art is right up your alley.
5. Frankenstein Nail Art
Frankenstein's monster is another popular Halloween character that you can get painted on your nails along with vibrant colours for a quirky pop art statement.
6. Black Cat Nail Art
Black cats are considered to be a dark omen and they are pretty popular around Halloween. And getting them on your fingertips with this cute and quirky minimalistic Halloween nail art design is on the to-do list.
7. Dracula Nail Art
Get none other than Dracula himself painted on your nails with this minimalist graphic Halloween nail art design.
8. Ghost Pokemon Nail Art
If you're a Pokemon fan, you got to get this gang of scary pocket monsters painted on your nails. And you can get them over a glittery purple jelly nail base too.
9. Jigglypuff Nail Art
Jigglypuff is one of the most powerful Pokemon to exist and it's so cute too. Naturally it makes for the perfect deadly cute Halloween nail art.
10. IT Clown Nail Art
If you thought the movie 'It' which is an adaptation of author Stephen King's work was scary and cool, get your nails styled in this artistic Halloween nail art design.
11. Halloween Cat Nail Art
Love cats? Bring them together with this cool characterised spooky cat Halloween nail art design where cats are dressed as monsters.
12. Monster Inc Nail Art
If you're in the mood for cute Halloween-inspired nails, try this nail art design inspired by the Monster Inc. movie.
13. Zombie Nail Art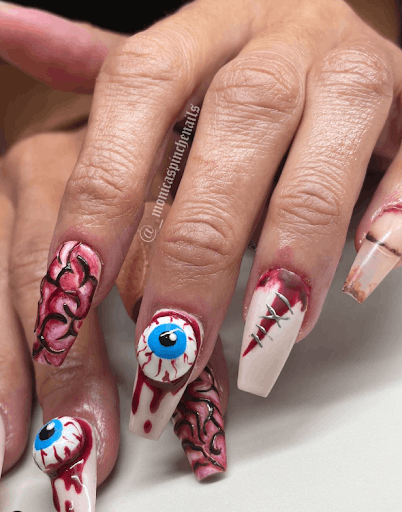 Want to go as a zombie for Halloween? Try these zombie inspired nails with blood, stiches, and a lot of brains.
14. Spider Web Nail Art
Spice up cobwebs which is a popular halloween decor item with this spider web nail art design featuring jewel embellishments.
15. Venom Nail Art
This Venom movie themed nails are dark, scary, and extremely cool.
16. Poison Ivy Nail Art
Dress up as posion ivy or simply just rock these poison ivy nails for an easy and alluring rendition of the infamous Batman villain.
17. Grim Reaper Nail Art
Grim reaper nails with black polish, bloody red drops, and a rhinestone skull is just stunning.
18. Scream Movie Nail Art
Remember that movie Scream? Well, this cute and black nail art is inspired by that cult-favourite horror film and it's totally cute.
19. Dragon Skin Nail Art
Keep things edgy and versatile with this dragon skin nail art design that also looks sophisticated and stylish.
20. Dragon Ball Z Nail Art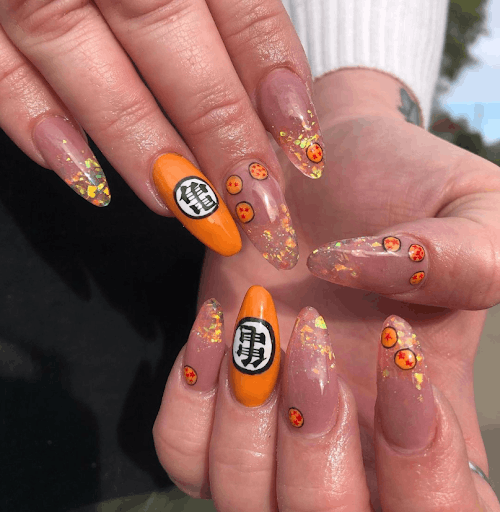 If you loved Dragon Ball Z growing up, you're going to love having collected all the dragon balls on your nails with this vitbant Halloween nail art design.
21. Medusa Nail Art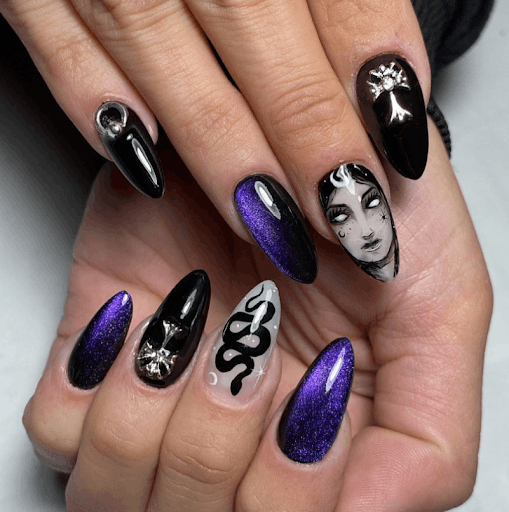 Medusa is a terrifying goddess is greek mythology who turns everyone she looks at to stone and that's why this medusa themed nail art is so scary and perfect for Halloween.
22. Mummy Nail Art
Mummify your nails with Egyptian mummy themed nail art for Halloween 2023.
23. Bat Nail Art
You can't resist this cute and chic bat nail art that makes for a stylish Halloween french manicure design.
24. Coffin Nail Art
Go all the way with coffin shaped nails and coffin nail art with a night sky and bats for a spooky manicure design.
25. Halloween Pumpkin Nail Art
Carved pumpkins are a symbol of this festival and that's why this Halloween nail art design is a great choice.
26. Dagger Nail Art
This dagger nail art design is an edgy and stylish nail art design for Halloween 2023.
27. Mojo Jojo Nail Art
If you're into that cute halloween aesthetic, try this super duper cute Mojo Jojo nail art design inspired by the Power Puff Girls cartoon show.
28. Skeleton Nail Art
Pointy black stiletto nails with white skeleton finger bone design is just genius and totally suited for Halloween.
29. French Ghost Nail Art
If you want to get into the Halloween spirit but are still a minimalist at heart, try these French manicured nails with a cute ghost design accent nail.
30. Disney Villain Nail Art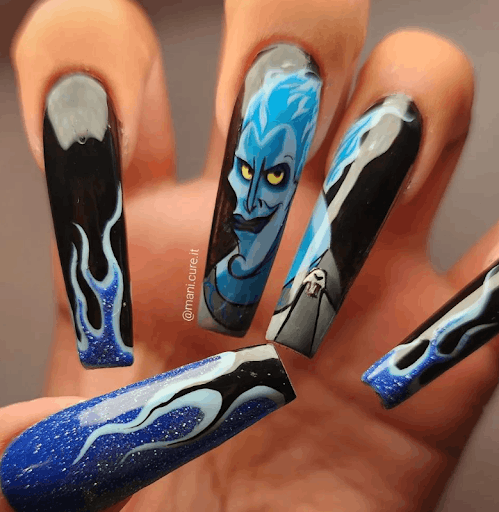 Pick any of your favourite Disney villains and get them painted on your nails this Halloween. Hades from Hercules makes for some insanely cool halloween nail art.
MyGlamm Recommends Nail Products
MyGlamm Two Of Your Kind Nail Enamel - High on Drama
Two nail polishes at the price of one, this nail lacquer duo is a must-have for creating fun and bold nail art designs. It features a blood red nail polish shade and a gold glitter nail polish shade.
MyGlamm LIT Matte Nail Enamel - Flex
Want a quick drying nail polish to get your nails done in a jiffy? This matte nail polish is just what you've been looking for. With a non streaky formula that doesn't chip easily and gives a gorgeous matte finish, it will be a great addition to your nail kit.
Manish Malhotra Nail Lacquer - Midnight Muse
This is a gorgeous nail lacquer that has loads of shine and is highly pigmented. The shade midnight muse is a deep blue shimmer shade that is a perfect base for recreating halloween nail art designs.
Conclusion 
Simple or OTT, this list of 30 halloween nail art ideas has something for everybody and it's going to be a tough choice to decide on just one nail art design to rock this season.
Related Stories
Evil eye nail art designs: - Evil eye symbols are super popular in the nail art world because they just look so cool and quirky too. Here are a few designs that you can try out.
Black nail art designs - Love dark manicures? Then this list of black nail art ideas are sure to tickle your fancy.
Nude nail art designs - If nude manicures are your thing, you're going to have a plethora of options that you will be eager to try out. Just check out this list of nude nail art designs and bookmark your faves.
Halloween makeup ideas - Halloween makeup looks & how to recreate them.
Halloween eye makeup -  Halloween eye makeup looks and how to recreate it.