8 Trendy & Easy Eye Makeup Looks To Try In 2023
The hottest eye makeup looks in 2023 are going to make you grab your makeup kit right away. The eye makeup trends that are doing the rounds are fun, flirty, and absolutely chic. There's even something for those of you who like to keep your look more edgy. And the best part is these eye makeup trends are so aesthetic and will really give you that main character energy. Check them out!
Types of Eye Makeup Looks for 2023
Here are the best eye makeup looks doing the rounds in 2023 that you need to know of. From cute to edgy, there's something for every kind of vibe.
Latte Eye Makeup Look
The Latte makeup trend is super popular amongst celebrities and for good reason. The highlight of this makeup trend is chocolatey coffee-toned eyeshadow that is sometimes paired with eyeliner or eye kajal in black, brown, or bronze hues. The easiest way to achieve the latte eye makeup look is to apply a dark brown eyeshadow on your lids and lash lines and then finish off with mascara.
POPxo 12 Eyeshadow Kit - Nood Crew
This eyeshadow palette has the best shades of brown and nudes to ace the latte makeup trend. Each of the 12 shades in this palette is super pigmented and enriched with vitamin E.
Balletcore Doe Eye Eye Makeup Look
The doe eye makeup look has got a modern spin thanks to the ballet core makeup aesthetic. Think of pretty ballerinas and how chic and princess-like their makeup looks. To ace this easy 2023 doe eye makeup look, simply apply a smooth metallic eyeshadow in a single highlighting shade like silver, gold, or rose gold all over your lids right up to your brow bone and even some on the inner halves of your lower lash lines. Finish with mascara and enjoy your super cute and easy eye makeup look.
Manish Malhotra 9 in 1 Eyeshadow Palette - Soire
This eyeshadow palette has all the shades you need to make your eyes look bigger, brighter, and oh-so entrancing, just like a ballerina. It has some stunning and super-pigmented metallic highlighting shades that will help you have fun with the doe-eye makeup look in 2023.
Unapproachable Eye Makeup Look
This eye makeup look is straight-up edgy and so seductive. All you need is a pigmented black eye kajal and mascara to nail this look. Accentuate the inner corners of your eyes with kajal and create wings at the outer corners while you define the upper and lower lash lines with the same kajal and some mascara.
MyGlamm Super Kohl Long Stay Kajal - Black
Don't skip this super pigmented and long-lasting black kajal because it is an absolute eye makeup must-have. It glides on to help you easily create stunning eye makeup looks and once set, it does not smudge or budge.
Gamine Eye Makeup Look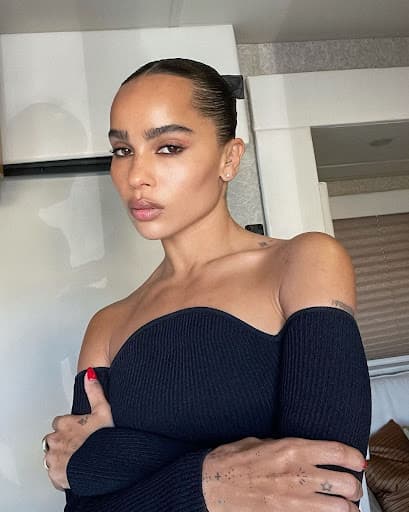 If you love that cute boyish kind of makeup aesthetic or if your current style is more androgynous, then the gamine makeup look is right up your alley. This eye makeup trend is minimalistic and a fresh spin on nude eye makeup and other simple eye makeup looks. All you have to do is use a nude shade of eyeshadow that is closest to your skin tone on your lids and then softly smudge an eyeliner or brown or black eyeshadow on your lower lash lines for soft definition. Finish with mascara.
POPxo Makeup - Drama Queen - 4 Eyeshadow Kit
This cute eyeshadow palette has the exact 4 shades you'll ever need to recreate this eye makeup trend. Pick from either of the two nude shades to apply on your lids and then either use the black or brown eyeshadow on your lower lash lines as eyeliner because they are super pigmented.
Coquette Eye Makeup Look
Another natural eye makeup look on our radar is the coquette makeup trend. This trend is all about natural makeup that women used to wear in the 18th or 19th century. To create this look, keep it simple by applying your blush on your lids as eyeshadow, and then use a brown kajal to tightline your eyes and a brown mascara to complete the look.
MyGlamm LIT Lip & Cheek Rouge - Cranberry Kick
Use this multi-tasking lip and cheek stain as an eyeshadow to ace the coquette eye makeup look. It looks extremely natural and does not fade easily.
Glam Grunge Eye Makeup Look
Grunge eye makeup has gotten more glamm in 2023 and that's just how we like it. Apply a black eyeshadow as a base on your lids and top it up with shimmery silver, grey, or gunmetal eyeshadow to make it glamm.
Manish Malhotra 9 in 1 Eyeshadow Palette - Rendezvous
Get experimental with this eye makeup look by using this eyeshadow palette. It has every shade you could possibly want to play around with this trend and the colours are super pigmented and long lasting. 
Vampy Eye Makeup Look
Vampy eye makeup is back and it's a top pick for 2023 Halloween eye makeup that is bold but totally wearable. Play around with black or darker matte shades of eyeshadow like maroon, violet, or grey. You can either use a single colour all over your lids and give it a winged shape or incorporate the cut crease eye makeup trend with these matte eyeshadows.
Manish Malhotra Precision Eyebrow Definer - Charcoal Allure
Since vampy eye makeup looks are bold and striking, you have to keep your brows on fleek to slay the trend. And this eyebrow pencil is exactly what you need. It is easy to apply and comes with a spoolie brush to blend in the product.
Iridescent/Holographic Eye Makeup Look
Iridescent or holographic eye makeup is all the rage this season and it's going to win you over too. It has a whimsical appeal with colour shifting, twinkly eyeshadow pigments that just make you look like you're in a fairytale. Experiment with iridescent purple eyeshadows or powder pigments for best results.
MyGlamm LIT Lip & Eye Sparkles - Kween (Lavender Shade)
Get your hands on this twinkly lavender loose powder pigment to experiment with this eye makeup trend. Apply it over a darker base eyeshadow for a more pigmented look or as is for a celestial effect.
Related post
This eye makeup trend is what you need if you want to look like a total bombshell. And this essential guide will get you started.
Love nude eye makeup? Here are ten looks to freshen up your nude eye makeup game in 2023.
If you're a makeup beginner, these simple eye makeup looks are all the inspiration you need to slay your makeup game.
Wondering what to wear for Halloween? Try these Halloween eye makeup looks and you probably won't even need to stress too much over a costume.