18 Best Feather Cut Hairstyles To Copy Right Now!
Ask any hairdresser if there's one hairstyle that genuinely suits everyone, and chances are they'll tell you - layered hair; a truly classic hairstyle whose popularity shows no signs of slowing down. Whether you like your layers subtle and hidden or choppy and textured, a feather cut might be all you need to take your hair game from drab to fab.
But don't just take it from us. The fashion girls - are taking inspiration from the days when the "Rachel" was all the rage by sporting feather cuts with layers. The concept of feathered hair is simple. It involves the stylist chopping in the ends to reduce bulk and make hair look layered, softer, and feather-like. Only this time around, feathered hair hairstyles is cooler and more undone. And we never thought we'd say it, but we're officially back in love with feathered hair. Not convinced yet? Keep scrolling for all of the uber-chic, very cool feather cut hairstyles.
Feather HairCut For Long Hair
Feather hair cut hairstyles for long hair is officially back, so here's all the inspiration you need.
1. Ponytail Vibes On The Go! - Feather Haircut
The best part about having blessed with long hair is you have the option to tie, open, or leave them in their own way! You can style your feather haircut hairstyles and make a high ponytail out of it for those bossy woman vibes.
2. Make Way For Boho Vibes
By now we know, we should never underestimate the power of boho! Create those attractive waves with feathered ends in the lower half of your hair. Trust us, this feather haircut hairstyle will not only add those boho vibes to your look but also make you look powerful!
3. The One With Major Rachel Vib - Feather Haircut
We're getting major Jennifer Aniston vibes with this sun-kissed, choppy length, and we're not mad about it. '90s-inspired haircuts are majorly trending right now and are only growing stronger. This feather haircut hairstyles for long hair is subtle in approach yet statement-making.
4.Take Your Style Up A Notch
Shay Mitchel's chunky caramel highlights and super-feathered ends are the perfect examples of how to make '90s trends work for 2022. The stylish look perfectly demonstrates how subtle feathering can instantly update a style. 
5.Tres Chic!
Remember Monica Geller's fringy feather haircut hairstyle from friends season 2? Yes, those chic fringes are next up for 2022. Flooding our feeds are super-versatile eyebrow grazers that can be modified to suit several face shapes, hair textures, and maintenance needs, making them the perfect trend to follow if you have fine hair.
Feather Cut For Medium Hair
If your mane is at medium length and you are looking for inspo in the hair department, scroll on for feather haircut hairstyles that are guaranteed to give you It-girl status.
6.Poker Straight On Fire!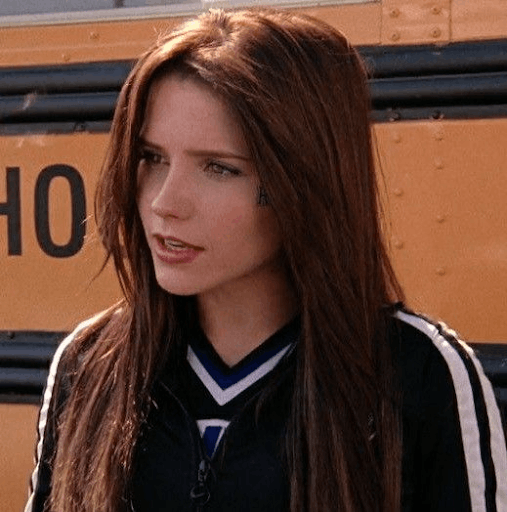 We literally got awestruck by Sophia Bush's as Brooke Davis in 'One Tree Hill.' Not only this feather cut hairstyles for medium hair hairstyle looks trendy but it looks ultra fashionable too!
7.Feathers, Feathers Everywhere! - Feather Haircut
The extremely feather cut hairstyle is quite a classic example of a feather cut. In this picture, the hairstyle is spreading some early 2000 vibes and also giving a major bounce to hair!
8.For The Curly-Haired Crew - Feather Haircut
Proving that feathering looks just as great on curly hair as it does on straight ones, Joan Small's choppy ends look soft and oh-so-pretty. If sleek hair isn't totally your vibe and you like a sun-kissed, effortless look that embraces your natural hair texture, Opt for choppy, layered mid-length tresses and get the most of your second-day hair. To pull it off like a stunner, use a salt spray for some major volume boost and get ready to turn heads.
9.The Cutest Of All
Embracing a wispy, feathery fringe like Nina Dobrev,  is the perfect way to soften up your style. Plus, any grow-out will be less obvious and can be parted easily for a laid-back, no-fuss finish. It's one of the chicest feather cut for medium hair hairstyles out there.
10.A Selena-Approved Hairdo
Curl your face-shaping feathering under (either with a round brush or a hair straightener) for a bouncy, glam look like Selena's. It's one of the best summer haircuts for beauty girls. Don't forget to bookmark this for your next salon appointment!
Feather Cut For Short Hair
Wanna spice up your short hair game? Keep swiping for feather cuts for short hair.
11.Curtain Bangs FTW! - Feather Haircut
Curtain bangs were everywhere in 2021. We saw this wispy style on so many celebs including Ariana Grande and trust us, it's here to stay and is super easy to maintain. The one thing about curtain bangs that we're fully sold on is how easy they actually are to style especially if you have flat hair. It's also a great way to change your style and add volume without doing anything too dramatic like changing your colour or sacrificing your length. Try this feather cut for short hair to make heads turn.
12.Y2K Alert!
Flick, feathered ends make for a super-chic, retro look. Keep things subtle and simple by leaving strands long and incorporating slightly flipped ends to channel major Y2K vibes. Prep your strands with a nourishing shampoo and conditioner to nail that mirror-like shine.
13.Retro In Style
Scarlett Johnson has always been like an all-time crush for nations! In this feather cut for short hair hairstyle, the layered curls stand out with side swept bangs definitely makes it look super adorable!
14. Sleek Feather Bob Is All Hearts!

This sleek feathered bob hairstyle is truly wonderful in all ways! Quite a chic feather cut hairstyle for fine hair with a blunt cut at the bottom is perfect for your short locks.
Feather Cut With Layers
Here is a list of all the feather haircuts with layer ideas for you to take cues from and step out in style!
15.Messy Feather Haircut Inspiration
Different short chops on long straight hair create an illusion of big waves. All you need to do is to leave your feather haircut messy & free for that carefree look! So try this easy feather haircut and go all fashionable.
16.70s Magic All Over
Want to add volume & definition to your hair at the same time? Try this feather haircut hairstyle for yourself and dance all way! Keeping this hairstyle up to the shoulders makes it easy and manageable too.
17.Feathers On The Outside
What better way to style a feather haircut with few layers and well-defined waves at the ends!? This hairstyle makes the face look sharper and adds elegance to your look. You can also highlight your hair in pink or purple colour for that extra hotness!
18.Braids Like A Crown
Do you want to take your basic feather haircut to the next level? Try crown braids! Two pretty crown braids with free-flowing feather-layered hair are the perfect go-to option for any occasion!
MyGlamm Recommend Hair Products
MyGlamm Superfoods Cacao, Coffee, Coconut Shampoo
There are times when your hair would have looked like it stayed out all night partying: matte, matted, and haphazard in every way. But not with this product in your haircare arsenal. If you dream of shiny, healthy, "rich girl" hair, this is the shampoo to call on. 
MyGlamm Superfoods Onion Moringa Shampoo
Lustrous and beautiful hair is no longer a far-fetched dream as this mild shampoo will detoxify your hair and make it smooth and manageable in a jiffy. The formula is loaded with Shikakai that's also called fruit for hair and has been the secret behind the long and lustrous hair of Indian women for centuries. Add this to your cart and pave your way to the voluminous- and smooth-AF hair of your dreams.

MyGlamm Superfoods Passion Fruit Rosemary Shampoo
Do you like the shine of freshly blow-dried hair? Do you want to always smell like you just stepped out of a fancy salon? Me too! And that's exactly what you get from this shampoo. Not to mention, Vitamin B5 imparts strength, shine, and silky texture to dull and dry strands.
Related Stories
Gown hairstyles: To make things easier for you, we're listing down trendy gown hairstyles we're predicting will be huge this wedding season. Yep, you'll find everything you need to be a well-tressed guest - from next-level updos and slicked-back strands to romantic beachy iterations. 
Haircut for long hair: Add volume or layer your long hair with these chic haircuts 'coz the options are… lengthy AF!
Simple hairstyle: From the tendril braids, already a hit with many of us, to claw clips or flipped ends, a wonderful world of styles is yours for taking.
Office Hairstyles: If you're on the hunt for an easy-peasy office hairstyle, this list is perfect for you. Choose the best for yourself & get going!
Open hairstyle for lehenga: Looking for some beautiful open hairstyles for lehenga? Here's the list for you that'll help you out!
Medium haircut for girls: If you've chopped your hair in medium length recently, let our haircut styles serve as your inspiration. Check them out!
Bookmark these feather-cut hairstyles to show to your stylist at your next salon appointment!
Also, Look For
Popular Categories
Makeup Products | Skincare Products | Hair Care Products | Bath & Both Products | Sanitizing Care Products | Lip Makeup Products | Face Makeup Products | Eye Makeup Products | Nail Makeup Products | Makeup Kits | Bridal Makeup Kits | Lipstick Set | Makeup Accessories | Cleansing Products
Trending Searches
Lipstick | Cleanser | Foundation | Nude Lipstick | Highlighter | Matte Lipstick | Liquid Lipstick | Nail Polish | Lip Balm | Sunscreen | Face Wash | Compact Powder | Lip Gloss | Eye Kajal | Eyeliner | Face Blush | Concealer | Lip Tint | Shampoo | Mascara | Eye Shadow | Face Primer | Crayon Lipstick | Face Serum | Hair Serum | Lip Liner | Hair Oil | Loose Powder | Pink Lipstick | Brown Lipstick | Purple Lipstick | Red Lipstick | Peach Lipstick | Sheet Mask | Night Cream | Sindoor | Moisturizer |