10 Of The Most Unique Bridal Juda Hairstyles For Every Kind Of Woman
I was recently going through my mom's photo-albums from the '90s. Many snaps were from her and her friends' weddings through the years. A blood-red lip was one element that tied all of their looks together. The next was a heavy, flower  juda-hairstyle that gloriously complimented the boldness of their makeup. 
But it's not the same anymore. Unique bridal juda hairstyles have become more diverse. While the traditional one remains, more have come forth. If you're a minimalist or sucker for different kinds of flowers, I've put together a mood board for every kind of bride.
10 Of The Prettiest Bridal Jude Hairstyles To Add To Your Wedding Mood Board
Ahead — the juda hairstyle for your wedding. I promise you're going to love them.
Rosy Red
Lo and behold — a classic, timeless look where red roses embellish the whole bun. This bridal juda with roses has been sprayed with some glitter to play into the glamour of the look even more.
Jasmine Jolly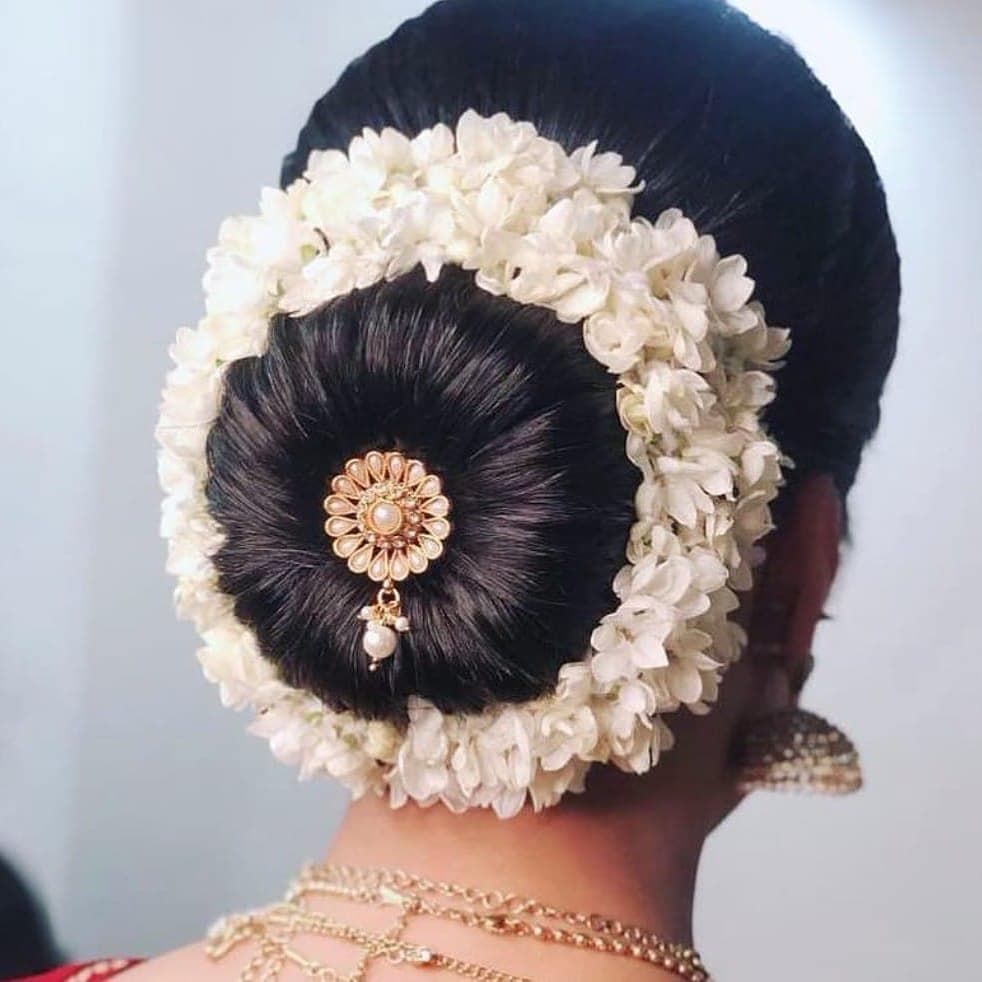 You can swap the roses for jasmines. This switch will soften your look instantly, if that's the aesthetic you'd like to go for. Do remember to tuck in a round hair-pin for a neater look. The pin will also add an element of drama to your look. This bridal juda style is enchanting. 
Pink Paradise
If you do like roses, you can try tucking in smaller ones throughout the bun. This will capture the essence of the flower without pulling away the attention from the rest of your look.
Ditzy Disney
For a look that's soft and angelic, make Baby's Breath your bridal show-stopper over other flowers. These wispy little things have a Disney-esque element that add a tinge of magic and delicacy to your hair. This juda style for wedding is perfect.
Chic Candy
You can simply ask your hairstylist to tuck in flowers along the sides of your bun instead of the centre. This is a chic, modern take on the classic, conventional juda, and it's perfect for a minimal bride like you. 
Jewel Jam
How about cutting flowers out of the equation and roping in some jewellery? The top of the bun is embellished with a jewel that wraps around it beautifully. The hairstylist has looped in an earring toward the centre of the bun to finish the look. 
Colourful Carnation
This colourful carnation is gorgeous. You can go in with different kinds of flowers instead of settling for one. From orchids to jasmines, there's no having to choose between them. This look shows all the flowers included. Just decorate the borders of the bun neatly. 
Blingy Bash
If the bling is yours to claim, you can decorate the entire bun with a dangling chain of pearls instead. 
Raging Royalty
You can simply decorate the underneath of your bun with baby's breath. This one looks like royalty, and you cannot deny it. This juda hairstyle for bride is elegance at its best. 
Pearly Promise
If you want to play around with jewels as well as flowers, try something like this. Tuck in a few pearls all over the bun and decorate the underside with soft pink flowers. You get the best of both worlds, and who doesn't like that? Such a pretty bridal juda hairstyle.
Flower Power
You can also play around with roses but in different colours. It maintains the traditionality of roses while leaning into the freshness of different variations of the flower. 
MyGlamm Recommends Products
For your hair to look gorg on D Day, you've got to choose the right hair care products. Here are 3 of the finest ones to begin with. 
MyGlamm Superfoods Passion Fruit & Rosemary Shampoo

 
This superfoods-powered shampoo is infused with goodness of passion fruit and rosemary. The  MyGlamm Superfoods Passion Fruit & Rosemary Shampoo restores the shine and lustre of your hair from root to tip. While passion fruit strengthens your strands, rosemary reverses the damage from heat-styling and chemicals. It even contains pro-vitamin B5 that maintains your scalp's natural moisture balance. You've got to add this to your cart ASAP!
MyGlamm Superfoods Passion Fruit & Olive Conditioner 
If you're looking to repair your dry, brittle hair, don't look any further because the search is over. The MyGlamm Superfoods Passion Fruit & Olive Conditioner softens and nourishes your strands while sealing in moisture to reduce dryness. You're one step away from silky, smooth hair. Literally. 
MyGlamm Superfoods Mangosteen & Avocado Hair Mask
This creamy, buttery-soft hair mask is perfect for eliminating frizz, dryness, and revitalising damaged tresses. Just layer on a dollop post shampooing and notice how it transforms your mane in one session. 
That's it. Pick any juda hairstyles for wedding. Rest assured you'll look stunning in all of them.
Also Read: