Our skin takes a beating during the day. The makeup we use, mixed with the dust, heat, and pollution can all have an unpleasant effect on any skin type. With so many factors that are beyond our control, many of us find ourselves with skin issues that require closer attention to the products being used. But even if you choose the best makeup money can buy or pile on every cream you have before leaving your house, you will find that without a consistent nighttime skincare ritual, it all amounts to nothing. 
We spend one-third of our lives sleeping, so if you do not give your skin the TLC it needs before going to bed, you're putting it at risk. Your body goes through a lot while you sleep, the skin cells undergoing faster regeneration during this time. Hence, a proper nighttime skincare routine is vital so that the cells get the nutrients they need to do their job properly.
While there are long and tedious night-time skincare routines out there, the truth is that it needn't be elaborate or even cost you too much. This simple night-time skincare routine is not only easy to pull off no matter how tired you are, but you will also wake up to healthy glowing skin.
Night Skincare Routine Step 1 - Gentle Cleanser

Link: https://www.pinterest.co.uk/pin/49469295882660599/
If you have sensitive skin, try avoiding harsh soaps and cleaners. Go for soap-free or cream cleaners to remove any impurities. Cleaners that don't lather or don't bubble up remove dirt without stripping away the oils from your skin.
Make sure to take your time and massage your face thoroughly with the cleanser, starting with your forehead and gradually moving down your face. Once you're done, rinse well and remove any residue. This is the first and most important part of your skincare nighttime ritual.
Night Skincare Routine Step 2 - Eyecare

Link: https://in.pinterest.com/pin/20618110778449438/?lp=true
After you've gently cleansed your face, pamper your eyes with a good eye cream. The skin around your eyes is the most sensitive and fragile that's why a reliable product is a must. Simply pat down a lightweight, hypoallergenic cream in the area and the step in your routine will help shield your eyes from any irritants.
Night Skincare Routine Step 3 - Moisturize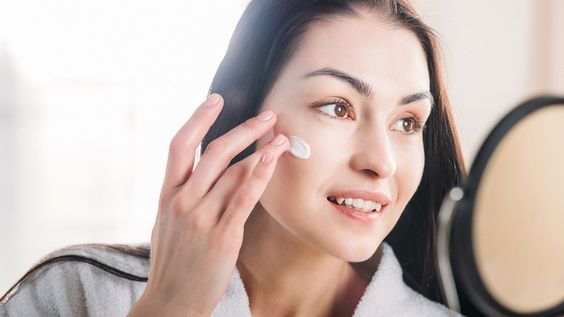 Link: https://www.pinterest.ru/pin/744571750871681957/
Contrary to popular belief, moisturizer always comes after you apply the eye cream. Your skin's defence mechanisms are lowered during the night and thus, it is beneficial to opt for a heavy moisturizer. Creams with all-natural ingredients and those which have anti-inflammatory properties are particularly beneficial for sensitive skin.  
Night Skincare Routine Step 4 - Clean Air
People with sensitive skin not only have allergies to what they've applied but also have a chance of being prone to air pollutants. If you've cut down on your face products but still suffer from skin inflammation, try sleeping with an air purifier. It will help remove toxins and irritants from the air which in turn will help you get blemish-free skin.