Let me guess — the minimalist in you likes nude nail design. But you're a little dramatic that way, and plain old nude nail art doesn't cut it for you. You need to dress it up a little — pearls, dots, stripes, and whatnot. Don't worry — you've found your people. The in-between-ers who keep moving between two extremes. And that's why we're rounding up some of the best ways to glamourise your nude color nail designs the right way, as well as the hottest nail-polishes RN. Ahead — a demonstration.
The Best Nude Nail Art Designs To Add To Your Monsoon Mood Board
Trust us — these are the hottest nude nail designs of this season. 
The Frenchie
The French Manicure is a classic — and here's one iteration of the aesthetic. You can set the base with a pink-ish nude, and embellish the tips of your nails with a shade of grey to play into the subtleness of the look. Go on to scatter a few pearls over two of your nails with nail-glue and a toothpick to add a little detail to the nail-art — or replicate across all nails if you're looking for a nude nail art that's something more dramatic.
Glitter N Glitz
This nude nail design is not so different from the previous. The base remains the same — just line a few gemstones along the cuticles to achieve a minimalistic yet elegant end-result.  
A Star Is Born
This nude color nail design is one the easiest ways to upgrade your nails — adding stars to the equation. If you're not able to draw them, try nail-stickers instead. Either way — this makes for an understated makeover.  
Dotted Decadence
Try contrasting two different shades of nude with each other. Notice the play of lighter and darker shades in this picture. Place a dot on each cuticle, and you've nailed the nude nail art look!
Bodak Yellow
Looking for a nude colour nail-art that pops? You can add stripes of yellow along the cuticles as well as on the tips of the nails to recreate this nude nail art look, and make your talons pop.
Fly Me To The Moon
Coat your nails in a single layer of nude — so the paint is more sheer than opaque — and cluster them with stickers of planets and stars. This nude nail design is ethereal, and brings the galaxy to you.
Swirly Spirals
Just add swirls of chalk-white on one nail, and you've aced the nude nail art look already: delicate and intricate.  
Heart Attack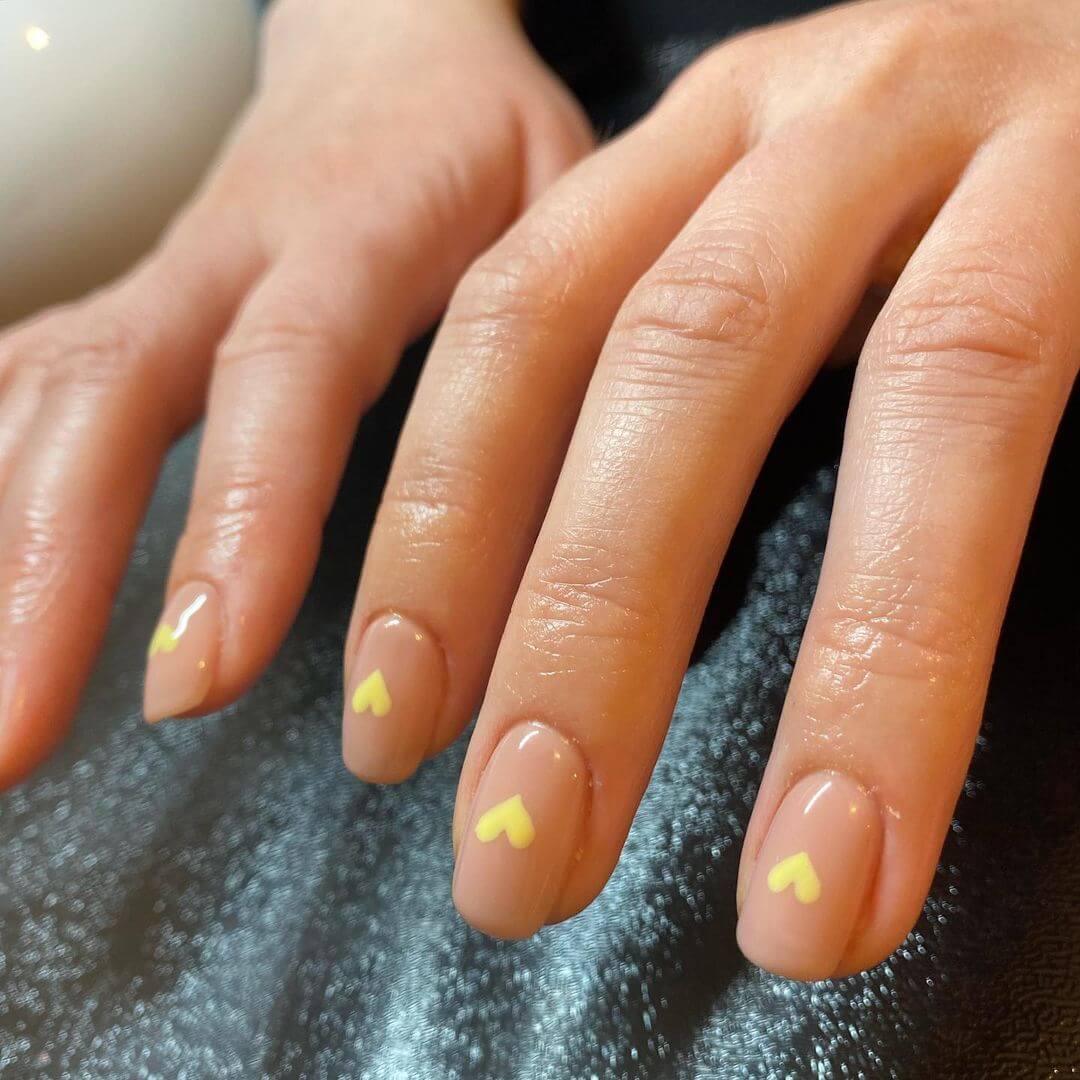 How about a nude nail art design that's all about drawing hearts on each nail? Simple, quick, and effective. You can choose another colour apart from yellow depending on your preference.
Glittery Gradient
Create a gradient by using 2 different shades of nude, and alternating between them — and reserve one nail for a glitter–packed makeover to take it up a notch. 
Floral Fusion
If you don't want to commit to nude entirely in your nude nail art, you can switch to poppy colours like yellow, and sprinkle in some flowers. 
Ditzy Designs
Throw in some random designs as demonstrated in this picture. You don't have to stick by the rules — whip out the nail-art manic within you, and brush away. 
Pretty Polkas
Glitz your nude nail art by dotting polka dots all over the nails — make it a party with confetti!
Skinny Tips
These electric blue super-skinny tips reign supreme, and paired with daisies. This nude nail art is to die for. A hack? If you find painting your tips tedious, just paint a little bit of your opposite finger, and press it against your tip to transfer the colour to the nail. There — a fuss-free Frenchie.
All That Glitters Is Golden
Create a smile-like line across your nail with gold-coloured dottings, and voila! Such a pretty nude shade nail design!
Straight Streaks
Or a simple line running across the nail!
It's In The Aura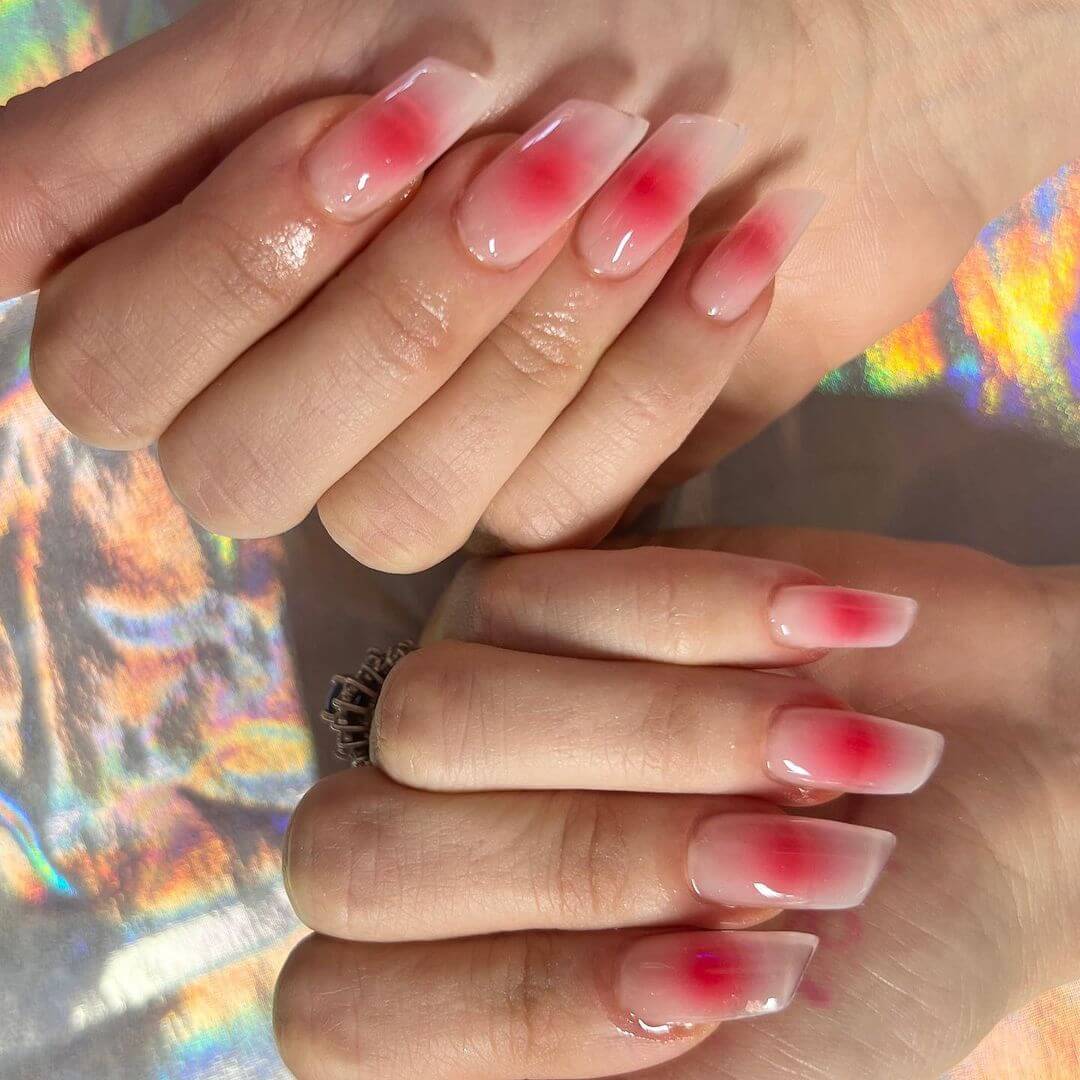 Aura nails are in, and this is one way to recreate them. These are essentially pops of colour painted onto your nails in circular ombre or gradient-like designs so they resemble your very own aura. You will need a professional to replicate this manicure for you. 
Zebra Zest
Zebra stripes never go out of style. Set the base of your tips with a white nail-polish, and draw in random black zig-zags to play into the look effectively. 
Gold Goddess
Add a couple of golden-hued swirls to complement the nude. These colours blend into one another flawlessly. 
Sunny Smileys
Smileys are playful and quirky. What do you think about plastering them on your nails?

20. Marble Game On
Marble nail art has been a trend for quite some time now. TBH, the craze is only & only growing & glowing! So paint your nails in a marble nude nail art pattern & it'll go with almost all occasions!
21. Shades Of Nude Everywhere
Try different shades of nude on your nails & spread the aura of beauty everywhere. To achieve this subtle & classy nude nail art, simply paint each nail in different shades of nude. Guess what? It's done! Not to miss, you can top it off with glitters for traditional occasions!
22. Studded Nude Stars
Want to go by the safe route & achieve sophisticated nude nail art? Then this nude nail design is for you! This is for all fashionistas who prefer keeping it minimal, classy & neat. 
23. Springy Vibes All Over
We are falling in love with this springy nude nail art design! Paint your nails half 'n' half in nude green & pink shades and flaunt them like a queen.
24. Pink & White Magic
If nude is too boring for you, you can try pairing it with white-on-white stripe nails! This nude nail art truly describes subtleness & simplicity. Already in love with this!?
25. Leopard On It's Way

If you want to add a dramatic touch to your nude nails, try this leopard nude nail art design for yourself! This design is for everyone who wants to bring out the loud & soft vibe together!
MyGlamm Nail Products Recommendations
A line-up of the best nail-polishes for your at-home manicure!
MYGLAMM LIT MATTE NAIL ENAMEL — BYE FELICIA
It's time to dress your nails up in summer sophistication with 3 luxe pastel shades of your choice. They check all the boxes too — hi-shine, quick-drying, and colour-packed.
FAQs
What are nude nails
This trend encompasses neutral-toned colours that match your skin-tone. These nails run the gamut from warm-toned shades like peach and beige to cool-toned colours like taupe and pink. The versatility of this category lies in its ability to look chic and minimalistic on any size and shape of nail. 
What colors can I wear for nude nails?
Anything that reflects your skin-tone — brown, peach, white, beige, pink, and colours alike have variations that can be categorised as nude. It's all about finding a shade that suits you. 
How do I get nude nails?
Just buy yourself a nude nail-paint, and there — all that's remaining is to paint them.
How do you apply nude nail polish?
Like you apply any other nail-polish. There's no difference in application. 
Which nude nail-art design did you like best? We know we cannot choose!
Also Read