The Hottest Summer-Time Hairstyles For Diamond-Shaped Faces
You know you can shine bright like a diamond—with the right 'do. No matter how gorgeous a certain style looks on someone, it might not translate to your hair the way you might've imagined it to—and that's because the shape of your face determines whether a 'do compliments your appearance or not. A full-on fringe, for instance, might look better on oval-shaped faces than rectangular-shaped ones. Basically—the principle to sporting a style that you can pull off is to identify the shape of your face. You don't want to have to stare into your hairstylist's mirror, and pretend to love your transformation, do you? 
A diamond-shaped face is characterized by a pointed chin, wide-set high cheekbones, and a narrow forehead and jawline—among other traits. If you identify with these features, this one's for you. 
We've done round-ups for hairstyles for oval faces as well as hairstyles for round faces; but what about the brightest of them all? Here's a carousel of 10 celebrity-approved hairstyles for diamond face-shape. 
Also, scroll to the end for MG-approved recommendations on the best hair masks, hair serums, hair conditioners, hair oils, hair shampoos, and hair-care products to invest in to reinstate the health of your tresses. 
10 Of The Hottest Hairstyles For Diamond Face Shape
Poker Straight Hair With Face-Framing Bangs
Megan Fox exemplifies the diamond. The recently-engaged actress has a proclivity for poker-straight hair characterised by a middle-part; but this full-fringe 'do is doing her more justice than any other style—simply because her bangs play into the illusion of widening her forehead, and accentuating the cheekbones. This is a simple and straightforward hairstyle, and one that compliments your face-shape effortlessly—the best bangs for diamond face shape.
A Wavy Lob With A Side-Swept 'Do
Vanessa Hudgens's expertise isn't limited to her profession. The 'High School Musical' lead knows just how to experiment with her hair in ways that flatter the shape of her face. This 'do demonstrates just that—side-swept hair on a wavy/curly bob. The waves add volume to the hair, and soften your features, and the side-swept 'do opens up the top-half of the face. Make sure your hair falls below your chain, and tuck one side behind your ear to play into the illusion of an asymmetrical look—this flatters the diamond as it balances your wide-set cheekbones, and brings attention to the upper-part of your face.
A Slicked-Back Chin-Length Bob
A chin-length bob flatters diamond-shaped faces as it makes your chin look wider, and Scarlett Johannson is no exception. The idea is to soften the jawline, and enhance the angularity of your face. You can brush your hair backwards like Johansson to capture the cut better.
Long Hair With Subtle Waves
A long, sleek, polished 'do characterised by the softest of waves and a centre-part is another hairstyle that flatters this face-shape. Shilpa Shetta—point in case. This look slims her wide-set cheekbones without stealing their spotlight. 
A Curly 'Do With Forehead-Grazing Bangs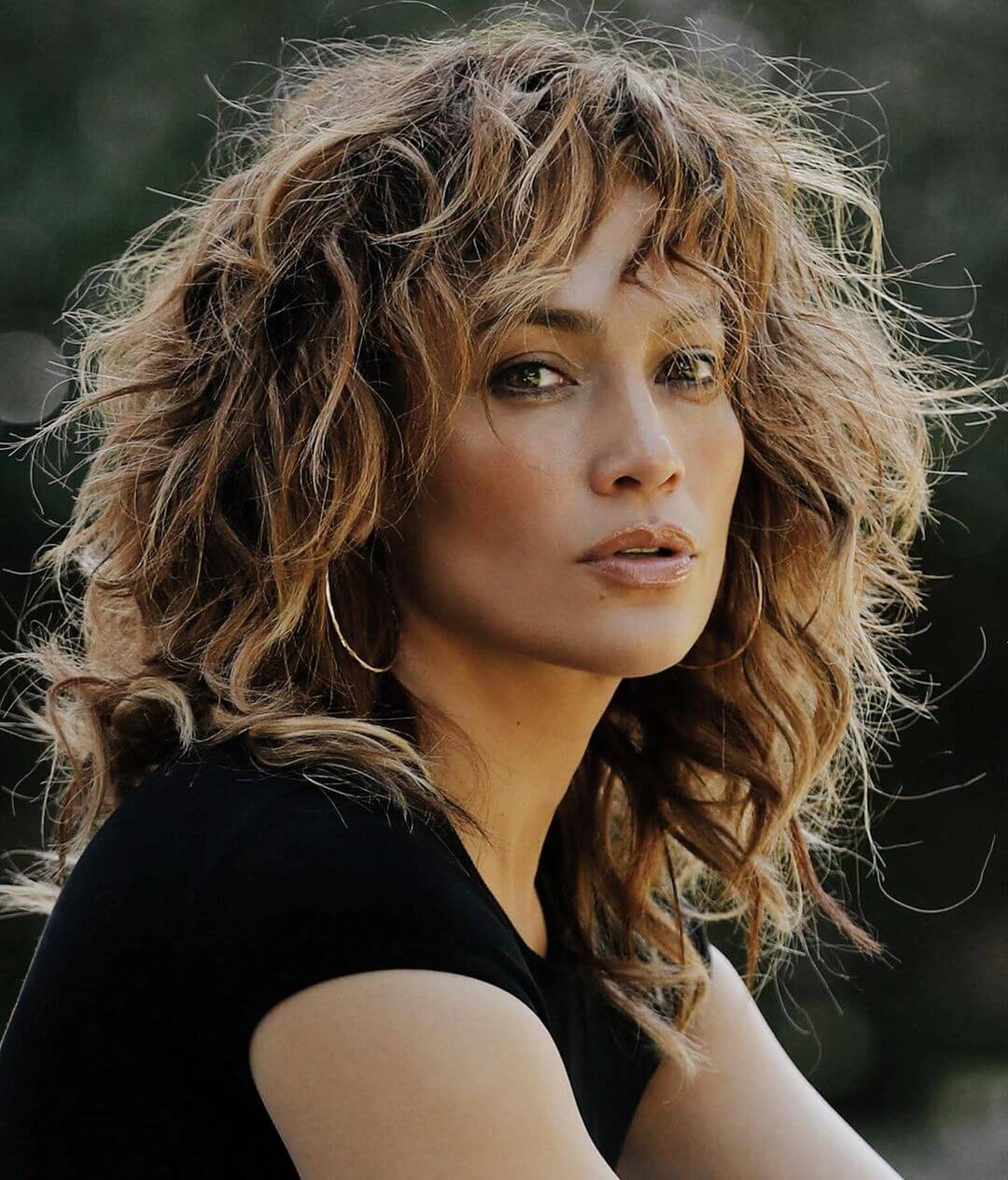 Though spotting J.Lo with a curly 'do isn't too common, she proves that the aesthetic flatters her face-shape excessively—thanks to how prominent her cheekbones are. This style might've been heavier for any other face-shape, but a diamond-shaped face carries this 'do well. It creates an illusion of softness and fullness against the features, and the bangs make the forehead look wider. 
Side-Parted, Poker-Straight Hair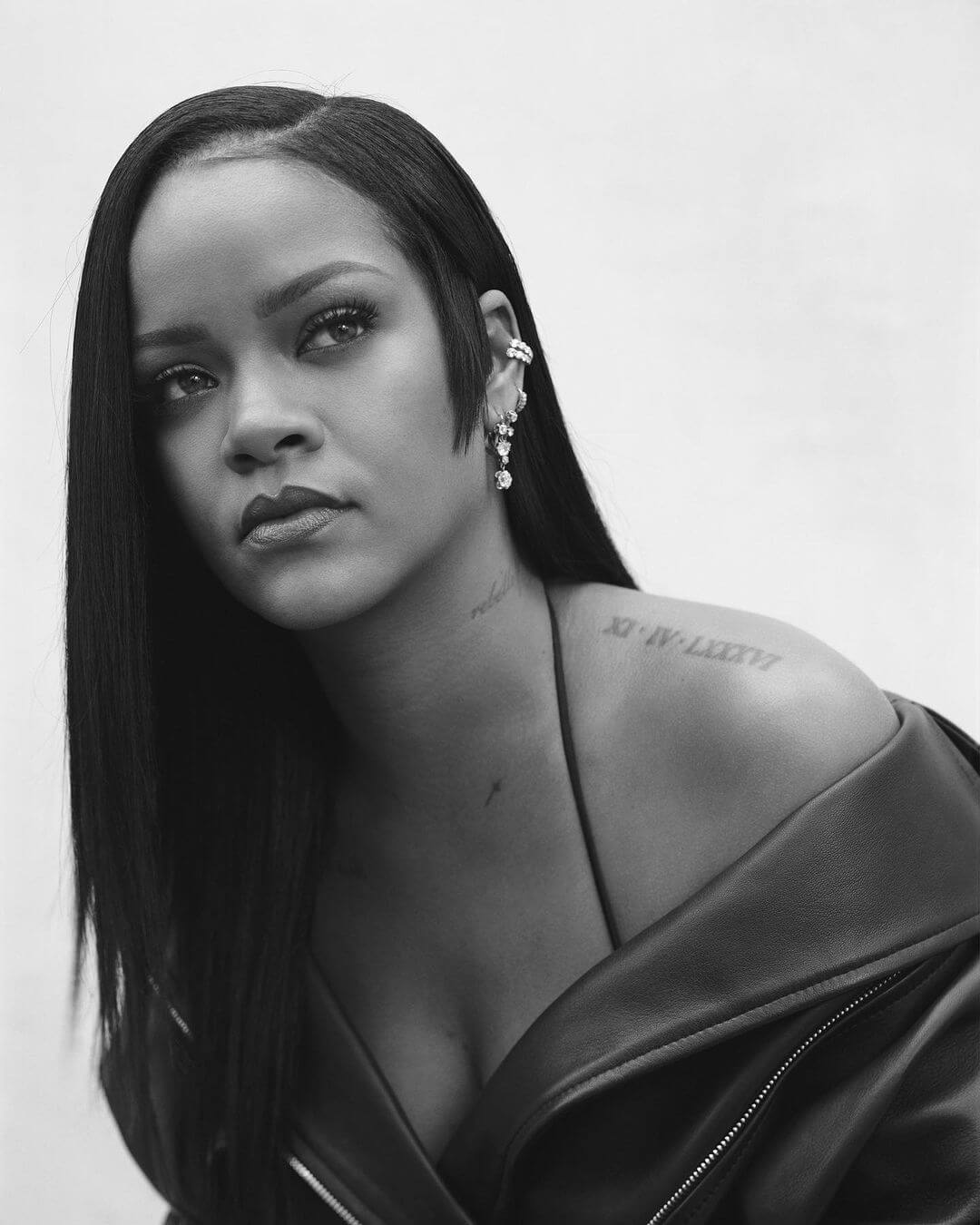 Rihanna's side-part seems to lengthen her face while keeping her wide-set cheekbones on display. This one's a straightforward 'do that you can replicate at home without too much of a hassle. 
A Chin-Length Bob
Kourtney has been fashioning her ensembles with a chin-grazing, side-swept bob that softens her jawline, and plays into the asymmetry of her look—much like Vanessa Hudgens' 'do except that this one is poker-straight. Relatively short hair for diamond faces, but it looks stunning. 
Long Layers With Bangs
If your hair is thin and fine, adding layers to the equation along with a set of sweeping bangs draped across the forehead is another option you can experiment with. You can count on this Taylor Swift-approved fringe to widen your forehead instantly. Make sure the layers fall below your jawline to avoid making your cheekbones look broader. 
Cascading Curls  
Nothing's more appropriate for those with thicker hair than a cascade of curls framing their diamond-shaped faces the way that Little Mix's Jade's 'do does. This style might not translate too well on other face-shapes, but a diamond-shaped face boasts heavier and prominent cheekbones that can carry the curls flawlessly—one of the best hairstyles for diamond face-shape for females.
These were our all-time favorite diamond face hairstyles.
MyGlamm Recommended Products for Healthy Hair
MyGlamm Superfoods Mangosteen & Avocado Hair Mask
A conditioner cannot do the job of a mask, and that's why investing in the latter is an essential part of any thoughtful hair-care regimen. This mask is infused with superfoods like avocado as well as mangosteen to nourish and repair dry and damaged hair.  Enriched with the goodness of Vitamin B5 to reinstate your tresses' long-lost lustre, it retains their natural moisture balance too. 
MyGlamm Superfoods Cacao Coconut & Coffee Shampoo
Recharge your hair by indulging in this superfoods-charged shampoo. Infused with coffee, coconut, and cacao, it moisturises the hair intensely, treats dandruff and frizz, improves circulation for accelerated growth of hair, and adds volume and strength without weighing your tresses down. 
MyGlamm Superfoods Cacao Coconut & Coffee Conditioner
Supplement your hair-care regimen with this hair-softening cocktail of ingredients to bolster the effects of the MyGlamm Superfoods Cacao Coconut & Coffee Shampoo.
MyGlamm Superfoods Passion Fruit & Rosemary Shampoo
If your hair is damaged from all the heat-styling tools you've been subjecting it to, this formula's restorative properties can come to the rescue. Infused with Passion Fruit and Rosemary, pro-vitamin B5, it returns your tresses to its lustrous avatar while preventing breakage and strengthening your hair from the roots.
MyGlamm Superfoods Passion Fruit & Olive Oil Conditioner
Has your hair been feeling dry and brittle? This nourishing and moisturising blend of Passion Fruit and Olive Oil makes your hair healthier than before, and enhances its luster over time. Thanks to its composition of pro-vitamin B5, it hydrates and protects your hair without stripping them of moisture.
MyGlamm Superfoods Onion & Moringa Shampoo
Ah—'onions' don't induce the nicest reaction, do they? Especially when they're infused in shampoos and conditioners. The MyGlamm Superfoods Onion & Moringa Shampoo is here to prove you wrong. Formulated to control hair-fall, it stimulates the roots, and enhances the health of your hair while cleansing your scalp of build-up and residue, strengthening your strands, and making them silky-smooth. And if you're unsure about the smell, the infusion of Moringa in the elixir lends a sweet, rejuvenating scent to your hair.
MyGlamm Superfoods Onion & Moringa Conditioner
Pack a punch by further fuelling the effects of the shampoo with the hair-loving Myglamm Superfoods Onion & Moringa Conditioner.
Myglamm Superfoods Onion & Moringa Serum
If your frizz is abstaining you from styling your hair the way you want, this cocktail of a serum is perfect for massaging them into submission. Formulated with Onion, Moringa, and Argan Oil, this elixir reinstates the lush and luster of your tresses instantly; protects you from heat-induced damage, and restores their silky-smooth avatar. And it's suitable for all types of hair. 
MyGlamm Superfoods Onion & Moringa Hair Oil
You might like the idea of a champi; but what's the point of it if you're not using the right oil? This one excels at making your hair stronger, promoting growth and reducing breakage and fall, and restoring the scalp's natural moisture over time. 
Also Read:
Also, Look For
Popular Categories
Makeup Products | Skincare Products | Hair Care Products | Bath & Both Products | Sanitizing Care Products | Lip Makeup Products | Face Makeup Products | Eye Makeup Products | Nail Makeup Products | Makeup Kits | Bridal Makeup Kits | Lipstick Set | Makeup Accessories | Cleansing Products
Trending Searches
Lipstick | Cleanser | Foundation | Nude Lipstick | Highlighter | Matte Lipstick | Liquid Lipstick | Nail Polish | Lip Balm | Sunscreen | Face Wash | Compact Powder | Lip Gloss | Eye Kajal | Eyeliner | Face Blush | Concealer | Lip Tint | Shampoo | Mascara | Eye Shadow | Face Primer | Crayon Lipstick | Face Serum | Hair Serum | Lip Liner | Hair Oil | Loose Powder | Pink Lipstick | Brown Lipstick | Purple Lipstick | Red Lipstick | Peach Lipstick | Sheet Mask | Night Cream | Sindoor | Moisturizer |