How To Hide Double Chin: 9 Quick Makeup Tricks To Hide Double Chin With Makeup In A Jiffy!
Image courtesy - FreePik
Ever open up your front camera to only find your face taken over by your chin? Well, you're not alone! The double chin makes quite the appearance, especially when you don't want it the most. Your skin loses elasticity as you age, especially around your neck and jawline. This causes the skin to sag and look a little less taut. A double chin also appears when a layer of fat starts to form below your chin but the important thing to note here is that it is completely normal. While you can totally rock your double chin as it is, if you do feel more confident when it is hidden, then we've got just the quick fix- makeup! But do you know how to contour double chin? Thanks to the power of face makeup products, you can totally learn how to hide double chin with makeup in a jiffy.
How To Hide Double Chin With Makeup- Top Tricks To Follow
It's all about creating shadows and lights in the right way! Check out how to hide double chin with different makeup techniques –– it'll give you that chiselled jaw, your selfie-camera is going to love. 
Start With Your Jawline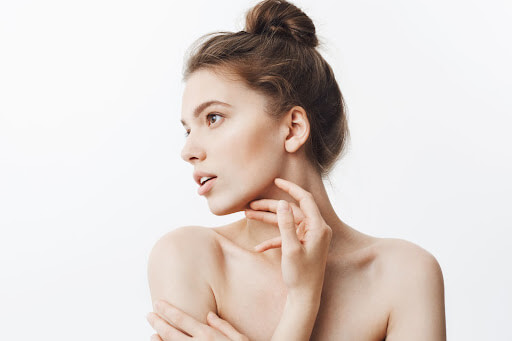 Image courtesy - FreePik
So the first step on how to hide double chin is to start with jawline. Since the double chin sits around the jawline, you want to make sure you use the right products to chisel it. You need to create an illusion of it being slimmer and toned. For this you can opt for a contour palette that'll help you shape and create shadows to make your jawline appear thinner and very supermodel like. Contour your face just below the chin and make a triangular shape on both sides. Blend it downwards for a subtle shadow.
MyGlamm Recommends Best Makeup Products To Hide Double Chin
Chisel It Contour Kit