Image courtesy - FreePik
Ever open up your front camera to only find your face taken over by your chin? Well, you're not alone! The double chin makes quite the appearance, especially when you don't want it the most. Your skin loses elasticity as you age, especially around your neck and jawline. This causes the skin to sag and look a little less taut. A double chin also appears when a layer of fat starts to form below your chin but the important thing to note here is that it is completely normal. While you can totally rock your double chin as it is, if you do feel more confident when it is hidden, then we've got just the quick fix- makeup! Thanks to the power of face makeup products, you can totally learn how to hide your double chin in a jiffy.
How To Hide Double Chin With Makeup- Top Tricks To Follow
It's all about creating shadows and lights in the right way! Check out how to hide double chin with different makeup techniques –– it'll give you that chiselled jaw, your selfie-camera is going to love. 
Start With Your Jawline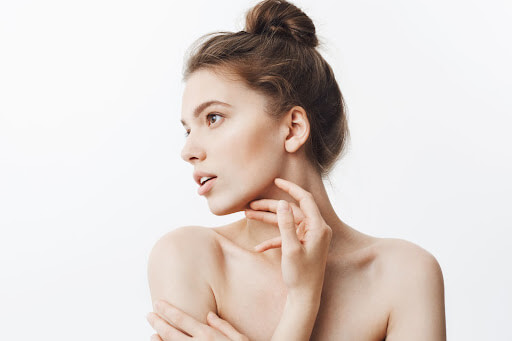 Image courtesy - FreePik
Since the double chin sits around the jawline, you want to make sure you use the right products to chisel it. You need to create an illusion of it being slimmer and toned. For this you can opt for a contour palette that'll help you shape and create shadows to make your jawline appear thinner and very supermodel like. Contour your face just below the chin and make a triangular shape on both sides. Blend it downwards for a subtle shadow.
MyGlamm Recommends Best Makeup Products To Hide Double Chin
Chisel It Contour Kit
A fun trio palette that houses a bronzer, blush, and highlighter. It gives your skin a flush of colour, while allowing you to chisel your face to perfection. It has a buildable coverage, with a luminous, silky effect. Plus, it blends like a dream!
Rs 1,250
Buy here
Connect The Contour
Image courtesy - FreePik
When you contour, you need to ensure that your face and your chin don't look disjointed. In this case, make sure you blend in what you've done around your jawline to your ears. You will also need to consider contouring your neck a little, just so that your face, chin, and neck look in unison and don't seem disconnected or discoluored.
Pick The Right Formula & Texture
Image courtesy - Pixabay
Stay away from shimmer and always pick matte textured bronzer or contour sticks when you want to hide that double chin. This makes it easier to blend across your face. Remember shimmer formulas will only accentuate your double chin and won't camouflage it. You can even opt for a creamy formula that settles into matte. Sometimes, even foundation sticks in darker tones are great for contouring, especially when you want to get a more precise chisel.
MyGlamm Recommends Best Makeup Products To Hide Double Chin
MyGlamm Pose HD Foundation Stick
A stick foundation that gives your skin a matte finish. It has a super smooth application that gives you medium to high coverage. Formulated with shea butter, jojoba oil, and vitamin E, it nourishes and hydrates your skin, while blurring imperfections. You can use it either to conceal, highlight, or contour — take your pick.
Rs 599
Buy here
Get Your Shade Right
Image courtesy - FreePik
Take your time to find the right shade to contour your face. Contouring means sculpting, which means you need a darker hue to bring out those shadows. Always go two tones darker, without it looking like a patch.
Use A Bronzer
Image courtesy - Unsplash
Feel free to use a bronzer around the neckline and jawline, going from ear to ear. You will need to blend it to make it seamless though!
MyGlamm Recommends Best Makeup Products To Hide Double Chin
MyGlamm Pose HD Bronzer Duo
This matte finish bronzer has a high definition formula that's lightweight on the skin. It has a buildable coverage that blends beautifully. It has an advanced optical technology that blurs imperfections too! 
Rs 699
Buy here
Go For The Bold
Image courtesy - Unsplash
The hue you choose to wear on your lips really makes a difference to how your chin appears. Go for bolder, brighter colours like dark red, browns, maroons. You can even opt for shimmery lip glosses. The idea is to take away focus from your chin and on to your lips.
MyGlamm Recommends Best Makeup Products To Hide Double Chin
Manish Malhotra Soft Matte Lipstick - Velvet Wine
A soft sheen matte finish lipstick with a creamy formula, this lip product isn't your average matte. Enriched with tropical oil, it also moisturises your lips. With a medium to full buildable coverage, this one is a handbag staple.
Rs 950
Buy here
Play Up Your Cheeks & Eyes
Image courtesy - Unsplash
Another way to divert attention from your jawline, is to pull focus to your eyes and cheeks. Use some blush to add a flush of colour to your face and pair that with some fun eye makeup products.
MyGlamm Recommends Best Makeup Products To Hide Double Chin
MyGlamm Superfoods Kajal - Indigo
Get defined and bold eyes while keeping them nourished. The Superfoods Kajal is formulated using nourishing avocado oil extracts, vitamin E, and sunflower seed oil. The intense and smooth pigment glides on really well and lasts for up to 12 hours.
Rs 395
Buy here
Show Off That Neckline
Image courtesy - Unsplash
Use a highlighter to highlight your neckline, collarbones and chest. This'll also help blend in the bronzer that you've used to hide the double chin, making the entire camouflage look more natural.
Blending Is The Key
Image courtesy - Unsplash
If you want to make any contouring look work, remember you need to blend it in so that it looks absolutely natural. You can either do this by using a blending brush or a makeup sponge. However, a blending brush will give you better results when it comes to contouring.
Related Stories
How To Cleanse Your Face Properly At Home - Washing your face isn't as simple as it seems. Do it wrong and you can do some serious damage! Check out how to cleanse your face properly at home. 
How To Use Face Serum - Face serums are probably one the best things that have happened to skincare. They are super potent and do the job within no time. Here's how you should be using your face serum to make the most of it. 
How To Remove Stretch Marks Naturally - Want to get rid of those stretch marks? Here's how you can remove them naturally.
How To Use Face Wash - Using a face wash requires a little bit of technique and a whole lot of TLC. Here's how to use a face wash daily.
How To Apply Foundation On Face - Want to dive into the world of base makeup? Here's how you can apply foundation on your face without looking like you fell into paste.
How to Tighten Face Skin Naturally at Home - Tightening face skin is the new normal. And if you are a newbie in tightening face skin, let this article be your introduction!!
How to hide a double chin is an important question a lot of people have. With the right makeup and the correct technique you'll be able to make that double chin look as chiseled as ever!