Long, Strong & Shiny – 10 Vegetables For Hair Growth
A powerful yet gentle hair oil that is enriched with the goodness of high concentration cold-pressed onion seed oil, moringa oil, bhringraj oil, sesame oil, castor, and almond oil, it helps strengthen the hair and reduces hair fall. It has an antibacterial formula that nourishes and heals the scalp, and even treats conditions like dandruff. Doubling up as a heat protectant, this oil protects the hair and scalp from UV damage, while leaving it soft and smooth.
Vegetables For Hair Growth #2: Garlic
Image courtesy - Pexels
This tasty food must-have, is actually great for hair growth. Its high sulphur content is what makes this vegetable a must-have for when you're looking to boost your hair's health from the root.
Vegetables For Hair Growth #3: Spinach
Spinach is probably one of the healthiest vegetables not only for hair growth, but also for your skin and body needs too. A great source of fiber, iron, zinc, vitamin K, and minerals, the nutrients present in spinach play an essential role in preventing hair loss, strengthening the hair, and even improving hair growth. It even makes for a great homemade deep conditioner for your hair too!
Vegetables For Hair Growth #4: Curry Leaves
Image courtesy - Pinterest
Curry leaves are a great addition to your food to add that flavour, but did you know that it is also a great vegetable for hair growth too. Often present in many DIY homemade hair oils, consuming curry leaves means providing your body with the right nutrients to fight hair loss and hair fall. 
Vegetables For Hair Growth #5: Beetroot
Thanks to its rich colour, this vegetable for hair growth actually aids in increasing lycopene which is what stimulates growth. The red hue does wonders for the hair, and improves overall hair health too.
Vegetables For Hair Growth #6: Tomatoes
Image courtesy - Pexels
This Indian-staple vegetable is rather potent and contains hair loving ingredients that help with hair growth. Rich in antioxidants, tomatoes help detox the scalp and also improve shine on the rest of the hair.
Vegetables For Hair Growth #7: Carrots
Image courtesy - Pexels
Another great vegetable for hair growth, carrots are said to contain biotin and beta-carotene, both of which are really beneficial for your mane. They help boost hair health, strengthen the hair from the roots, prevent hair fall, and even aid in increasing your hair growth.
Vegetables For Hair Growth #8: Sweet Potatoes
Image courtesy - Pexels
Did you know that like carrots, sweet potatoes too contain beta-carotene, an essential vitamin A that encourages healthy cell repair. This turnaround aids in boosting hair growth, and gives your mane a renewed and luscious look too.
Vegetables For Hair Growth #9: Chilies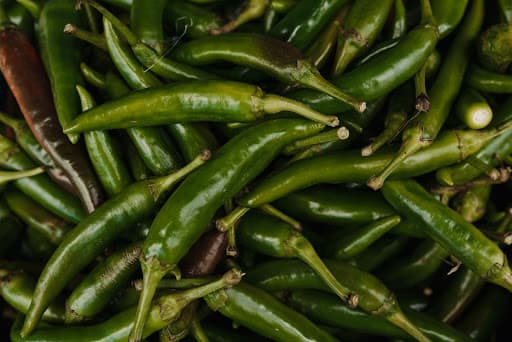 The next time you toss out those chilies, think again! A great vegetable for hair growth and thickness, green chilies actually contain keratin (the protein required for healthy hair) and vitamin E. These nutrients repair damage and even encourage the growth of healthier hair follicles.
Vegetables For Hair Growth #10: Bell Peppers
Image courtesy - Pexels
Thanks to their yellow hue, bell peppers often contain nutrients that help reduce hair fall and stop the breakage of hair. This in turn boosts hair growth. It's actually one of the best vegetables for hair growth, thickness, and volume.
The benefits of consuming vegetables for hair growth are immense. Not only do these veggies replenish lost nutrients that are required for healthy hair, but they also help maintain its health. So the next time you plan to toss out the garlic, or keep the curry leaves aside, think again––you're going to be missing out on giving your hair the best nutrition it deserves to look and feel healthy. 
Related Stories
Superfoods For Glowing Skin - You are what you eat, and that shows on your skin too! Check out these superfoods you need to be consuming for that healthy glow. 
Foods That Slow Down Ageing - Did you know that you can eat your way to youthful skin? Here's a list of foods that can help slow down the signs of skin ageing in the most natural and holistic way possible. 
Potato for face: Potatoes contain a multitude of benefits for the skin- from soothing under-eyes to moisturising skin. Here's everything you need to know what potatoes can do for your skin. Read on for potato benefits and home remedies!