Flawless Finish - Dusky
Total Makeover FF Cream with Glow to Glamour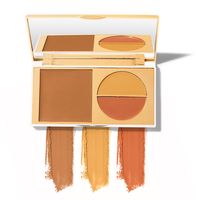 Total Makeover FF Cream
Cocoa
₹

1450
₹
This Make-Up Kit comprises of Total Makeover FF Cream along with Glow to Glamour

Total Makeover FF Cream: An all-in-one foundation with a long-lasting formula that fuses primer and foundation in one easy step! An amazing combination product for a flawless base that 
provides sheer to full buildable coverage. It 
includes a primer that prolongs wear for impeccable results. Also in the palette are two color correctors, yellow and orange, to smooth away small imperfections, uneven skin tone, discolorations and dark circles. 
Our precisely calibrated advanced European 
formula allows the product to melt into your skin while highlighting and correcting the complexion all at the same time. 
Glow to Glamour:


Shimmer Powder - Illuminate is a soft, powder highlighter with subtle shimmer
Fixing Powder - Naked is a translucent fixing powder for a matte finish

MyGlamm's Glow to Glamour Fixing & Shimmer Ultra-light, loose powders floats weightlessly onto skin to set and smooth your look for enhanced luminosity and a flawless finish. It brightens any complexion and sets foundation in place for captivating radiance. Adds a shimmery finish to any makeup or a bit of glow. 


Read more about Total Makeover FF Cream

Read more about
Glow to Glamour