10 Silver Eye Makeup Looks To Tap Into The Soft, Dreamy Gal Within You
Though it's only the first month of 2023, celebrities and influencers alike have already left in their trail. A barrage of head-swivelling above-the-neck aesthetics — many of which are swiftly catapulting into trends. The display features a well-balanced assortment of clean-girl and maximalist aesthetics — with both categories adding to their collections a cornucopia of silver-drenched inner-corners, brow-bones, and lids. 
While some of these looks flourish on silver-tipped waterlines, others enlist the expertise of the colour for full-throttle aesthetics. Here are some of the finest iterations of silver eye makeup looks along with the coolest line-up of products to recreate them with. Check it out!
10 Of The Dreamiest Silver Eye Makeup Looks
It's time to elevate your look. You're going to want to experiment with these looks STAT!
For When You're Running Late
Divorce the conventionality of a jet-black flick for something star-studded. This loved-up affair with silver is all sorts of enchanting. Just draw a cat-eye flick on either eye, and you're done. Do ensure that the flick is thin and sharp — so as to capture aesthetic better. 
Use: Manish Malhotra Beauty By MyGlamm 9 In 1 Eyeshadow Palette — Reverie 
This palette displays high quality pigment-rich colours — amongst which is sandwiched a glitter-studded silver that glistens and gleams boldly. It's blends into the lids like butter, and it's oh-so-buildable.
Your Night-Out Is Incomplete W/O This One

 
Have you run out of inspiration? If the basic cat-eye flick is not doing it for you anymore, elevate your aesthetic like this. While most flicks are positioned upward toward the eyebrow or forehead, this one slopes downward. Proceed to line the (lower) waterline with the colour — and once you've reached the outer-corners, join the two flicks while leaving some space in between. Make sure you also outline the 'v' of the inner-corners for effect. 
Use: POPxo 12 Eyeshadow Kit — Vibe Check 
This Vitamin E-enriched eyeshadow kit contains both shimmers and mattes — and amongst the former is a shade of silver that's just like the one employed in this look. Add to cart ASAP!
The Clean Girl Aesthetic Meets Soft Glam
You're more of a minimalist? Don't worry. Just line your lid with a flick of silver. This one's a masterclass in the lazy-girl aesthetic. 
Did Someone Say Dewy Dumpling?
This all-over silver is a high-glam look that you can enlist for your night-outs. You can prime your eyes before diving into the process. To capture the glazed, dewy-dumpling effect, layer your eyes with some lip-gloss before reaching out for some silver from your palette. Transfer some of the product onto a finely-tipped brush and dab it onto the lids. Make sure you're going all over the crease and under-eye in the process. Highlight the inner-corners too. This is such a cool glitter silver eye makeup look!
Use: POPxo Eyeshadow — Send Noods 
This four-eyeshadow palette features two shades of pink that you can set the base of your eyes with. While one is studded with shimmer, the other is matte. Mix and match! 
Cat Eye Sharp Enough To Kill A Man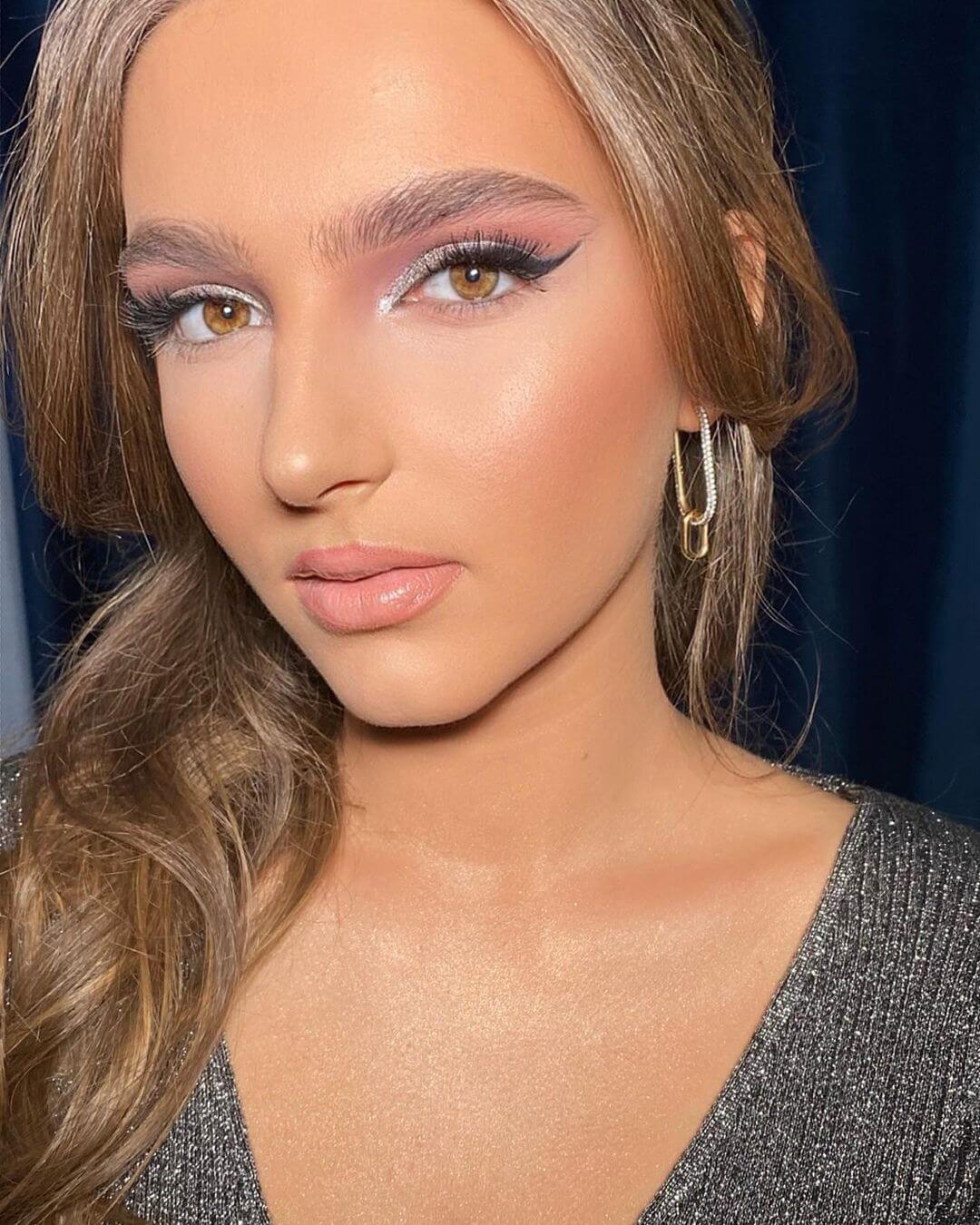 Set the base of the eyes with a heavy-handed flick of silver, and frame your lids with a classic cat-eye wing as shown in this picture. Though there's a contrast between the two colours, they compliment each other effortlessly. Notice how the wings are razor-thin and sharp. If you want to add some colour to the eyes, you can paint the brow-bone pink. 
Use: MyGlamm Manish Malhotra Beauty Glitter Eyeliner — Black Moon 
If you like eyeliners that are black and shiny, get Black Moon now. It's intense yet angelic. And one swipe endows your lids with colour. No kidding.
If You're Not Over Euphoria Yet
You can frame your eyeshadow with a wing like this and add some rhinestones to the inner-corners and outer-corners of the lids with some lash-glue. That's it! 
Use: MyGlamm Jet Set Eyes Kajal Eyeliner — Noir
This eyeliner boasts a creamy, blendable texture that glides onto the lids seamlessly. It has a semi-matte-finish and is budge-proof, smudge-resistant, and long-lasting.
Giving Negative Space A Space To Shine
This simple swish of silver finds a balance between drama and minimalism. Even though the silver glitter eyeliner pops, it does so subtly. All you have to do is outline your upper-crease before joining the flick to the corner of your eye like a wing. Negative space is in, and this is your sign to jump in on the bandwagon. 
Use: MyGlamm Twist It Up Mascara — Black
This mascara is anything but ordinary. It can curl and voluminise and it comes with a brush that fits every eye shape ever.
A Masterclass On Elevating A Cat Eye

 
Though this look is centred around wings and flicks, it's a little different than the ones listed before. Just set the base of your eyes with a tinge of pink before going in with a silver cat-eye flick. The next step involves framing each wing with jet-black eyeliner. While this requires some precision on your end, the end-result is so glamorous!
Use: MyGlamm LIT Glossy Liquid Eyeliner — Black Party
On the lookout for a very dark and intense black eyeliner. You have found it. Don't wait too much! Just add to cart!
Natural Is The Way To Go
For a natural silver eye makeup, pick this classic cat-eye — just without the boldness of the jet-black flicks. How do you like that?
Use: MyGlamm LIT Brow Definer Pencil - Shook
Use this brown eye-pencil to create the most natural-looking brows ever. This one comes equipped with a built-in spoolie to brush the brows with. If you find black too harsh, get this one!
Simple N Sassy
Do everything that you did for a dewy-dumpling look. Layer the eyes with lip-gloss and dab some silver onto the lids. Just add a few stickers to the lids, and you're done! Such a simple silver makeup look.
Use: MyGlamm Spotlight Illuminating Liquid — Stardust
Tease the high points of the face and inner corners of the eye with this veil of shimmer. This glow-inducing elixir endows your skin with a high-shine, dewy-dumpling aesthetic that feels and looks natural and understated. 
Which one of these silver eye makeup looks are you planning on recreating? Spill!

Also Read