12 Highlights Hair Colour Ideas To Give Yourself An Instant Makeover
Image courtesy - Instagram
Nobody likes walking around with a boring mop of hair. When in doubt, you cut it out- however, that isn't the only solution! Step in, highlights. Highlights for your hair is precisely what makeup is to your face –– it gives it the much needed uplift that brings it back to life. Now, the thing with highlights is that it doesn't need all that much commitment, as it does with doing your entire mane. You can keep it simple and go with a few streaks or you can turn up the volume (and definition) and go with a full head of highlights. Colours and styles galore, scroll down to take inspiration from 12 highlight hair colour ideas that will instantly change your vibe and give you an edgy yet not too OTT look.
Best Highlight Hair Color Ideas
So there is two ways you can go about with highlighting your mane –– you can either keep it subtle and simple with natural and trendy hues, or you can go all out crazy with bright and vibrant hues. Either way, you aren't going to be playing it safe! Check out the 12 different highlight hair colour ideas you can pick from no matter what your style.
1. Unicorn Hair Colour Highlights
Image courtesy - Instagram
This type of hair colour highlights isn't for the weak hearted! If you want to go down the edgy path, this highlighter look is perfect for you. With a combination of pastel shades of pink, purple, and green, this one works perfectly well for those bobs, lobs, or pixies!
2. Into The Blue Hair Color Highlight
Image courtesy - Instagram
Think of this type of hair colour highlights as a refreshing take on the 2000s trend. Amp up your black hair with a pastely blue hue, paired with hints of electric blue. It's a great hair colour trend for hair that's choppy and in layers.
3. Purple Power Highlights Hair Colour
Image courtesy - Instagram
Have a little fun with some tones of aubergine and purple with this hair highlights style. It adds a spunk of colour to your mane –– it's not too subtle and not too in your face either, it's the perfect balance of edgy.
4. Two-Toned Hair Highlight
Image courtesy - Instagram
Have fun with two contrasting yet complementary hues of brown and caramel. This highlight hair colour look takes a basic trend and makes it a little fun and funky too!
5. Blonde & Brown Hair Highlight
Image courtesy - Instagram
If you don't want to go all out with the hair colour, then start with a basic brown and blonde look. This highlight hair colour is the gateway to giving those locks a bit of a makeover.
6. Peekaboo Hair Colour Highlights
Image courtesy - Instagram
This trendy highlights hair colour is edgy, funky, and a whole lot of fun. When you wear your hair down, it's hidden, however when you tie your hair back or up voila! those highlights show up!
7. Running On Rainbow Hair Highlights Colour
Image courtesy - Instagram
Add a splash of colour to your hair with this rainbow highlights hair colour! While the main focus is blue and green at the ends, the highlights split into pinks and yellows more towards the crown of your head.
8. Magenta Mix Hair Highlight
Image courtesy - Instagram
Instead of going with one hue of magenta, why not give it a bit of gradient spin. A combination of magenta, brown, and blonde streaks across your mane will give your tresses a cool makeover.
9. Just The Tips
Image courtesy - Instagram
Going for a peekaboo? Then style your bob with hues of purple, pink, and blue. Instead of starting at the first layer, go with the lower layers –– this way your highlights remain hidden under your mane and don't look too OTT.
10. Ash Grey Peekaboo
Image courtesy - Instagram
Edgy and trendy, ash grey is probably one of the coolest types of hair colour highlights you can opt for. Pair it with a peekaboo style and your locks will look as new as ever!
11. Chunky Highlights Hair
Image courtesy - Instagram
Go with chunky highlights to frame the shape of your face and give it more definition. This type of hair colour highlight goes with contrasting shades that complement your natural hair colour.
12. Balayage Touch Highlight Hair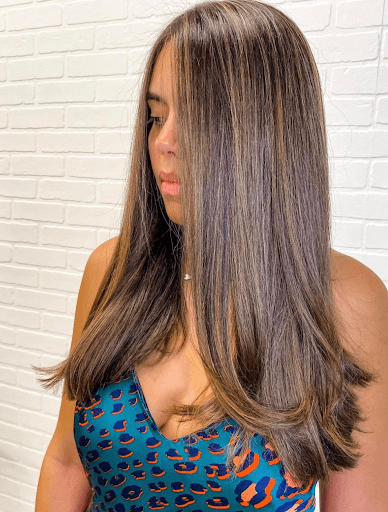 Image courtesy -  Instagram
Go for a traditional highlight hair colour that gives your mane a makeover without being too out there. Pair browns and caramels with your naturally dark hair to give it that boost!
MyGlamm Recommended Haircare Products
MyGlamm SUPERFOODS Cacao, Coconut & Coffee Conditioner
MyGlamm SUPERFOODS Onion & Moringa Shampoo
Related Stories
How To Colour Your Hair Naturally At Home With Kitchen Ingredients - Want to colour your hair, but are too scared to do it chemically? Fret not! Here are some fun ways you can colour your hair at home with kitchen ingredients.
Hair Colour Trends We Love - Who wouldn't love a splash of colour to upgrade their mane? Check out these hair colour trends that we totally love and adore! Feel free to try them out.
DIY Hair Masks For Colour Treated Hair - Colour treated hair tends to get dry, brittle, and can even look and feel damaged. Step in conditioning hair masks to the rescue! Here are some DIY hair masks that'll help uplift that coloured hair.
Caring For Coloured Hair - Coloured hair requires a whole lot of extra TLC! The chemical treatment tends to strip the hair off its natural oils, leaving it dull, dry, and damaged. Check out how you can upgrade your hair care routine to care for your coloured hair.
How To Get Rid Of Holi Stains From Your Skin And Hair - Have fun with a splash of colour this Holi, without the worry of staining your hair and skin. Here's how you can get rid of the stains easily and effectively.
Getting highlights in your hair is one of the best ways to amp up your mane and give it a cool makeover. There are so many options to choose from and so many hair colour highlights to go for! And in the universe of hair care, there are several ways in which you can protect and retain that glossy glow. Let these different types of hair colour highlights inspire you and set the tone for the season.
Highlights for red hair: Red is a bold colour and adding anything new to it must blend with colour and especially with you. So check out this highlights for red hair ideas.
 Also, Look For
Popular Categories
Makeup Products | Skincare Products | Hair Care Products | Bath & Both Products | Sanitizing Care Products | Lip Makeup Products | Face Makeup Products | Eye Makeup Products | Nail Makeup Products | Makeup Kits | Bridal Makeup Kits | Lipstick Set | Makeup Accessories | Cleansing Products
Trending Searches
Lipstick | Cleanser | Foundation | Nude Lipstick | Highlighter | Matte Lipstick | Liquid Lipstick | Nail Polish | Lip Balm | Sunscreen | Face Wash | Compact Powder | Lip Gloss | Eye Kajal | Eyeliner | Face Blush | Concealer | Lip Tint | Shampoo | Mascara | Eye Shadow | Face Primer | Crayon Lipstick | Face Serum | Hair Serum | Lip Liner | Hair Oil | Loose Powder | Pink Lipstick | Brown Lipstick | Purple Lipstick | Red Lipstick | Peach Lipstick | Sheet Mask | Night Cream | Sindoor | Moisturizer | Makeup Remover