12 Stylish Haldi Hairstyles For Every Bride-To-Be And Her Entourage
Image courtesy - Instagram
Haldi ceremonies are probably the most underrated. Just because it can get a little bit messy, doesn't mean you cannot go all out stylish. Whether it's wearing your hair up or down, long or short, there's always a simple hairstyle for haldi function for you. When you have the right haircare products by your side, any hairstyle is easy to achieve! So sit back, relax and scroll through these haldi hairstyles. They are surely going to set the vibe for you and your ensemble on the day. 
Simple Hairstyles For Haldi Function
Sometimes the most simple hairstyles for haldi function look the classiest! These haldi hairstyles are perfect for the girl who doesn't like to go all OTT, but still wants her hair to look different for the ceremony.
Pins And Clips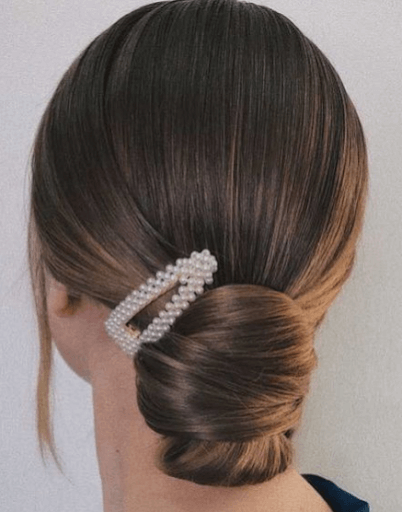 Image courtesy - of Instagram
This sleek bun haldi hairstyle will keep your hair in place all throughout the haldi ceremony. Throw in a cute clip and this simple hairstyle goes from sleek to chic in an instance. Use a bit of hair oil to smoothen out any flyaways.
Half & Half
Image courtesy - Instagram
If you've got wavy or curly hair, feel free to wear it half up half down in a low half pony. Wear it with a colourful scrunchie that matches your haldi ensemble instead of a plain ol' black hair tie. 
All Up!
Image courtesy - Instagram
A simple high pony is the best hairdo to go with if you want a fuss-free, functional haldi hairstyle. Tie your hair up and tong the ends to give your hair a little texture. Scrunch it in with a hair serum to add that extra shine. Conceal your hair tie with a few strands of your hair, so that the hairstyle looks seamless.
Stylish

Hairstyle For Haldi Function
Looking for something that's got a whole lot of oomph? These stylish haldi hairstyles will set the mood for your ensemble.
Braid Me In
Image courtesy - Instagram
Give your usual braids a break. Try his braided haldi hairstyle that converts in a low bun. Throw in a satin scrunchie and your haldi hairstyle is ready to go.
Weaved Up
Image courtesy - Instagram
This heavy yet stylish braided haldi hairstyle is apt for anyone –– long or medium length hair. Weave a ribbon, scarf, or fabric (that matches your outfit) in your hair and create a thick braid. This holds better on second day hair –– so you might want to lay off the heavy shampoo.
Pearl Power
Image courtesy - of Pinterest
How pretty does this haldi hairstyle look? It's just a simple and sleek ponytail that uses pearly accessories to add dimension and style to the hairdo. Feel free to switch the pearls out with studs, sparkles, or anything floral. Make sure your hair is well conditioned with a hair conditioner before styling it, as you wouldn't want any split ends or dry hair ruining the entire feel of this hairstyle.
Haldi Hairstyles

For Short Hair
Whether you're looking for a simple and functional hairstyle or something uber and ultra glam, we've got a hairstyle for your short hair. These haldi hairstyles will suit your hair length and look absolutely gorgeous with any desi ensemble.
Pinned Up
Image courtesy - Instagram
Create some light, beachy waves with your hair and spritz some texturising spray to give it a little texture. Pin one side of your hair with some elegant hair pins. Make sure the side the pins are on is sleek and neat.
Simple Braid
Image courtesy - Instagram
This look works on both wavy and straight hair.  A half crown braid is one of the best haldi hairstyles that break the monotony of your hairstyle, without being too in your face.
Natural Curls
Image courtesy - of Instagram
Curly short hair can be styled to perfection too! Wear your hair natural by tying it into a small, low bun. Let the front two to three strands of hair out and apply some gel or mousse to define the curls.
Haldi Hairstyles

For Long Hair 
Have fun with your long hair cause the possibilities are endless. Feel free to play around with these haldi hairstyles for long hair.
Bridal Bun
Image courtesy - Instagram
This classic haldi hairstyle twists and loops strands of your hair into a bun. The barette floral clip gives the updo a bit of a glam touch.  
Floral Fun
Image courtesy - Instagram
Long hair don't care! Go for messy waves and instead of doing a half crown braid, clip in some flowers.
Pony Power
Image courtesy - Instagram
It's all about the volume for this look! The messy beachy waves, the elegant pouffe, and the double strap headband really adds a lot to this haldi hairstyle.
.
Related Stories
Wedding Braid Hairstyles - Braids are the safest yet most stylish option out there when it comes to wedding hairstyles. There are so many variations you can play with and choose from, that you'll never fall short of inspiration and ideas for any of your wedding ceremonies. Check out these wedding braid hairstyles that'll narrow down the trendiest looks you can try for your big day. 
Hairstyles For Long Hair - Curly, wavy, straight. Buns, braids, ponytails. You have so many styles to choose from when you've got long hair. We've got an array of hairstyles that work best with your long, long locks.
Best Reception Hairstyles For Contemporary Brides - Don't want to go down the traditional route? Feel free to opt for one of these hairdos that are designed for the contemporary and off-beat bride. 
Bridal Hairstyles - Let us help you check off one of the most important bridal decisions for your big day. Check out these bridal hairstyles that give you a mix of contemporary and classic hairdos that will work well for any and every event leading up to your big day too.  
Yes, haldi ceremonies require you to get your hands dirty –– whether you are the bride or part of her important entourage. But, that doesn't mean you can't style it up! Fret not. These easy to do, haldi hairstyles have a mix of stylish, classic, pretty, and drop dead gorgeous hairdos that are sure to inspire you for any haldi ceremony.