Remember a time when square and rounded nails were actually the hottest manicure trend out there? Well, this time around we've got a mix of the both  –– meet coffin nails, the trendiest nail shape that's available for everyone to try. Coffin nails are a cross between rounded and square. They have a tapered shape with a flat top towards the end of the nail. Whether you like to wear them short, medium or long, a lot of designs actually pop out better on this nail shape. Scroll down to see the different coffin nail designs you can try out this year! 
What Are Coffin Nails?
Image courtesy - Instagram
Inspired by Kylie Jenner, coffin-shaped nails or ballerina's nails are a cross between pointy and square. They are called this because they often either resemble a coffin or the pointed end of a ballerina shoe. The best part about coffin nail designs is that you can wear them either medium or super-duper long. Check out these designs that'll inspire your next manicure.
Different Coffin Nails Designs
From short coffin nails to long ones, these nail design ideas cover it all. Check out how you can make most of your nail shape by opting for a design that's not boring.
Solid Red
Image courtesy - Instagram
Play around with two textures –– glitter and glossy nail enamels. Go for a bright hue for the glossy nail. You can either do a red or pink, to make the coffin nail design stand out even more!
Starry Night
Image courtesy - Instagram
This coffin nail design is apt for medium-sized nails. Apply a clear glitter nail enamel and top it off with some bright and pastel hues in starry shapes. Layer with a glossy topcoat and you're ready to go!
Floral Fantasy
Image courtesy - Instagram
Make it nude, but make it super-duper pretty. This coffin nail design uses a combination of a pastel nude hue as well as a few jewels to brighten it up. Feel free to create 3-D shapes like flowers on one nail.
Updated French
Image courtesy - Instagram
A geometric French manicure that uses the coffin nail design to create a gorgeous print. Go with hues of shell pink and white for the tips! 
Colourblocked
Image courtesy - Instagram
Nothing can go wrong with a combination of two pretty elegant hues. Take a pastel shade and pair it with a solid white. You can even top off one nail with matte nail enamel. This nail art is perfect for a coffin nail design. 
White Out
Image courtesy - Instagram
When in doubt, white it out! The pairing of white and silver makes for a great coffin nail design go-to. Either wear the silver glitter on one nail and go for two, to break the monotony of the white.
Heart It Out
Image courtesy - Instagram
Valentine's Day or not, this date-ready mani is great if you're looking for medium coffin nail designs. The neutral glossy base, paired with a red heart design on each nail makes for a minimalistic yet eye-catching manicure.
Glitz & Glamour
Image courtesy - Instagram
Shimmer and shine, no matter what the time! Take advantage of the coffin nail shape and opt for a design that's a little angular. Go for nail paints that hold a little chunky glitter versus fine and milled glitter.
Marble Marvel
Image courtesy - Instagram
This coffin nail design uses a baby pink glossy nail and pairs it with a pretty marble effect. This one works really well for those super long manis.
Mermaid Mani
For this coffin nail design, you need to go with a very pretty ombre to bring out the shape of your nails. Go for holographic colours like blue or pink, that'll catch all eyes whenever you flash those digits.
Dark Fantasy
Image courtesy - Instagram
If black is your thing, then you're going to love this coffin nail design. The use of jet black nail polish, black glitter nail lacquer and jewels looks absolutely stunning. Create a marble effect with white and black for one finger and you're good to go!
Clear Out
Image courtesy - Instagram
Clear nails are always in! This coffin nail design uses tiny gold flakes and floral nail decals, set against a clear nail bed. Add a top coat and your clear coffin nail mani is ready to dazzle.
MyGlamm Recommends Best nail Products To Create Designs on Coffin Shaped Nails
Get your coffin nail designs on point with the correct nail products. Check out what you can use to recreate these gorgeous coffin shape nail ideas. 
Manish Malhotra Nail Lacquer
Get your manicure done right with this amazing nail lacquer collection. With intense colour and high-shine gloss, it allows for easy application and control while you glide it on your nails. The formula is long-lasting and quick-drying, and has a glossy seal patented technology that instantly dazzles your nails.
Rs 450
Buy here
PopXO Makeup - Thrivin' Mini Nail Kit
A high-gloss nail paint that comes in trendy and cool colours. The formula is long-lasting and non-streaky, and gives you five shades that are boujee but on a budget.
Rs 249
Buy here
MyGlamm Two Of Your Kind Nail Enamel
Get the power of two in one product. This duo of two striking nail polish shades gives your talons a gel effect nail polish range. It has a long-lasting formula for a salon-like finish in one stroke. With a highly pigmented colour payoff, it has exceptional coverage and swipes on in one go!
Rs 295
Buy here
Neon Dreams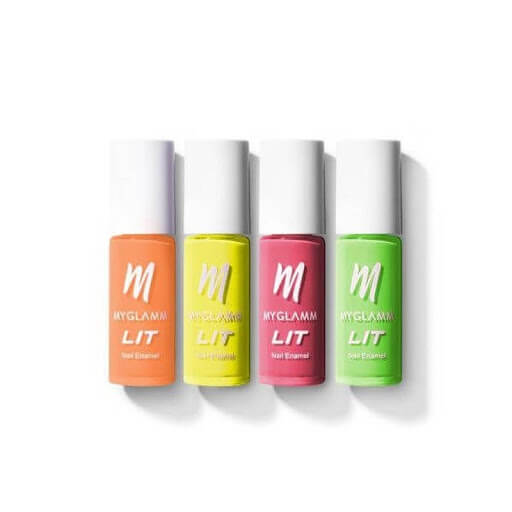 Sport these bright neon shades on your fingers and toes! This four nail paint set comes in pops of neon that'll help you make a bold and bright statement. With a long wear time, this will definitely be your next go-to.
Rs 547
Buy here
Related Stories
Red Nail Art Design Ideas - Looking for the perfect red nail with a whole lot of glam? Check out these red nail art designs that make most of the trendy hue and give your talons a touch of creativity.
White Nail Art Designs - Give your normal French tip a break! Here's how you can make use of your white nail paint with these unique nail designs.
Nail Art With Stones - Stones and jewels add a whole lot of bling to your nails. Here's how you can make it work for you without it looking tacky or too OTT.
The coffin nail shape can make a huge difference to your nail art choices. Get inspired by these coffin nail designs for your next trip to the mani-salon.
Image courtesy - Instagram