Hairstyles for Engagement:15 Elegant Engagement Hairstyles To Flaunt On Your Big Day
Ready, set, go! The time that you've been waiting for has finally arrived. Your engagement marks the start of a very hectic, yet absolutely fun ride. No matter how big or small the celebration, the to-be bride needs to look good. So why opt for a boring and basic hairstyle for engagement? Whether you're going for a desi traditional avatar for your engagement, or are planning to Westernise things a little, these hairstyles for engagement are tailored to suit whatever you have in mind. From waves to curls, elegant buns to high-top ponytails, there's a hairstyle for engagement for every length and texture. We've got 15 elegant engagement hairstyles to set that hair-spiration bar high for your celebration.
Engagement Hairstyles
Don't go for those boring and blasse hairstyles for engagement! It's your day so own it with the best engagement hairstyles that'll make you look absolutely stunning.
Messy Bun
Image courtesy - Instagram
If you're going for a more boho-chic approach, then wear your hair in messy beach waves. Tie it up into a loose bun, allowing the ends of your hair to fall back. Throw in a studded or blingy headband to add the glam-factor to your look. This hairstyle for engagement will definitely make you look super pretty!
Half & Half
Image courtesy - Instagram
This traditional hairstyle for engagement is simple yet elegant. Let your hair down with a very small half and half twist –– the accessory ties in the entire look and makes it more flattering.
Braided Bun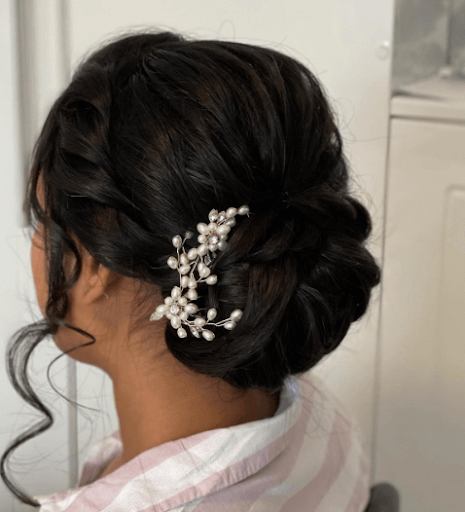 Image courtesy - Instagram
How can you go wrong with this classic? This looks especially gorgeous and sophisticated on a gown –– go for pearls as a choice of hair accessory, over stones, if you're opting for a classic gown.
Side Braid
Image courtesy - Instagram
This comfortable go-to ties in a half and half pony with a side, crown braid. Let those front strands loose and throw on a maang tikka to amplify the look. 
Pretty Pony
Image courtesy - Instagram
Wearing a lehenga? This ponytail hairstyle for engagement is comfortable and stylish. Make it less boring by wearing it with two side braids and wrap your hair-tie with strands of your hair (to conceal the scrunchie).
Elegant Updo
Image courtesy - Instagram
A traditional braid meets bun –– this hairstyle for engagement is a definite go-to for most to-be brides. Add a few studs or pins in the bun to increase the glam-factor.  
Get Gorgeous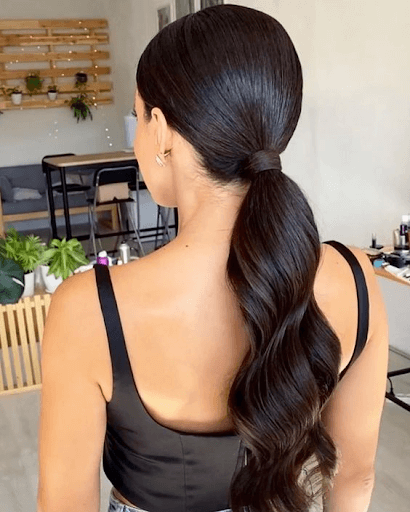 Image courtesy - Instagram
Going for a subtle, yet elegant dress? This hair style for engagement is made for you! Tie your loose waves into a low-ponytail and let a few curly strands frame your face in the front.
Big Bun
Image courtesy - Instagram
This big bun hair style for engagement makes for a great engagement hairstyle. Throw in a floral hairpiece and you're good to go!
Accessories Galore
Image courtesy - Instagram
This look works for both short and long hair. Make sure you curl your ends and add a bit of hair serum to hold the look. Throw on a beautiful headband –– it should have elements that match your outfit –– so think, pearls, diamonds, or any jewel toned stones. 
Wave Mania
Image courtesy - Instagram
You need heavy waves and a lot of volume for this hair style for engagement. Make sure to tong your hair properly and apply haircare products like mousse or hair serum so that the curls hold a little and hair looks smooth. Now, twist the sides into a braid and pin it together. 
Up In The Hair
Image courtesy - Instagram
Sleek and sexy, this engagement hairstyle screams Hollywood diva. The big 50s wave, along with the pull-back ponytail makes for a super elegant hairstyle.
Neat & Clean
Image courtesy - Instagram
A ballerina bun for your engagement? Why not! This low twirled hairstyle for engagement is absolutely perfect for any look you are going for. Make sure you have used a generous amount of hair conditioner, as you wouldn't want flyaways or split ends poking out of such a what's-meant-to-be sleek look. 
Romance In The Hair
Image courtesy - Instagram
Looking for a quick hair makeover? Add volume and definition to your hair with some light waves. Pull back one side and pin it with some adorable and minimal accessories. Add some texture to the waves with a sea-salt hairspray and you're set!
Desi Drama
Image courtesy - Instagram
If drama is your middle name, then why do you want to leave it out on your engagement? This hairstyle for engagement will bring all eyes on you. Whether it's the volumised curls or the floral accessories, there's nothing not to love about this look. 
Va-va-volume
Image courtesy - Instagram
Sometimes those dramatised Hollywood curls are the best way forward –– especially, if you're strapped for time. Throw on a tiara and show your guests (and to-be beau) the true princess you are! 
MyGlamm Recommended:
SUPERFOODS Onion & Moringa Serum
The MyGlamm SUPERFOODS Onion & Moringa serum is enriched with ingredients such as cold-pressed onion oil, moringa, and argan oil. From detangling and softening hair, fighting frizz and dryness, to protecting hair from damage, this hair serum is amazing!
SUPERFOODS Cacao, Coconut, Coffee Hair Mask

Unless you won't have a beautiful and healthy hair appearance, your hairstyle won't look perfect. More than simply conditioning and cleansing hair, you also need an effective hair mask. So, we've got a perfect recommendation for you. Enriched with cacao, coconut, and coffee, this SUPERFOODS hair mask promotes growth, adds strength and volume to hair, and enhances the natural shine and texture of the hair too.
Related story
5 Types Of Indian Brides - Bridezilla is just the only bride out there! Here are 5 types of Indian brides you'll come across –– which one are you?
Celeb Makeup Looks For The Shaadi Season - Looking for inspiration? Let these celebrity makeup looks for the weddings give you ideas on what to wear for the season. 
Anushka Sharma's Wedding Look, Decoded - Elegant, ethereal, and everything in between, here's how to recreate Anushka Sharma's beautiful wedding look.
6 Best Bridal Makeup Looks From Iconic Bollywood Movies - Bollywood has served iconic looks for generations –– so why not take inspiration from them when it comes to your bridal makeup. Check out these best bridal makeup looks from B-town.

Office hairstyles: Are you looking to change something in your office look? Hairstyle can be the best one. Check out these office hairstyles.
Inspiration galore! Let these 15 engagement hairstyles lead the way and help you raise the style bar on your big day.