Pro Protection - Face wash & Body wash Combo
We bring together the best of our germ-kill range to help you stay protected from germs and naturally refresh your skin from within.
WIPEOUT Germ Killing Body Wash
₹

199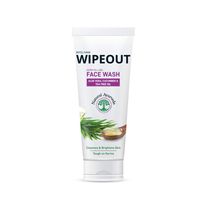 WIPEOUT Germ Killing Face Wash
₹

119
A myglammCARES initiative, WIPEOUT is a line of sanitizing and disinfecting products to help you stay safe anytime, anywhere! Enriched with natural ingredients and essential oils, these lifesavers clean, sanitize and moisturize, leaving you with nothing but goodness. This Face & Body Wash combo is a must have to make your shower routine safe, refreshing and complete. 
Benefits: 
Wipeout Face wash: 
Kills germs

Removes impurities, nourishes, moisturizes and keeps body germ-free

Skin-regeneration properties that give you soft, youthful skin

Soothing and calming effect

Gentle on your skin, tough on dirt, pollution and germs 
Wipeout Body wash: 
Kills germs

Removes impurities, nourishes, moisturizes and keeps body germ-free

Skin-regeneration properties that give you soft, youthful skin

Soothing and calming effect

Gentle on your skin, tough on dirt, pollution and germs
Enhanced Properties: 
Wipeout Face wash: 
Enriched with tea tree oil, a natural antiviral and antibacterial agent

Contains chlorhexidine known for its disinfectant powers

Free from parabens, SLS and toxins

Contains natural extracts

Cruelty-free
Wipeout Body Wash: 
Enriched with tea tree oil, a natural antiviral and antibacterial agent

Enriched with chamomile oil that soothes and calms the skin

Infused with lavender oil, an antiseptic that purifies the skin

Infused with rosemary extract, an antimicrobial that fights germs

Infused with turmeric extract, an anti-inflammatory that reduces irritation and pigmentation

Contains chlorhexidine known for its disinfectant powers

Free from parabens, SLS and toxins

Contains natural extracts

Cruelty-free