Pristine Day - Face Wash & Body Wash Combo
Feel fresh, cleansed and extremely protected with this combo.
MyGlamm Wipeout Germ Killing Soap
75g
₹

69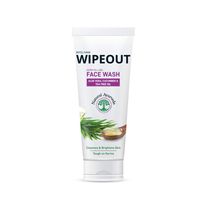 WIPEOUT Germ Killing Face Wash
₹

119
₹
The WIPEOUT Range gets you the best of soap and facewash combo which has natural extracts. It makes you feel clean, fresh, and pristine all day long. Not to forget that it also protects you from germs.  The Wipeout Germ Killing Soap has coconut extracts to lock in the moisture and the Wipeout Germ Killing Facewash includes aloe vera extracts to soothe your skin, keeping it calm.
WIPEOUT Germ Killing Soap
Benefits:
Kills germs

Removes impurities, nourishes, moisturizes, and keeps skin germ-free

Non-irritating and suitable for men, women, and children

Gentle on your skin, tough on dirt, pollution, and germs
Enhanced Properties:
Enriched with cocoa butter to softens your skin

Infused with tea tree oil, a natural antiviral and antibacterial agent

Enhanced with coconut extract that locks in moisture

Antibacterial and antiviral

Contains chlorhexidine known for its disinfectant powers

Free from parabens and SLS

Contains natural extracts

Suitable for all skin types

Cruelty-free
WIPEOUT Germ Killing Face Wash
Benefits:
Kills germs

Light gel texture

Removes impurities, nourishes, moisturizes, and keeps face germ-free

Non-comedogenic

Gentle on your skin, tough on dirt, pollution, and germs
Enhanced Properties:
Enriched with tea tree oil, a natural antiviral and antibacterial agent

Enhanced with vitamin E beads that nourishes the skin

Enriched with cucumber extract that moisturizes the skin and keeps it soft

Enriched with aloe vera extract that soothes and calms the skin

Infused with turmeric extract, an anti-inflammatory that reduces irritation and pigmentation

Infused with sandalwood extract, an antiseptic that purifies the skin

Infused with tulsi oil, an antifungal that treats infection and other skin ailments

Contains chlorhexidine known for its disinfectant powers

Free from parabens and SLS

Contains natural extracts

Suitable for all skin types

Cruelty-free