Your Ultimate Guide To All The Different Types Of Eyeshadows For A Beautiful Look!
Image courtesy - Pixabay
One of the most fun makeup products to work and play around with is eyeshadow. It comes in so many different types of eyeshadow shades, colours, textures, and types –– making it a must-have in everyone's makeup kit. Sometimes, it can be a little difficult to understand the different types of eyeshadow looks that are out there. Especially if you're a makeup newbie, the textures and formulations can be rather confusing to manoeuvre your way through. Just like your base products, your eye makeup products also need to be picked and chosen depending on different factors. Scroll down to see how you can select your type of eyeshadow look and what to keep in mind when doing so!
Types of Eyeshadow
Eyeshadows come in different formulations. Depending on your requirements, you can choose from different types of eyeshadow. Scroll down to see what to expect from each –– so that the next time you want to add eyeshadow to the cart, you'll know what to choose and why to choose it.
Powder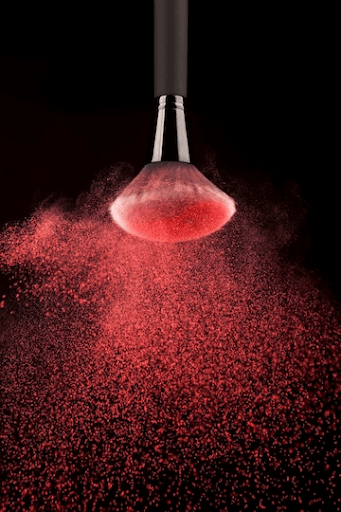 Source: Freepik.com
Probably one of the most popular and different types of eyeshadows, powdered eyeshadows are great for experts and beginners. They blend really easily and come in various textures. You can either find them as singles or as part of eyeshadow palettes –– which gives you more options to choose from. Powdered types of eyeshadows are great for creating smokey eye looks, as they blend super well.
Tip: When applying powder eyeshadow, you should tap the product on your lids rather than rub it in! 
MyGlamm Recommends - Manish Malhotra 9 In 1 Eyeshadow Palette - Rendezvous
A gorgeous palette that has a mix of matte, metallics, and foils. With 9 shades packed in one amazing product, you won't have to go hunting elsewhere for all your eye makeup needs.
MyGlamm Recommends - POPXO Makeup - Squad Goals - 12 Eyeshadow Kit
With a combination of six mattes and six shimmer eyeshadows, this eyeshadow palette comes in a mix of bold and classic colours. It is enriched with vitamin E and is highly pigmented.
Stick
Source: Pinterest.com
Stick eyeshadows are great for the girl on the go and trying out stellar types of eyeshadow looks! Simple yet effective, a stick or crayon eyeshadow often comes in a cream formula and applies smoothly to your eyelids. They are buildable, which means that if you blend enough you'll get a wash of colour and if you layer it, you'll be able to get a strong pigment that'll last the night away.
Tip: Warm the pigment on your fingers before swiping it on your eyelids. This will make the application a lot smoother and the hue will blend really easily too.
MyGlamm Recommends - Powder Magic Eyeshadow Pencil - Aquamarine
An easy-to-use jumbo pencil eyeshadow, that doubles up as an eyeliner pencil too! It has a super soft and powdery application that is easy to apply and blends really well. It has an excellent colour payoff.
Loose
Source: Freepik.com
Loose pigments aren't for the weak-hearted. They are an intense type of eyeshadow that comes in a loose form, is finely milled, and gives you an amazing colour payoff. It's best left to makeup enthusiasts, as it can get a little messy when used.
Tip: Apply a primer on your eyelids before applying a loose eyeshadow. This'll allow more product to hold on to your lids. You can even wet your brush before application to create a more dramatic effect.
Liquid
Source: Pinterest.com
Think of it as lip gloss, but for your lids! Liquid eyeshadows are another great type of eyeshadow for normal or drier skin types. The formulation provides a thick and creamy texture on your eyelids and leaves you with intense colourful looks! The only downside is that they dry up pretty quickly, so you might want to be quick when blending.
Tip: You can use a nude liquid hue as a base too. It intensifies any other colour applied on top of it.
Cream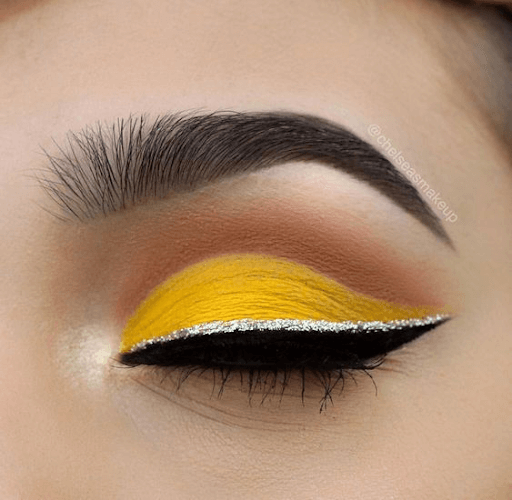 Source: Pinterest.com
Second to powders, this type of eyeshadow is the next best thing. They blend really well and are known for their shimmery finish and longevity. However, the only issue is that it tends to crease easily, therefore isn't very feasible for people with oily lids. They aren't really suitable for humid and hot climates either, as they can meltdown.
Tip: Try and avoid using your fingers with this type of eyeshadow. It is better to dip in a brush and then apply it on your eyelids, to avoid the cream from melting down and creasing on your eyes.
Baked
Baked eyeshadows have become a makeup bag staple because of their durability. They aren't pressed but are actually baked in an oven. This allows for easy blend-ability and smooth application too. Plus, you can wear the product wet or dry! If intense colour is your thing, then this one's for you.
Tip: Wet your makeup brush and apply this type of eyeshadow wet for a more dramatic effect.
Different Textures Of Eyeshadow
Eyeshadows are available in different textures, allowing you to have a whole lot of fun with your looks. Scroll down to see the variety of textures you can come across with the types of eyeshadows. 
Matte
Matte textures are great for creating subtle, yet gorgeous eye makeup looks. As the name suggests, this kind of texture gives you a complete matte effect sans any shimmer or glitter. It is perfect for layering –– you can either create natural looks or layer it up to make something more dramatic. Matte is one of the easiest to apply, especially with your fingers. It's great for beginners too!
Glitter
Glitter makeup eyeshadow holds chunky elements of shine. This texture works well on its own and when it's paired with matte eyeshadows. It works best when layered with a primer or a cream-based eyeshadow too. Glitter is a little tricky to apply, therefore keep some scotch tape handy to pick up and fallouts.
MyGlamm Recommends - MyGlamm Lit Lip & Eye Sparkles - Duchess
A small amount of this bling will go a long, long way. This glittery loose powder has a sparkly glittery finish that can be used on your eyelids, lips, cheeks, and nails.
Satin
Satin makeup eyeshadows fall between matte and shimmer eyeshadows. They give your eyes a hint of shine, without looking too loud or over the top. They are easy to apply and work well for beginners too!
Shimmer
Shimmer textures are the most popular type of eyeshadow. They leave your eyelids with a shiny texture and definitely add that sparkle to your entire look. The great thing about shimmer eyeshadows is that they can be layered with other textures to dramatise your look as well. You can even use the lighter hues to highlight your eyes and the rest of your face.
Frost
Think eyeshadow from the 90s and early 2000s. Frosted textured eyeshadows come in pastel hues and are very youthful and vibrant. They are super opaque and have a touch of silver or white in every shade.
FAQ
Which Type Of Eye Shadow Is Best?
It all depends on your requirements. If you've got oily lids, the powder works best. If you've got dry lids, then cream works well. Understand what your eyeshadows needs are and then pick out what works best for you.
How Many Types Of Eye Shadows Are There?
Eyeshadows come in different formulations and textures. There are around six types of eyeshadows, and within that, it comes in four different textures. 
Related Stories
Eyeshadow Palette Under 500 - Looking for an eyeshadow palette that'll serve all those cool looks, and not burn a hole in your wallet? Then check out our picks that'll leave you surprised!
How To Apply Eyeshadow - Are you applying eyeshadow in the right manner? Here's a step-by-step guide to achieve the perfect eyeshadow looks. 
Master Eye Makeup With These Eyeshadow Hacks - Take your skills to the next level. These makeup eyeshadow hacks are perfect to do that. 
Let these types of eyeshadows serve as the perfect guide for when you need to pick the right eye makeup product to meet your every, single, need!