It's the most wonderful time of the year! The Christmas season is upon us and you know what that means—a whole lot of parties and weddings to attend! While you deck the halls with boughs of holly, you need to start thinking about your makeup looks as well. You can't be rocking the same makeup look with your bomb AF outfits. But don't worry, since it is the season of giving, we're bestowing upon you 12 makeup looks that are perfect for your 12 days of Christmas. Whether you've been naughty or nice this year, keep your lipsticks, eyeshadows, blushes and highlighters ready, it's time to slay all the way to 2020!
Day 1 Christmas Makeup - Glitter Eyeshadow

Link: https://in.pinterest.com/pin/840625086674978082/
If you don't rock glitter eyeshadow at least once in December, you might as well be the new Christmas grinch. It's party season so that means dazzling everyone, everywhere you go. Up your glam game with this Christmas makeup look and sparkle all the way with lids covered in either gold, silver or black glitter!
Day 2 Christmas Makeup - Red Lips

Link: https://www.pinterest.ru/pin/316237205084334839/
For the second day of Christmas, it's time to perfect those pouts with the classic red lipstick. Red is another holiday favourite whether it comes to clothes and makeup. For your cocktail parties, be mistletoe ready with any shade of red. *The bolder, the better*.
Day 3 Christmas Makeup - Matte Burgundy Eyes

Link: https://in.pinterest.com/pin/136867276156194393/?lp=true
Deck your eyes with a burgundy matte for your office look. Burgundy eyeshadow is the prettiest winter makeup trend that's taking the beauty world by storm. The reason why they're so popular is not only because it elevates your day and night look but it goes well with all skin tones.
Day 4 Christmas Makeup - Orange Lips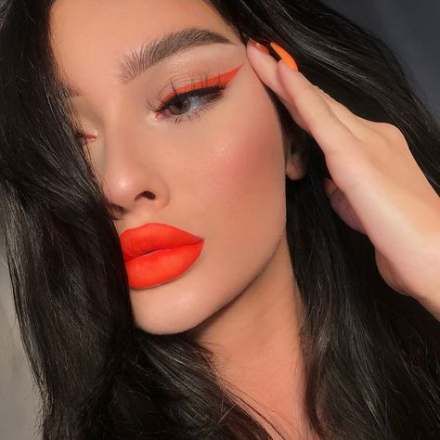 Link: https://in.pinterest.com/pin/779404279242826649/
Yup, you read that right- Orange Lips! Orange lipstick is the new trend taking over the red carpet and if you want to really stand out, we suggest going for this bold, daring look on the fourth day of Christmas.
Day 5 Christmas Makeup - Emerald Eyes

Link: https://in.pinterest.com/pin/377880224971207528/?lp=true
O, come all ye partygoers, emerald eyes are perfect for the day leading up to the new year. Your nights are probably going to be packed with a lot of parties and the fact that it's also wedding season doesn't help. So, for your Day 6 makeup look, opt for a shimmery emerald green eyeshadow. Pair it with a neutral lip colour to let your eyes really shine.
Day 6 Christmas Makeup - Black Glittery Smokey Eyes

Link: https://in.pinterest.com/pin/543880092492721929/?lp=true
If you aren't having a silent night on the 31st then your makeup calls for something dramatic and over the top. Enter 2020 on a glam note by rocking black glittery smokey eyes.
Day 7 Christmas Makeup - Golden Glow

Link: https://in.pinterest.com/pin/568438784210418036/?lp=true
After all that makeup, your skin needs some rest. But the festivities continue even on the 1st. The lights on your Christmas tree shouldn't be the only thing that glows. You can give your heavy makeup a break and get that subtle sunkissed glow with minimal makeup products. All you need is your primer, bronzer and a good dose of highlighter to look phenomenal.
Day 8 Christmas Makeup – Glitter Cut Crease

Link: https://in.pinterest.com/pin/589971619908986530/?lp=true
Don't give up on your glitter just yet. Instead of full covered glitter lids, opt for a cut crease glitter look to make your eyes stand out.
Day 9 Christmas Makeup- White Eyeliner

Link: https://in.pinterest.com/pin/407223991288939284/?lp=true
New year, new you! Rock a fun fresh look in Jan 2020 with white eyeliner. You can create either a cat-eye look or even apply a bit on your lower lash line to make them pop.
Day 10 Christmas Makeup- Pastel Blue Lids

Link: https://www.pinterest.com.au/pin/710302172460889760/
Keep your makeup light and fresh during the first week of Jan with pastel blue lids. This shade will make you look like a breath of fresh air.
Day 11 Christmas Makeup – All Over Gloss

Link: https://in.pinterest.com/pin/514747432407786417/
Even though it'll be the New Year, a few trends from the past are making its way into 2020. Glossy lips, skin and lids are going to be a hit next year and you can be a beauty maven by rocking it first.
Day 12 Christmas- No-Makeup Look

PC: @nikki_makeup

The no-makeup look is a timeless classic and will never go out of style. Take a break from your heavy makeup and opt for just a primer, pink lipstick and a bit of blush.

Read More: