MyGlamm's K.Play Flavoured Makeup Will Leave Your Skin Screaming For More!
Remember those high school days when you were obsessed with your fruit flavoured lipgloss and you needed to get one in every flavour, well, you've grown up and so has your flavoured makeup. Get ready to tease your taste buds with MyGlamm's K.Play flavoured makeup. Nowadays, many products contain fruit extracts and essence, so why should makeup miss out on all the fun. Flavoured makeup is the latest beauty trend and people all over can't get enough of it. MyGlamm's new K.Play collection will give you a mind-blowing fruit-gasm like you've never experienced before.
What is K-Play makeup?
MyGlamm's K.Play flavoured makeup collection is unlike anything you've ever seen before. Not only do you get to choose from a wide range of products, you also get to enjoy all the benefits each fruit has to offer.


Products like the French Vanilla Compact has skin-soothing properties while K.Play's flavoured blushes are rich in antioxidants. From blueberry to peach to everyone's favourite mango, these flavoured makeup products are sure to add a new delectable twist to your beauty routine. Whether you want a strawberry flavoured lipstick that hydrates your lips and leaves you with kiss worthy pouts or a Melon infused flavoured highlighter that will help you achieve an irresistible glow, read on to learn more about MyGlamm's K-Play flavoured products and how you can enjoy all its benefits while looking sexy AF. K.Play's flavoured makeup will leave you with gorgeous skin creating the ultimate sensual experience that will leave you coming back for more.
K.Play Vanilla Flavoured Compact

Take your love for vanilla to a whole new level! K.Play's French Vanilla Compact has skin-soothing properties that leave your skin looking healthy and radiant. This skin-perfecting pressed powder evens out skin tone, conceals fine lines and gives you a silky texture that feels light as air on your skin.
The antioxidants in MyGlamm's K.Play Vanilla Flavoured Compact protects you from pollution leaving you with healthy glowing skin.
K.Play Flavoured Highlighter

Shine bright, look enticing and achieve that lit-from-within-glow at any party with fresh flavours. Feel sexy while looking sweet with K.Play's flavoured highlighter which comes in 2 tempting flavours. This shimmery pressed powder gives you a gorgeous glow while amplifying your skin's natural radiance.
Ripe Melon 


Look your best with this bright gold, light-reflective illuminating powder. Rich in proteins, iron, calcium, Vitamin C and A, this fruit flavoured highlighter will give your skin that refreshing boost it needs.
Pink Rose


Enjoy all the benefits of roses with this highlighter which is a dusty rose shade. Its anti-inflammatory properties help moisturize and soothe the skin.
K.Play Fruit Flavoured Blush
Fake the flush with fruit flavoured blush. Infused with fresh fruity flavours, now not only add a healthy flushed glow to your cheeks but also get a perfect matte finish. K.Play's fruit flavoured blush comes in 3 delicious flavours. This flavoured mattifying blush blends effortlessly while giving you long-lasting results.
Frozen Raspberry Fruit Flavoured Blush


Add a pop of colour to your cheeks with K.Play's Frozen Raspberry fruit flavoured blush which is a bubble gum pink shade. This blush is rich in vitamin C and antioxidants that defend your skin from UVB rays.
Juicy Strawberry Fruit Flavoured Blush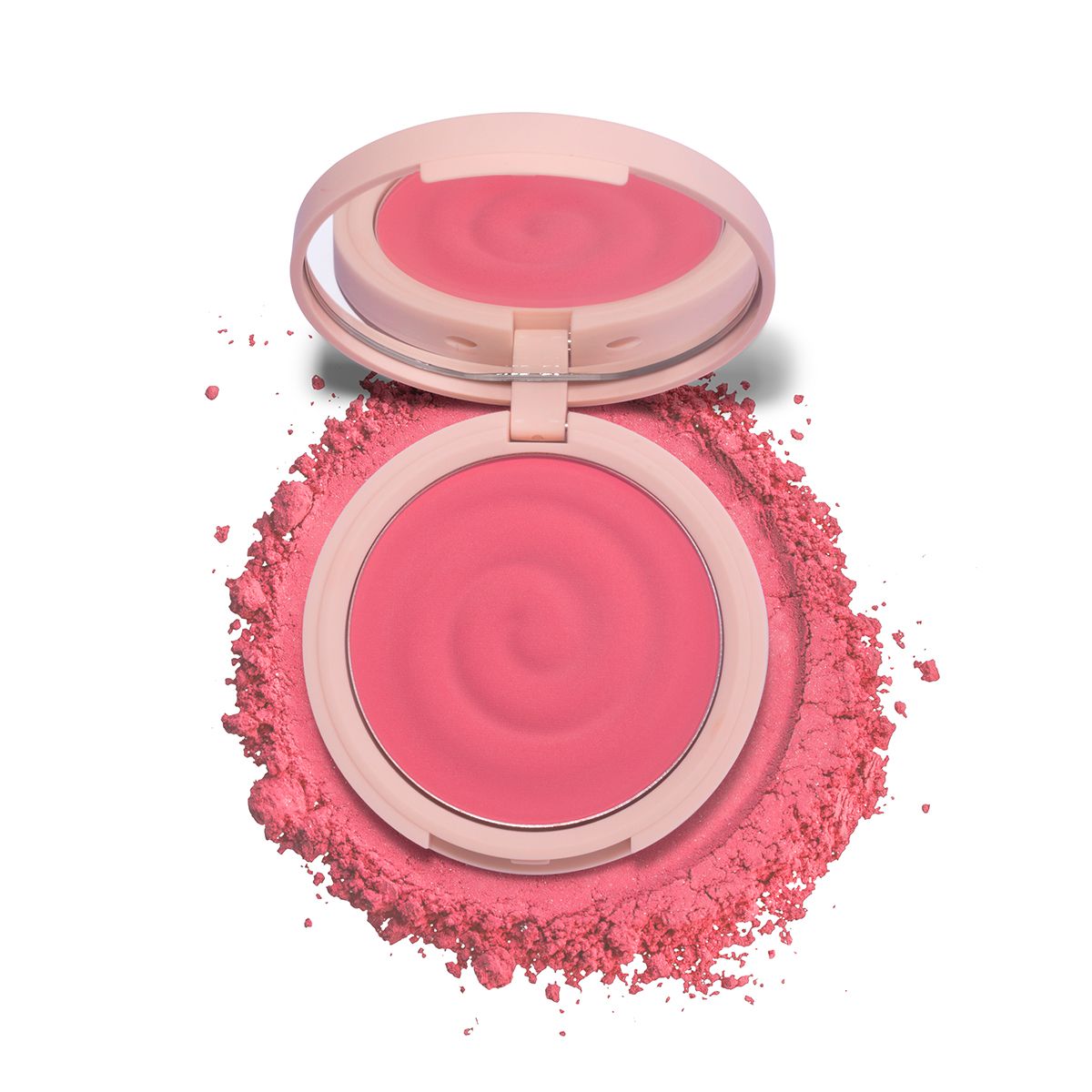 Look your very best with K.Play's Juicy Strawberry fruit flavoured blush which is a barbie pink shade. This fruit flavoured blush not only gives you a healthy rosy glow but also controls sebum while leaving you with moisturized skin.
Sweet Peach


Peach-it-sista with this bright coral shade. Rich in vitamin A, B, C, E and K, this flavoured blush helps tighten your skin and protect it from skin damage.
K.Play Fruit Flavoured Lipsticks


MyGlamm's K.Play fruit flavoured lipsticks are enriched with Vitamin E which will leave you with creamy oh-so-tempting lips. Everyone likes pretty pouts, now hydrate and enhance them with these lip-smacking fruit flavoured lipsticks that glide on effortlessly giving you alluring creamy lips.
Blueberry Rush
This fruit flavoured lipstick is a purple shade with blue undertones that's rich in Vitamin A, Vitamin C, and Vitamin E.
Apple Crunch
Stand out from the crowd with this bold red shade with hints of orange. This fruit flavoured lipstick is loaded with antioxidants which leave you with soft, irresistible pouts.
Raspberry Punch
Pucker up and enjoy the sweet taste of raspberry the next time you go out with this blood-red lipstick shade with pink undertones. 
Cranberry Twist
A warm pink shade, this fruit flavoured lipstick contains vitamins like A and C that help keep your skin moisturized while adding a gorgeous pink hue to your lips.
Passion Fruit Crush
Want to change your office makeup look but don't want something that's too bold? This pink lipstick shade with purple undertones contains anti-inflammatory properties that soothe chapped lips.
Lychee Twirl
This fruit flavoured lipstick is a creamy candy pink shade that helps keep your lips healthy and heals damaged skin.
Cherry Burst
An oxblood shade with brown undertones, Cherry Burst is loaded with vitamin A, B, C and E and leaves you with irresistible pouts.  
Mango Swirl
Enjoy the taste of mango all year long while making a bold statement with this bright orange shade. 
Pink Guava Smash
Enhance your lips with this bubblegum pink shade. Rich in numerous vitamins, this shade is perfect for your day and night look. 
Orange Spin
Refresh and renew your lips with this burnt orange shade. The vitamin C in this fruit strengthens and rejuvenates your lips while giving you softer pouts. 
Melon Squeeze
Add a gorgeous beet shade to your lips while enjoying the benefits of vitamin A and C with this flavoured lipstick. 
Berry Blast
Your search for a good purple lipstick is finally over. Berry Blast is a purple berry shade with pink undertones which help reduce fine lines leaving you with picture-perfect pouts. 


K.Play Fruit Flavoured Lipgloss
MyGlamm's K.Play fruit flavoured lipgloss is a blast from the past. But instead of just the fragrance, these lip glosses also have fruit benefits and come in various highly pigmented shades. K.Play's fruit flavoured lipgloss is enriched with jojoba oil which hydrates your lips and helps it glide on with ease. Now keep your lips moisturized and shiny while enjoying the flavours of your favourite fruit with these flavoured lip glosses.

Passion Fruit Crush
Passion Fruit Crush is a barbie pink shade with blue undertones. Want to soothe your dry lips? Then this is the gloss you need.

Lychee Twirl
Lychee Twirl is a cool lavender shade that's rich in vitamin C and antioxidants that boost hydration levels while giving your lips a gorgeous purple hue.

Orange Spin
Orange Spin is an earthy red shade that's rich in vitamin C and gives you soft kissable pouts.