How To Use A Body Lotion –– The Best Tips To Lock Moisture Into Your Skin
We have a hair care routine and a skincare routine, but how often do we spend time on our body? The majority of people only moisturise their body during the dry, winter months –– which entails that all year round, the skin on your body is ignored. That shouldn't be the case. Using a body lotion is as significant as using a moisturiser. And you need to continue with it all year long. Just like your face, your body also tends to lose moisture throughout the day. Body lotions help hydrate and nourish the skin while keeping it plump and moisturised. Scroll down to see how to use a body lotion and why it needs to be an all year-round sort of thing, rather than just limited to winter. 
How To Use Body Lotion
When you find the right body lotion, you need to use it properly in order to reap its benefits completely. Although it may seem rather clear cut, a lot of people tend to make a few mistakes when moisturising their body with a lotion. Here's how to use a body lotion correctly in order to nourish your skin in the best possible way. Remember, it works best when your skin is moist, so use a body lotion whenever you've patted yourself dry after a shower.
Step 1
Squeeze some body lotion into your palms. It needs to be the size of a large coin if you're looking to cover your entire body (this includes arms, legs, feet, stomach, shoulders, and chest).
Step 2 
Warm the lotion between your palms by rubbing them together.
Step 3
Begin by massaging the lotion on your body in small circular motions. You might need a little extra lotion around your knees and elbows since those areas tend to be even drier.
Step 4
Keep topping up, as you move along. Make sure you moisturise every part of your body properly. Repeat this process once every day, after a shower.
Benefits Of Using Body Lotion
The way dehydration is the cause of many skincare issues, similarly, a dehydrated body can also lead to several body care conditions. It's important to note that dry skin is often the trigger for unhealthy and dull-looking skin, amongst other things so it's always a good idea to load up on the moisture. Here are some of the benefits of body lotion. 
Hydrates Dry Skin
The most obvious benefit of body lotion is that it instantly hydrates dry skin. There are a lot of factors that tend to dry it out, therefore you need to constantly make sure that your skin is receiving the right amount of moisture and nourishment to remain healthy. A body lotion helps restore that moisture and locks in all the goodness for more soft and supple skin.
Feels Good
The spa-like feeling you get is one benefit of body lotion that really does calm and relax your mind and body. Body lotions often come in various scents which instantly leaves you and your skin feeling amazing.
Takes Care Of Calluses
There are certain areas on your body that dry up a lot more than others. This includes your knees, elbows, and feet. With regular use, you'll be able to see the biggest benefits of body lotion which will help heal, treat, and moisturise those dry areas that require a little extra TLC.
Leaves Your Body With A Natural Radiance
Of course, if your skin is moisturised, you're bound to glow. This benefit of body lotion basically makes sure your body replenishes moisture, leaving your skin looking healthy and glowing.
Reduces The Appearance Of Wrinkles
Dry skin becomes a minefield for wrinkles and fine lines, especially around your neck area. One major benefit of body lotions is that it keeps the skin hydrated and therefore help minimise the appearance of these pesky premature signs of ageing.
Protects The Skin Barrier
Body lotions create a protective barrier on your skin. This prevents any irritants from entering and damaging it. Plus the general nature of the ingredients present in a body lotion also balances your skin's microbiome and keeps it healthy. See, if that's not a big benefit of body lotion then what is? 
MyGlamm Recommends Body Lotion Products
It's all in the products! While how to use a body lotion is important, it is also important to keep a lookout for nourishing ingredients in your product. Scroll down to see the best picks you can choose from.
MyGlamm Wipeout Germ Killing Body Lotion
Enriched with cocoa butter, tea tree oil, and cucumber extract, this body lotion softens your skin, kills germs, and moisturises it, altogether. The rose extract acts as an anti-inflammatory that heals damaged skin, while the nutgrass oil works as an antioxidant that gives you youthful skin. The rich, creamy texture instantly nourishes, smoothens, moisturises, soothes, and protects skin, keeping germ free and fresh.
Rs 219
Buy here
Glow Iridescent Brightening Body Lotion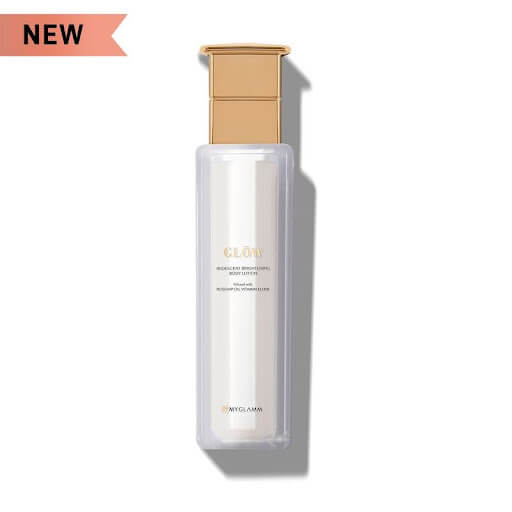 A luminous and silky body lotion that is powered with rosehip oil immediately calms and soothes the skin and gives it a dewy glow. The formula has been designed to fight dryness and itchiness and is pretty lightweight and long-lasting. Suitable for all skin types, this body lotion will leave your body with a radiant touch.
Rs 1,095
Buy here
MyGlamm Superfoods Watermelon & Aloe Body Lotion
An aloe vera body lotion that aids in hydration and restores your skin's natural moisture balance. Formulated with Thai watermelon and aloe vera extracts, it soothes and nourishes your skin. It is also enriched with kiwi, an antioxidant that protects your skin from environmental damage while boosting collagen.
Rs 349
Buy here
FAQs
How Much Body Lotion Should You Use 
Start with a coin size amount or a dollop of lotion and top up as you go along. You need to apply body lotion to your entire body and some areas will require more focus than others. The goal? To make sure your body feels hydrated and moisturised. 
How To Use Body Lotion After Shower 
It is recommended that body lotion should be applied right after a shower, when your skin is damp. Pat your skin dry with a towel, making sure that there is a little moisture still present on your skin. Apply the lotion and massage into your body in circular motions.
How To Know Which Body Lotion Is Right For Me?
Choosing a body lotion is dependent on many factors. It isn't a one-size-fits-all kind of thing. Firstly you need to choose one based on your skin type –– drier skin requires a thicker and more nourishing formula, whereas oily skin will need something lightweight. Secondly, you need to pick and choose the ingredients based on the skin concerns you'd like to address. Lastly, it is also weather dependent. Cold winter days will need a richer formula, versus hot summer one's. It is recommended that for AM use it's best to use a light-textured lotion, while for PM use you can opt for something thicker and more moisturising.
Related Stories
7 Genius Ways To Use Wipeout Germ Killing Body Lotion - It's all about making the most out of your one amazing product. Find out how you can use this body lotion in more ways than one. 
Best Moisturisers For Dry Skin - Everyone loves that youthful radiance! Opt for these moisturisers that'll leave your skin glowing for days. 
Winter Skincare Routine - Your skincare routine needs to be tweaked according to the weather outside. And during the chilly months, it requires a little more care and attention. Check out how you can tweak your winter skincare routine to suit the cold.
Body lotion for winter: Winter is coming soon and you need to be body ready, yes check this out.
These tips on how to use a body lotion are the sure shot way to healthy and radiant skin, especially when it's feeling down and under. Remember, consistency is key –– so keep a body lotion handy and always top up post a shower.
Best body lotion for glowing skin: If you are looking for body lotion that will bring glow to your skin, then you would love to dive into this, hit the link.
Body Wash for Summer: Want to smell good, feel fresh, & be clean? Our list of the best body washes for summer will instantly rejuvenate your skin & senses!
Image courtesy - Pixabay