Here's How To Get The Most Out Of Your Blush
If you are fretting with your makeup amidst all those wedding functions, remember, one versatile product can be your saviour. Your blush can be an all-rounder, making your life easier and we are not kidding. The right blush perfectly compliments all areas of your face so here are a few ways you can use your blush for a quick makeover.
Naturally Flushed
Of course the first way to use your blush is how all makeup lovers do; to get those naturally flushed cheeks! Applying blush to the apples of your cheeks is the perfect way to add some color to your face before you leave the house! Even on your laziest days a little bit of blush before you leave the house will give you a glow that no one can compete with.






Shape and contour
This trick works for everyone, but is truly life changing for anyone, who has a round face. Instead of having to spend a large chunk of time every morning on a contour routine try contouring with your blush! By replacing your contour on rushed days with blush you can add a bit of color and shape to your face.

You can even use this trick after your contour routine, so instead of adding blush to the apples of your cheeks, add them above your contour slightly dragging it in towards the center of your face to give yourself a slimmer face shape.






Eyeshadow
Blush can be the perfect transition eye color for your lids. A great way to use your blush is to smoke out any eye makeup look, making the transition smoother and blended. You can even use the blush in your crease on its own to give your eyes some dimension and depth.

Be careful not to use too much if you're drawn to more red toned blushed as it can make your eyes look a bit swollen and sick, so just make sure to test it out before you commit!






Metallic Lids
For any of you girls out there who like a little shimmer and sheen in your blushes, those are perfect for subtle, but still statement metallic lids! Metallic shimmer blushes if applied to your lid with a wet brush are perfect for metallic eyeshadow makeup looks. To make the color even more opaque you can scrape of some blush and mix in a few drops of water to create a liquid metallic eyeshadow!






Blushed Gloss
Want to add some color into your clear gloss? Scrape off some of your blush into a container, add some gloss, mix it well, and Voila! You've got the perfect pinky nude lip gloss to match your flushed cheeks!






Matte lip look
If you're not a fan of gloss you can even use an eyeshadow brush or your finger to dab on some blush on top of any nude matte lipstick to add some color to your lips!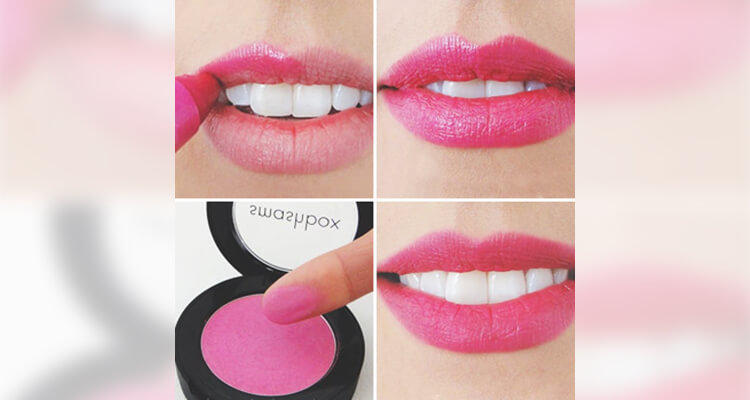 And there you go- dfferent ways you can use your blush to achieve the perfect makeover and you may even save some money along with time with these hacks. Let your makeup not be a hassle this wedding season.