If you're suffering from acne, we're sure that you have been given a lot of unsolicited advice for it. From advanced and expensive anti-acne formulas, drugstore face serums to homemade acne clearing DIYs, we're sure you've been told to try one thing or the other. However, we're here to tell you that acne is a medical condition and could be caused by a wide variety of reasons. To tackle this at an internal level, visiting a dermatologist is a must. 
However, if you're struggling with acne and want to know how each ingredient works for it, we're here to give you a lowdown on the benefits of retinol. It has already been crowned as the best anti-ageing ingredient in the skincare section of the beauty industry but did you know that the same retinol serum you use for fine lines and wrinkles can be one of the best face serums to get rid of acne as well? 
If you're wondering how does retinol help acne and its treatment, here's your answer: retinol and retinoids help in unclogging pores by chemically exfoliating the topmost layer of skin. It helps stimulate the production of collagen and elastin that further fight acne by reducing the appearance of pores and acne scars. 
How To Use Retinol For Acne
Now that we are aware of the retinol serum benefits, let's discuss the different ways to incorporate retinol benefits for acne into our skincare. In today's date, retinol is easily available at the convenience of a click on your favourite online shopping website, but is that the right formula for you? From popular retinol serums and creams to OTC formulas and prescription creams, there is a wide variety of ways retinol can be used for acne. Here are some simple tricks to understand how to use retinol for acne for your acne concern. Find the most suitable one for you: 
Daily Serum Application
Retinol is most commonly used in the form of a serum. Its molecules penetrate the middle layer of the skin which helps stimulate collagen production and improves elasticity. This promotes the formation of new skin cells that helps heal acne faster. If you're thinking about using retinol for acne, consider a dermatologist's advice on the suitable retinol concentration for your skin type and concern. Using retinol daily can help you get rid of present acne and acne marks, along with preventing further acne formation. 
Weekly Exfoliation
Retinol is a powerful AHA that can help in chemically exfoliating the skin to unclog and clear the pores of oil, dirt and product residue. If you have sensitive skin, or if you're wondering how to start using retinol for acne as a beginner, weekly or biweekly use is the way to go. Retinol is available in different textures like creams, gels, serums and lotion. Pick the most suitable formula and texture for your skin type and concern, and start using it once a week or once in two weeks. This can give your sensitive skin adequate time to adjust and heal to a new skincare active. Once your skin gets used to it, is when you can progress to using retinol for acne on a daily basis.
Prescription Formulas When Needed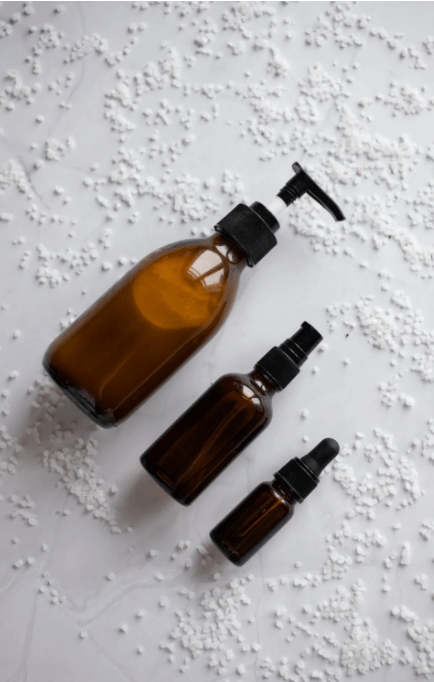 Acne is a very sensitive subject, as there are different types of acne that have varying underlying causes, and therefore distinct ways of treatment. The fail-proof way to use retinol for acne, or any other anti-acne treatment as a matter of fact is by taking a targeted consultation from your dermatologist. If you're someone who gets an occasional case of acne here and there, then here's how to use retinol for acne: over the counter prescription formulas prescribed by skin specialists that can be used whenever there is acne. This way of using retinol for acne is the least severe and will only chemically exfoliate your skin while you're going through a breakout. Hence, it is not apt for individuals with constant acne problems. These spot correcting formulas are generally high in retinol concentration and are advised not to be used on a daily, or on the entire face. 
MyGlamm Recommends: 
MyGlamm 1% Retinol Age-Defying Serum
MyGlamm 1% Retinol Age-Defying Serum is a clinically tested formula enriched with retinol and natural extracts. Along with a balanced concentration of retinol, it is also infused with aloe vera and caffeine extracts. Its lightweight texture gets quickly absorbed into the skin and acts fast. It is a non-sticky formula that doesn't leave a greasy residue on the skin after application. Among common benefits of retinol like age-defying and skin smoothening, this retinol serum can also help in clearing your skin and improving your skin texture. This retinol serum by MyGlamm is also cruelty-free, vegan, phthalate-free, paraben-free, mineral oil-free, and gluten-free. 
Price: 799
Buy it here
Related Reads:
What is retinol: If you're new to this skincare active, this article is your holy grail. Learn what is retinol and its functions in skincare with this easy guide. 
Face serums for dry skin: Dry skin is a pain to take care of, especially during winters, Thankfully, here is a list of quenching serums that can help you escape winter dryness and dehydration.  
Benefits of retinol serum: This article lists all the skincare benefits of a retinol serum, and why you need to include it in your skincare routine - like yesterday!
Benefits of niacinamide for skin: Niacinamide is another trending skincare ingredient for acne marks, pigmentation and dark spots. Learn here what else it is good for, and why you need to start using it ASAP.
Now that you are educated on the benefits of retinol and the uses of retinol for acne, it's high time that you upgrade your anti-acne skincare routine and replace essential oils with this new popular skincare active. From anti-ageing retinol serum benefits to retinol benefits for acne, this overall champion of an ingredient is a must-have in everybody's skincare drawer in 2021. 
Featured Images: Pexels