4 Anti-Ageing Ingredients That You Should Look For In Your Skincare Products
While many people think that anti-aging ingredients should only be used in your 40s and 50s, it is actually very beneficial to start using them in your skincare products by your your mid-twenties itself. While having fine lines and wrinkles is completely normal and part of the natural ageing cycle, there is no shame in wanting to delay the process. As we say about everything else- you do you! You can use anti-ageing creams to fight fine lines and protect yourself from age spots by using face serums but first, you will need to know which ingredients to look out for. That's where we come in. We've got a guide to which anti-ageing ingredients should you be looking out for in the market these days.
Best Anti-Ageing Ingredients That Actually Work
We are here to help you identify the best anti-ageing ingredients in the market that will actually help your skin out.
Retinol
It is no secret that retinol is one of the best anti-ageing ingredients in the market. It diminishes fine lines and wrinkles, tackles breakouts, reduces dark circles and spots, corrects dullness and discolouration and improves overall skin texture. Using a retinol face serum at night on clean skin before mosituriser is the best way to reap its anti-ageing benefits.
MyGlamm Recommends Best Retinol Serum: MyGlamm 1% Retinol Age-Defying Serum Enriched With Caffeine And Aloe Leaf Extract
Super charged with antioxidant ingredients like caffeine and aloe vera, this retinol face serum is highly concentrated and treats early signs of ageing. It has a non-sticky texture that absorbs right into the skin. Regular use of this product will show a significant difference in lightening your dark spots and reducing your wrinkles and fine lines. 
Buy here
Aloe Vera
A naturally hydrating ingredient, aloe vera is rich in antioxidants and is a stellar anti-ageing ingredient. It helps boost collagen production and keeps the skin hydrated and plump. It also shields skin from environmental aggressors to prevent free radical damage.
MyGlamm Recommends Best Face Moisturiser: Manish Malhotra Cinnamon Ginger Night Gel
A face moisturiser that features the best natural anti-ageing ingredient, aloe vera is a good choice to add to your skincare routine. This cinnamon and ginger-infused night gel takes care of fine lines and wrinkles and also soothes your skin and calms down irritation caused by dryness, acne, or maskne. It can be layered over your retinol serum and followed up by an eye cream for extra TLC. It is one of the best natural anti-ageing night creams out there.
Buy here
Rosehip Oil
Rosehip oil is rich in vitamin A and therefore helps in reducing age spots, wrinkles and improving overall skin texture with ease. As it is a natural oil, it is highly moisturising on the skin. It's a good choice to begin with if you find retinol serums to be too harsh. This anti-ageing ingredient aids collagen production as well which naturally reduces in the body from your late twenties onwards.
MyGlamm Recommends Best Rosehip Oil Sheet Mask: Glow Iridescent Brightening Sheet Mask
Lightweight, non-sticky, and suitable for all skin types, this rosehip oil-infused sheet mask gives you the dewiest skin ever. It enhances your glow with its hydrating formula and adds a luminous quality to your skin. It treats fine lines and wrinkles and helps even out your complexion.
Buy here
Antioxidants
Antioxidants are anti-ageing ingredients that are touted for protecting the skin from free radical damage caused by environmental aggressors. They are also known to help reduce the harsh effects of the sun on the skin which is highly damaging if left unchecked, leading up to severe signs of premature skin aging. The best antioxidants for anti-ageing benefits are vitamin E, C, A, and selenium.
MyGlamm Recommends Best Face Cleanser: MyGlamm Superfoods Cacao & Berry Face Wash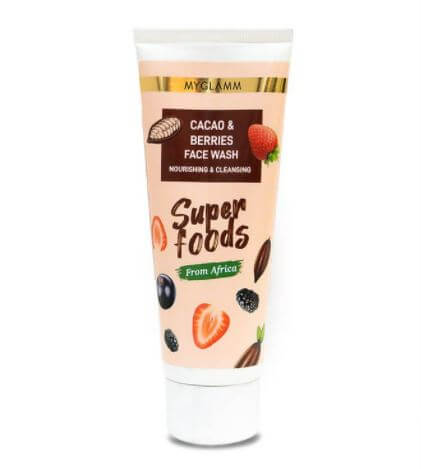 Enriched with cacao powder, strawberry, mulberry, blueberry and black currant extracts, this face cleanser is highly adept in boosting your natural glow. It gently cleanses skin and draws out all impurities without stripping your skin of moisture. Vitamin E and B5 in this cleanser helps soothe dry, tight, and irritated skin while the high vitamin C content helps fights signs of aging and adds radiance to the skin. It also contains natural AHAs to gently exfoliate dead skin cells to get rid of dullness.
Buy here
Now that you're in on the best anti-ageing ingredients used in skincare, you can finally make informed decisions. So, let's get you glowing!
Related Stories
What if we told you that there are certain foods you can indulge in to help your skin fight away signs of ageing? Adding them to your diet would definitely be the first course of action. Here's a list of the best anti-ageing food stuffs to add to your beauty diet.
How To Prevent Premature Signs Of Aging
Premature signs of ageing show up sooner than you'd like or assume. They can be caused due to excessive sun damage as well. Here are tips and tricks as to how to prevent these early aging signs through an effective skincare routine.
Halle Berry's Anti-Ageing Skin Routine
Hollywood superstar, Halle Berry seems to be ageing in reverse. Wanna know her secret? Learn about her routine here.