5 Makeup Hashtags On TikTok To Keep You Busy During Quarantine
This home quarantine caused by the outbreak has given us time to do the things we've always wanted to do but never got around to it because of our busy schedules. From bringing out our inner chefs to trying the Dalgona coffee trend to even and catching up on all your shows, we're all getting so accustomed to this new way of life. But brace yourself, when it comes to self-isolation, you'll be stuck at home for the near future or at least until this pandemic is under control. Until then, you'll need to expand your daily to-do list because after a while no amount of Dalgona coffee is going to save you from boredom.
Well, we've got just the thing. If you're not a TikTok fan, we hate to break it to you, but it's time to change your way of thinking and create your account. People and celebrities are turning to this social media app to entertain themselves during the lockdown. The video-sharing app is full of dance videos, challenges, lip-sync videos, but don't worry, we are not telling you to do any of that. TikTok is also a great way to take your makeup game up a notch or even learn a thing or two about beauty if you're a beginner.
There is no definite answer as to when this quarantine will end so until then, here are a few hashtags to follow on TikTok, to help you pass the time until this coronavirus pandemic is over.
I Came, I Saw, I Contoured
If you always wanted to get Kim Kardashian's chiselled jaw, well good news, you don't need to go under the knife for it. Contouring is a makeup trick that helps define and sharpen your features. Just go through the #Contouring101 hashtag on TikTok to learn how to contour for beginners. These useful hacks and tips are bite-sized and easy to follow, making you a contour queen in no time.
Skin Goals
Since you probably haven't touched your makeup bag ever since this lockdown began, now's a great time to show your skin some love. Tap through #skincare on TikTok and get loads of inspiration on how to pamper your skin at home. From DIY home pedicure and face masks to learning how to keep your lips soft and moisturized and other skin care tips and skincare routines that will leave you glowing by the time this quarantine ends and it's safe to go out again.
Stay Sharp
Have you gone through all the YouTube videos and still can't perfect your eyeliner game? Don't fret, you're not the only one. No matter what people say, applying eyeliner is a skill that you can perfect only by practising. Since you're home quarantined, grab your eyeliner and browse through #EyelinerTutorial hashtag on TikTok and learn to master the flick or even how to just line your eyes. These short tutorial videos are easy to do and will make you a pro in applying eyeliner.
Lash Out
Are you applying your mascara right? Yes, there is a right and wrong way to coating your lashes. The correct way will give you voluminous, lengthened lashes while the wrong way can drag your lashes down or even make them look clumpy. If you want to know more about mascara tips and hacks just go through #MascaraHacks on TikTok and you'll find plenty of videos that will answer all your questions. From how to apply mascara without clumping to hacks on how to revive your dried-up mascara and even get schooled about the various mascara wands—the list goes on.
Nailed It
If this lockdown has piqued your art interest, then we've got something just for you. Until the coronavirus outbreak is under control, your parlour lady isn't going to be available so why not take matters into your own hands and try out different nail art designs. You can get inspired by scrolling through #NailArt on TikTok and learn how to perfect your simple french manicure or try the ombre nail paint design.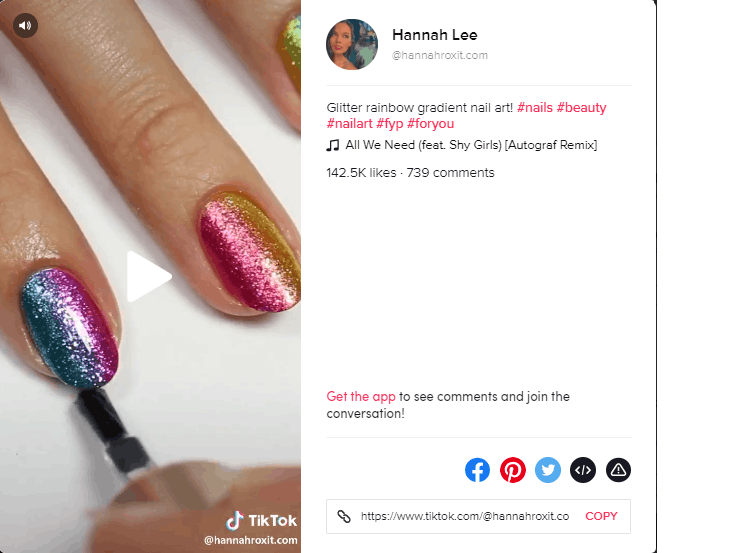 Read More:
7 Fun Social Distancing Activities To Try During #21DaysOfQuarantine