No one likes to be oily or greasy all the time. You're more prone to acne, and even look shiny through the day. Having a perfect skincare routine for your skin type is the solution to all your problems and the backbone to that is a clean face. Finding the ideal face wash becomes vital to this and you can bid farewell to feel sticky every second.
Face Wash For Oily Skin
The key is using one which mattifies your face without dehydrating it. To help you in this we've listed down the top face washes for oily skin type that'll solve all your skin issues.
1. MyGlamm Wipeout Germ Killing Face Wash – Rose & Honey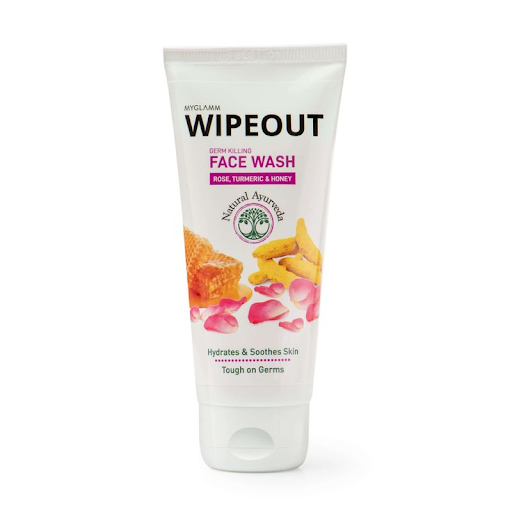 Looking for a natural-ingredients infused face wash? Here's MyGlamm's WIPEOUT Germ killing face wash enriched with feel-good ingredients. This amazing face wash removes impurities, dead skin, leaving your skin smooth and relaxed. 
Pros: Anti-bacterial & anti-fungal properties, soothing extracts, inexpensive
Price: ₹ 119
2. MyGlamm WIPEOUT Germ Killing Face Wash – Lavender & Neem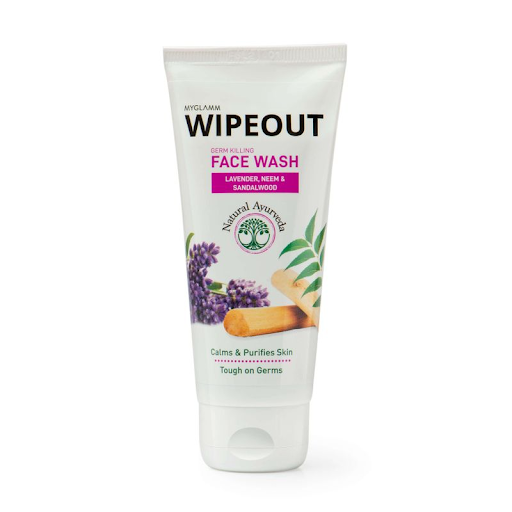 Enriched with feel-good ingredients lavender and neem, this face wash is sure to win your heart! The WIPEOUT face wash kills germs, soothes skin, provides moisture boost, and most importantly, refreshes your skin. Pamper yourself with this cruelty-free and vegan face wash!
Pros: Inexpensive, soothing natural extracts, protects skin
Price: ₹ 119
3. MyGlamm WIPEOUT Germ Killing Face Wash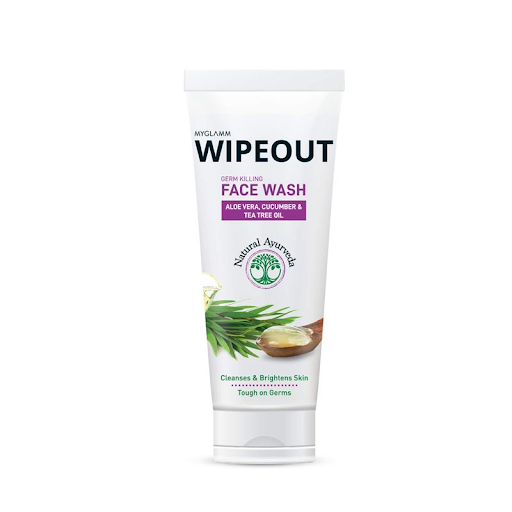 What better than a magical combination of tea tree oil, vitamin E, sandalwood extracts, turmeric extracts, cucumber extracts, and tulsi oil! And this is another amazing face wash for oily skin that kills germs, nourishes skin, moisturises skin, and is gentle on your skin.
Pros: Natural extracts combination, inexpensive, cruelty-free, Non-comedogenic
Price: ₹ 119
4. Himalaya Herbals Oil Clear Lemon Foaming Face Wash
Himalaya's Oil Clear Lemon Face Wash is a soap-free, herbal formula that is a gentle cleanser for your face. It removes impurities and excess oil without stripping the face of its natural hydration. It's got lemon, which acts as an astringent and cooling agent, along with honey which has organic deep cleansing properties. It also has antimicrobial agents that kill bacteria leaving you with a squeaky clean look.
Price: Rs. 170
Pros: Inexpensive, comes with a pump, herbal
Cons: Can dry your skin out, not useful for acne prone skin
Buy it here
5. The Body Shop Tea Tree Skin Clearing Facial Wash
This daily face wash is ideal for blemished skin and gives clearer-looking skin when used in conjunction with a regular routine. It helps remove excess oil and sebum without overly drying the skin. It gets rid of impurities and is even clinically proven to give clearer-looking skin. Tea tree as an ingredient is a magic potion for acne prone skin as it is antifungal, antiviral and antibacterial.
Price: Rs. 645
Discounted Price: Rs. 545
Pros: great for blemished skin, useful for acne prone skin, reduces the creation of sebum, cools the skin
Cons: can leave skin too dry, performs best with the entire tea tree range
Buy it here
6. Organic Harvest Oil Control Face Wash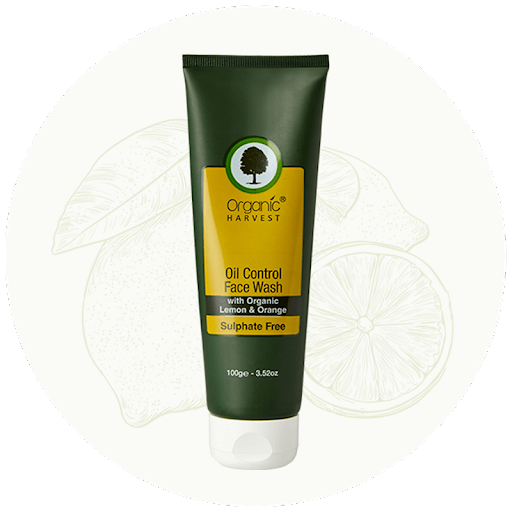 This Oil control face wash is regarded as one of the best face washes in the oily skin category. It is suitable for men and women, free from chemicals and pesticides and gentle towards the skin. It helps in removing dirt, extra oil, grease and grime without losing natural moisture of the skin. It unclogs the pores making skin clean and fresh.
Price: Rs. 175
Pros:
Pocket-friendly and vegan
Cons: Not enriched with essential oils
Also Read About face wash ingredients
7. Sirona Anti-Acne Face Wash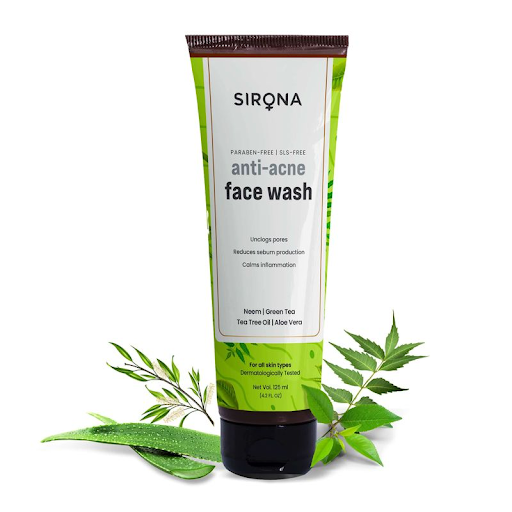 Oily skin is prone to develop acne due to excess sebum production and therefore it needs to wash with an anti-acne face wash. Sirona anti-acne face wash is the best face wash for oily skin as it has green tea, tea tree, aloe vera and neem extracts to give the extra advantage of calming skin inflammation and reducing sebum production. The best part, it is paraben-free and has no mineral oils and no harmful chemicals.
Price: Rs. 179
Pros:
Pocket-friendly
Unclog pores
Cons: Excess use can dry out the skin
8. The Moms. Co Green Tea Face Wash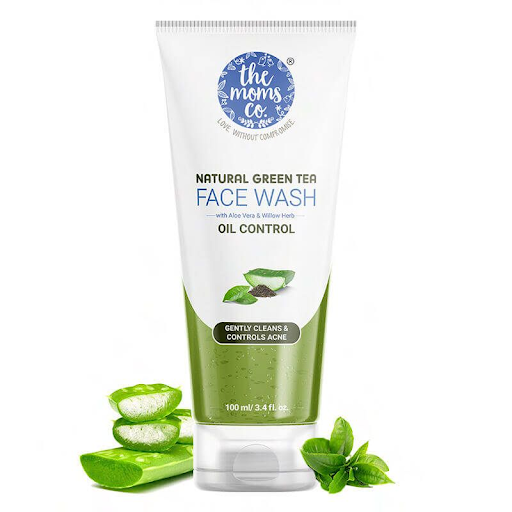 The Moms Co. Regular Green Tea Face Wash is a cleanser free, gel-based chemical that eliminates soil, oil and everyday development without drying out or leaving the skin feeling tight. This green tea infused face wash comes with Niacinamide and Willow herbs that remove excess oil and control acne. This face wash is made to control oil for oily types of skin. It deeply cleanses and purifies skin and hydrates the skin. So if you have oily skin, then this is the best face wash for oily skin.
Price: Rs. 209
Pros:
Control oils
With the goodness of Niacinamide
Cons
Packaging could have been better
9. Cetaphil Oily Skin Cleanser
Cetaphil is one of the most gentle cleansers that is sure to remove almost all the excess oil, dirt and makeup without drying out the skin. It reduces facial grease and cleans out clogged pores deeply and completely. It is a non-irritating formula that again maintains the natural pH level and has even been dermatologically tested.
Price: Rs. 427
Discounted Price: Rs. 363
Pros: Gentle, maintains PH levels, dermatologically tested
Cons: Doesn't work on acne, doesn't reduce acne scars, doesn't deep cleanse
Buy it here
10. Biotique Bio Neem Purifying Face Wash
An Ayurvedic brand, this neem facewash from Biotique is fresh-foaming, soap-free and antibacterial, so perfect for oily skin. The neem is blended with extracts of ritha and kulanjan and removes impurities, prevents pimples and purifies the skin keeping it pimple-free. Neem has been an age-old ingredient used as an antiseptic and anti-fungal and anti-bacterial agent and works wonders for acne. The ashwagandha mixed in it stimulates the production of collagen and boosts estrogen levels in the body which triggers youthfulness and regulates the natural oil production of the skin as well.
Price: Rs. 100
Discounted Price: Rs. 85
Pros: Inexpensive, herbal, works for acne
Cons: Doesn't combat oiliness as well as chemical-based face washes
Buy it here
11. Khadi Natural Neem & Teatree Face Wash
What's a better combination than tea tree and neem for oily skin? This herbal facewash gets the best of both worlds for you and is natural and organic. Neem is known for its anti-bacterial properties and tea tree for its lightening properties so together they are a magic potion for acne. On one side, you're cleaning the skin from deep within and on the other, you're lightening acne scars and bringing out your natural complexion. Tea tree even helps reduction of secretion of sebum and excess oil and blemishes are fought off too!
Price: Rs. 250
Discounted Price: Rs. 200
Pros: Herbal, inexpensive, works for acne, anti-bacterial
Cons: Takes longer to combat PH levels of the skin than chemical-based face washes
Buy it here
How To Choose Best Face Wash For Oily Skin
Choosing the right face wash can be sometimes tricky as there number of face washes in the market for a variety of issues. There is a face wash for dry skin, acne and oily control issues but choosing the best face wash for oily skin needs to go through certain parameters. 
 Here are they:
Ingredients: Always check for ingredients that suit your skin, especially the allergens. In some oily skin face wash, there are ingredients that don't suit some people so you must check the face wash ingredients even though it is oily skin face wash.
Fragrance-free formula: Man-made aromas might cause skin aggravation, redness, and rashes. Thus, keep away from any face wash that has aroma or scent for their fixings list.
Quality: The best face wash for oily skin is one that is clinically tried and dermatologically endorsed. This diminishes the gamble of skin aggravation.
User Reviews: User reviews assist you with finding out about the item and how it performs. Assuming that you are uncertain about any item, really take a look at the reviews to assess its upsides and downsides.

Bid goodbye to greasy and shiny skin and say hello to flawless and healthy skin, instead!
Related Post
Face Wash For Summer: Check out the 10 best face washes you need to try this summer.
Benefits of Neem Face Wash: If you don't know how Neem benefits as a face wash, then you need to read this.
Face Wash For Sensitive Skin: If you are clueless about using which face wash for your sensitive skin, then you gotta check this out.
Difference Between Face Wash and Cleanser: Read here the exact difference between face wash cleansers.
How to use Face Wash: If you think you have been using face wash rightly, then check this out.
Conclusion
Hope now you have a better understanding and idea about face wash for oily skin.