11 Skin Care Products For Oily Skin That'll Make You Glow, Not Shine
Image courtesy - FreePik
Oily skin isn't one of the most easy skin types to manage. Not only is it a magnet for dirt, grime, and pollution, but is also a minefield for acne, pimples, and  other blemishes. Does that mean you need to opt for products that suck the oil out? The answer is no. Remember, oil is actually good for your skin, excess oil isn't –– excess oil is the reason why your skin moves towards the oily side. And if you use the wrong kind of skincare products, your skin will dry out, which'll then lead to a whole lot of other skincare issues. Therefore, when looking for skin care products for oily skin you need to make sure they balance out your sebum production. Scroll down to see what you need to look for in oily skin products.
Skin Care Products for Oily Skin  
Everyone's skin produces a certain amount of oil –– some more than others. Often when you've got an oily skin type, it means your sebaceous glands are producing more than they're supposed to. This happens when your skincare routine or the products you are using are triggering them to go into overdrive. Choosing skin care products for oily skin means finding the balance for those glands. When looking for oily skin products you need to hunt for ingredients such as niacinamide, clay, or salicylic acid to soak up all the excess oil that sits within your pores and keeps the shine at bay.
Follow the correct skincare routine by starting off with a face wash. Make sure you use the cleanser for a minute on your face to remove any sort of dirt and grime. Apply a face serum to your skin within a minute of washing your face. Pat it into your skin and then go for a moisturiser. While it might seem that this step might be counterproductive, it is actually important. A moisturiser will help balance your oil levels. Opt for a sheet mask and of course exfoliate with a face scrub at least twice a week, to help refresh and nourish your skin. And always gently dot on some eye cream with your ring finger for those under eye bags. If you're stepping out during the day, go for a non-greasy sunscreen. If you want to deep cleanse your skin, go for a once-a-week face pack to take out any excess oil
Scroll down to see the best skin care products for oily skin and why you need to incorporate them into your skincare routine.
Manish Malhotra Tulsi Cleansing Foam Gel
This gel based foaming cleanser is made from pure, concentrated, aloe vera juice. The formula is blended with tulsi, olive oil, and mint. It deeply nourishes your skin and uplifts it when it's looking dull and feeling dehydrated. It also cleanses away all impurities and heals the skin. The lightweight formula absorbs quickly into the skin and naturally rejuvenates it. It helps improve your skin's texture and evens out your skin tone too.
Rs 895
Buy here
MyGlamm YouthFull Hydrating Foam Cleanser With Water Bank Technology
A foaming deep cleansing cleanser that has a pH balanced formula that ensures your skin is clean, yet non irritated. It is made with an aqua-elastic network system that gives your skin extra hydration. It gently removes makeup and dirt, while leaving you feeling extra refreshed, clean and soft, and supple.
Rs 795
Buy here
Manish Malhotra Amla Moisturising Gel
This gel based moisturiser is a great saviour for all skin types especially oily skin. Made from pure, concentrated aloe vera juice and enriched with amla, almond oil, and mint, the lightweight formula deeply nourishes your skin and instantly adds a radiance to the dullness. It prevents premature ageing, fine lines, and wrinkles, and even reduces inflammation and puffiness. The blend of potent ingredients act as a powerful antioxidant that naturally rejuvenates and tones the skin. 
Rs 945
Buy here
MyGlamm YouthFull Hydrating Moisturising Gel With Water Bank Technology
An instantly cooling moisturiser that instantly cools and hydrates your skin. It has a unique aqua holding formula that soothes irritated skin, even when it's UV damaged. Infused with anti-inflammatory licorice, antioxidant turmeric, and coco-grass –– all of which repair and comfort the skin. It has a gel texture that is lightweight and non-sticky.
Rs 1,095
Buy here
MyGlamm 15% Vitamin C Brightening Serum Enriched With Pomegranate And Licorice
This non-sticky serum delivers your daily dose of vitamin C, antioxidants, and nutrients. It is formulated with a highly concentrated formula comprising 15% vitamin C. This helps brighten dull skin, helps reduce dark spots, and reverses all the damage caused by UV rays. Enriched with natural extracts such as pomegranate, licorice, and marula oil, it helps tackle the early signs of ageing while adding a radiance to your skin. Get deeper hydration with this serum as it is also infused with hyaluronic acid.
Rs 799
Buy here
MyGlamm K.Play Mandarin Brightening Sheet Mask
Enriched with mandarin and white truffle, this vitamin C rich sheet mask brightens and moisturises the skin, while strengthening and rejuvenating it. It has a mild formula that doesn't irritate you and provides you with a youthful glow too.
Rs 145
Buy here
Manish Malhotra Rose Lip Moisturising Gel
A gel based lip care that is formulated with aloe vera juice and enriched with natural ingredients like rose, beetroot, and grape seed oil. It is lightweight, however it deeply nourishes your dull and dehydrated lips. Replenishing lost moisture in your pout, it softens and smooths them, while brightening them too.
Rs 745
Buy here
Manish Malhotra Sandalwood SPF 25 Gel
A gel based sunscreen loaded with SPF 25, this formula is made from aloe vera juice and is enriched with natural ingredients like sandalwood, turmeric, chamomile, coconut, and olive oils. All of these ingredients work together to nourish, hydrate, and heal the skin, while protecting it from sun damage. It reduces inflammation and keeps your skin looking bright and radiant.
Rs 945
Buy here
Manish Malhotra Haldi Eye Gel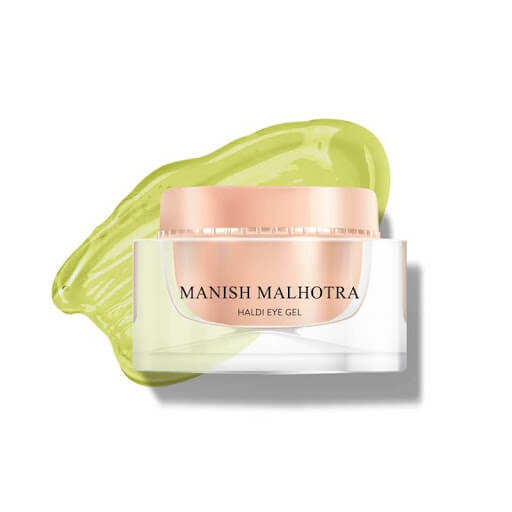 Tired eyes bringing you down? This gel based eye care is made from pure aloe vera juice, haldi, and lavender oil, and it instantly hydrates the skin under your eyes. The deeply nourishing formula helps lighten those dark circles and reduce puffiness. It also improves skin elasticity and blood circulation, along with rejuvenating the skin.
Rs 745
Buy here
MyGlamm Wipeout Germ Killing Face Scrub - Lavender & Neem
This face scrub kills germs while exfoliating the skin! The formula re-energises the skin all thanks to its natural extracts. The mix of soothing lavender and anti-microbial neem helps tackle impurities while hydrating and refreshing the skin. The apricot beads and walnuts gently exfoliate the dead skin cells away. Enriched with aloe vera, olive oil, vitamin E, and almond, this scrub is the go-to for all skin types.
Rs 129
Buy here
Manish Malhotra Methi Face Scrub Gel
This gel based face scrub is enriched with all natural ingredients like aloe vera, roasted metho, amla, grape seed oil, and walnut shell beads. The formula naturally rejuvenates, heals, and intensely hydrates, while removing impurities, preventing clogged pores, and reducing sebum buildup. 
Rs 945
Buy here
Manish Malhotra Kesar Face Pack Gel
Need that instant glow? This gel based face pack is the answer. Formulated with natural ingredients like aloe vera juice, kesar, and ginger, this face pack acts as a powerful antioxidant and detoxifies your skin. It has the power to lighten dark spots and pigmentation, while deeply nourishing the skin. It also helps heal, regenerate, and brighten the skin.
Rs 945
Buy here
Related Stories
Best Skincare Routine For Oily Skin - Did you know, you need to tweak your skincare routine to match your skin tone? Here's a little guide that'll help you understand what works best for oily skin.
Face Serum For Oily Skin - Oily skin requires ingredients that'll help keep the shine at bay! Check out these face serums that are perfect for that oily complexion.
Face wash for greasy skin: If you're struggling with your greasy skin type, it's time to add a suitable face wash to your skincare routine. Check out the list!
Remember, the best skin care products for oily skin are what keeps the oil at bay and not what sucks the oil out completely. So balance is key –– stick to the right skincare routine and good, nourishing ingredients and your skin will glow without the shine.