Office Ready - Face Wash, Lip Balm & Sanitizing Combo
Ready to start working from the office again? Don't forget to pack this Face, Lips & Sanitizing combo in your handbag before stepping out.
Manish Malhotra Antimicrobial Sanitizing Hand Rub 100 ml
₹

199
LIT - pH Lip Balm
Rose All Day
₹

345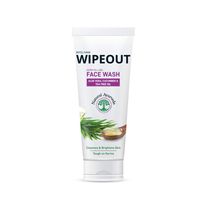 WIPEOUT Germ Killing Face Wash
₹

119
₹
From a glowing face to moisturized lips to germ-free hands, this combo gives you everything you need! It contains MyGlamm LIT pH Lip Balm that is specially formulated to balance your lips' pH levels and give you a soft, supple pout. Coming to the sanitizing part, this combo has MyGlamm WIPEOUT Face Wash that's infused with cucumber and aloe vera to instantly make your skin fresh & germ-free. Additionally, it also has Manish Malhotra Antimicrobial Sanitizing Hand Rub, which is a one-of-a-kind hand sanitizer that's infused with oud extracts to soothe & calm your skin. 
Benefits: 
Manish Malhotra Antimicrobial Sanitizing Hand Rub
Made with 80% alcohol

Infused with Olive and Basil extracts for their soothing and nourishing properties; and Neem, Karanja and Nut Grass for their antimicrobial and healing properties.

Oud oil's aroma is calming and uplifting
WIPEOUT Germ Killing Face Wash
Kills germs

Light gel texture

Removes impurities, nourishes, moisturizes and keeps face germ-free

Non-comedogenic

Gentle on your skin, tough on dirt, pollution and germs
LIT - pH Lip Balm
Creamy with a luminous effect

Available in 6 shades to suit all Indian skin tones 

Travel-friendly packaging 

Ultra-hydrating  
Enhanced Properties: 
Manish Malhotra Antimicrobial Sanitizing Hand Rub
Suitable for all skin types

Free from parabens, synthetic dyes, synthetic fragrances, mineral oils, sulfates, silicone and phthalates

Vegan and Cruelty-free 
WIPEOUT Germ Killing Face Wash
Enriched with tea tree oil, a natural antiviral and antibacterial agent

Enhanced with vitamin E beads that nourish the skin

Enriched with cucumber extract that moisturizes the skin and keeps it soft

Enriched with aloe vera extract that soothes and calms the skin

Infused with turmeric extract, an anti-inflammatory that reduces irritation and pigmentation

Infused with sandalwood extract, an antiseptic that purifies the skin

Infused with tulsi oil, an antifungal that treats infection and other skin ailments

Contains chlorhexidine known for its disinfectant powers

Free from parabens and SLS

Contains natural extracts

Suitable for all skin types

Cruelty-free
LIT - pH Lip Balm
Cruelty-free 

Paraben-free

D5 free 

Talc-free 

UV filters free 

pH balanced