Maximum Goodness - Sanitizing Care Combo
Stay protected and fresh all day long with your germ kill expert- WIPEOUT.
WIPEOUT Germ Killing Hand Cream
₹

149
WIPEOUT Germ Killing Foot Cream
60g
₹

149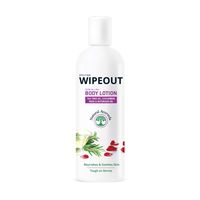 WIPEOUT Germ Killing Body Lotion
200ml
₹

219
₹
Say no to germs and yes to silky soft skin. Feel the love and care of our Wipeout germ killing range in every drop of these absolutely essential products. These essentials are packed with the goodness of natural ingredients like cinnamon, cocoa, rosemary, neem and money more. Get this sanitizing care combo and help your body stay nourished 24/7. 
Benefits: 
Wipeout Hand Cream: 
Rich creamy texture

Perfect for home, work or on-the-go

Nourishes, softens, moisturizes and keeps hands germ-free
Wipeout Foot Cream 
Rich creamy texture

Highly moisturising while killing germs

Relieves tired feet and reduces irritation

Anti-bacterial, antiviral and antifungal
Wipeout Body Lotion
Kills Germs

Rich, creamy texture

Nourishes, smoothens, moisturizes and keeps skin germ-free

Soothes and protects skin
Enhanced Properties: 
Wipeout Hand Cream: 
Enriched with cocoa butter to treat dry skin and soften your hands

Enriched with tea tree oil a natural antiviral and antibacterial agent

Infused with cinnamon oil, an antibacterial that fights infections

Infused with lemon oil, an astringent that tightens pores

Infused with tulsi oil, an antifungal that treats infection and other skin ailments

Infused with eucalyptus oil that soothes and moisturises the skin

Infused with neem oil, an anti-inflammatory that heals irritated skin

Infused with rosemary oil, an antimicrobial that fights germs

Contains chlorhexidine known for its disinfectant powers

Free from parabens, sulfate and toxins

Contains natural extracts

Cruelty-free
Wipeout Foot Cream 
Enriched with cocoa butter to treat dry skin and soften your feet

Enriched with tea tree oil, a natural antiviral and antibacterial agent

Infused with lavender oil, an antiseptic that purifies the skin

Infused with ginger oil, an anti-inflammatory to reduce redness and irritation

Infused with rosemary oil, an antimicrobial that fights germs

Infused with eucalyptus oil, that soothes and moisturizes the skin

Contains chlorhexidine known for its disinfectant powers

Free from parabens, sulfate and toxins

Contains natural extracts

Cruelty-free
Wipeout Body Lotion
Enriched with cocoa butter to softens your skin and prevents dryness

Enriched with tea tree oil, a natural antiviral and antibacterial agent

Infused with rose extract, an anti-inflammatory that heals damaged skin

Enhanced with cucumber extract that moisturizes the skin

Infused with nut grass oil, an antioxidant that gives you youthful skin

Contains chlorhexidine known for its disinfectant powers

Free from parabens, sulfates and toxins

Contains natural extracts

Cruelty-free