Gentle Drizzle - Lip & Face Wash Combo
Your combo for soft skin, soft face, and very soft lips. Start your day and feel confident about your choices. Sizzle or Drizzle, make it worthwhile.
LIT Liquid Matte Lipstick
oy
₹

395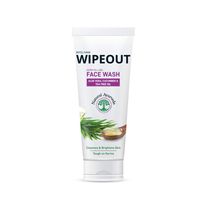 WIPEOUT Germ Killing Face Wash
₹

119
The LIT Liquid Matte Lipstick brings intense colour play and is long lasting with Moringa Oil which makes your lips soft. The WIPEOUT Germ Killing face wash has aloe vera extracts to soothe and calm your skin. Making it a perfect Lip & Face Wash combo to shine.
LIT Liquid Matte Lipstick
Benefits

Matte finish

Smudge-proof and transfer-proof formula

Smooth, opaque application

Highly pigmented

Vegan-friendly
Enhanced Properties

Enriched with moringa oil that moisturises your lips, keeping them soft and supple

Long-lasting, up to 12 hours

Cruelty-free, not tested on animals
WIPEOUT Germ Killing Facewash
Benefits:
Kills germs

Light gel texture

Removes impurities, nourishes, moisturizes, and keeps face germ-free

Non-comedogenic

Gentle on your skin, tough on dirt, pollution, and germs
Enhanced Properties:
Enriched with tea tree oil, a natural antiviral and antibacterial agent

Enhanced with vitamin E beads that nourishes the skin

Enriched with cucumber extract that moisturizes the skin and keeps it soft

Enriched with aloe vera extract that soothes and calms the skin

Infused with turmeric extract, an anti-inflammatory that reduces irritation and pigmentation

Infused with sandalwood extract, an antiseptic that purifies the skin

Infused with tulsi oil, an antifungal that treats infection and other skin ailments

Contains chlorhexidine known for its disinfectant powers

Free from parabens and SLS

Contains natural extracts

Suitable for all skin types

Cruelty-free