Post Holi Beauty Routine: Holi Skincare Tips & Hair Care After Holi!
Colour smeared faces, house parties, chemicals or just the sound of the vibrant festival of Holi, if you've enjoyed this festival by jumping into a pool of colours, GREAT! That's how it's meant to be. Going organic is the current trend, but just in case you decide to let loose and go with the flow, here are a few after Holi skin care tips & post Holi hair care tips you definitely need to know once you get back home from that crazy Holi party. Scroll down for some of the best after holi skin care & hair care tips!
Don't scrub your skin too hard 
In the quest to get rid of every inch of colour that clings onto your skin, make sure you don't damage it. One of the best post Holi skin care tips is to use lemon wedges. Use lemon wedges to get rid of the colour from your skin. Gently rub it on all affected areas, leave it for 10 mins and wash it off with lukewarm water. Lemon contains natural acids that can help you get rid of not only the harsh colour but also the dust and dirt that it attracts. Alternatively, you can also get rid of the colours using glycerin.
Source: Freepik.com
Gentle homemade scrub
One of the best Holi skincare tips post Holi is to scrub your skin. Gently scrub your skin with a mixture of gram flour and milk/rose water. Massage the pack on your skin, leave it for 10 mins and scrub it off slowly. This helps in getting rid of the stubborn colours from your skin.
Source: Freepik.com
Hair care after Holi party? Your hair craves all the post-Holi care as much as your skin does. So, one of the most effective Holi hair care tips is to deeply condition your hair. Make sure you wash the colours off your hair as soon as you get home from your party when the colours are still wet. Wash your hair with a moisturizing shampoo followed by deep conditioning. Repeat this step twice if need be. Make sure you get rid of all those chemicals from not only your scalp but also the shafts of your hair. Don't forget to apply a leave-in conditioner at the end of it.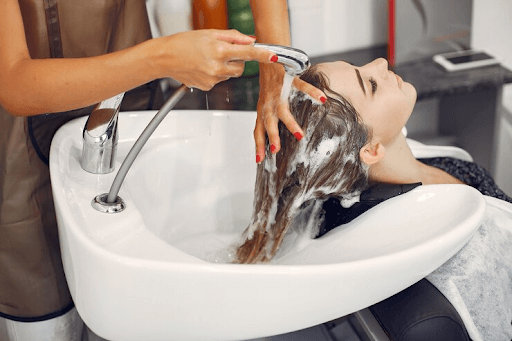 Source: Freepik.com
Moisturize 
After all the torture your skin goes through, it is extremely important to apply lots of moisturizers to your skin at the end of the ritual. This could be in the form of a nourishing body lotion, olive oil or even coconut oil. This after

Holi skincare tip

makes sure your skin doesn't lose its elasticity and remains supple.
Source: Freepik.com
Avoid Parlour Sessions Or Makeup 
Another post Holi skin care tip is to avoid any parlour sessions or makeup on your face. Since you've just played Holi with colours, you should allow your skin to breathe. At least wait for 2-3 days to apply any layer of makeup or parlour treatment to your face.
Source: Freepik.com
Shower twice 
Another post Holi hair care tip is to shower twice for better results. Once you apply loads of moisturizer to your skin after your first shower, make sure you take a warm shower a couple of hours before going to bed. The moisturizer loosens the pores and gets into it allowing the residue of the colours that have penetrated into the deeper layers of your skin to come off.
Source: Freepik.com
Follow Homemade Treatments
After you've played Holi, you should stick to homemade treatments on your hair. Be it oiling your hair, avoiding hair styling, or using homemade masks, these homemade treatments will let your hair become healthy again.
Other Related Stories
Pre & Post Holi skin and beauty care tips: To keep your skin and hair protected & glowing before & after Holi, we've curated some of the best beauty care tips.
Holi makeup looks Hit the link for some amazing Holi makeup looks you can try to stand out in the crowd this year!
how to remove holi color from hair - If you want to remove holi color from your hair then here are some effective tips for your hair.
So, now that you have all the amazing after Holi skincare tips and hair care tips, hope we've got you covered!
Source: Freepik.com