Are you clueless about how to style your short haircut for parties? Well, you're in luck because I made a list of trendy and chic party hairstyles for short hair that are about to win your heart. From braids to ponytails and even the ideal styling products, here's everything you need to know about how to style short hairstyles for a party. Check them out!
Party Hairstyles For Short Hair
Check out these amazing party hairstyle ideas for short hair.
Wet Party Hairstyle For Short Hair
Short hair can be easily styled with gel for a wet hair look. And I find this hairstyle to be super easy to create when I'm running short on time. Quick fix but chic!
Brushed Waves Party Hairstyle For Short Hair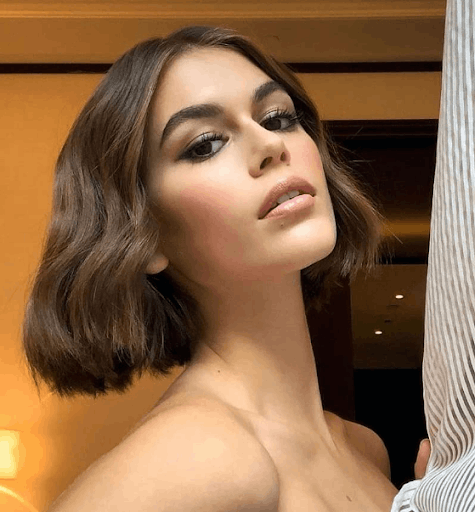 This hairstyle is super classy, TBH. I tong my hair with a curling iron and then brush out the curls to get these smooth and dainty waves.
Tucked Party Hairstyle For Short Hair
Centre part your hair and then tuck both sides behind your ears. You can use a clip or a pin but I usually apply somegel only to this area. To further enhance this hairstyle, I like to straighten the rest of my hair to make it sleek.
Smooth Party Hairstyle For Short Hair
When in doubt, I always opt for a smooth rounded blow dry and tuck one side of my hair behind my ears.
Curly Party Hairstyle For Short Hair
If you have curly hair, simply letting your natural hair texture shine makes for a great party hairstyle for short hair. Use a heat protectant and then blow dry with a curly hair diffuser.
Ponytail Party Hairstyle For Short Hair
This is an easy party hairstyle for short hair that I wear on repeat. I simply detangle my hair and tie it in a low ponytail. I straighten out the face framing pieces with a flat iron for a polished look.
Balayage Party Hairstyle For Short Hair
Rocking a chic hair colour like the balayage will keep your hair party ready always. All you have to do is just blow dry and go.
Accessorised Pixie Cut Party Hairstyle 
If you have a pixie cut, simply put on a bejewelled hair clip or tiara to keep it fancy and fab.
Party Hairstyle For Short Hair With Bows
I cannot wait to try this half-up party hairstyle for short hair with bows. The idea is to create two ponytails at the top and style them with cute pink bows.
Wavy Party Hairstyle For Short Hair With Barrette
This wavy hairstyle is perfect for a party as it also has a chic hair accessory. Style your hair with a curling wand and then put on a hair barrette with faux pearls and stones.
Half-Up Party Hairstyle For Short Hair
A messy half up hairstyle like this can be created on unwashed hair too. Simply work in some dry shampoo on the roots and straighten the ends. Then tie half of the hair up in a bun.
Boho Braids Party Hairstyle For Short Hair
Create one or two braids from the front and pin them at the back. It looks very bohemian and trendy.
Simple Side Part Party Hairstyle For Short Hair
The side parting has made a comeback in 2023. I like to blow dry my hair smooth and then create an angular side parting to best suit my face shape and give my hair more volume.
Bob Party Hairstyle For Short Hair
This is a chic bob haircut that has loads of volume and movement. It is centre parted to look more neat and sophisticated.
Wolfcut Party Hairstyle For Short Hair
This is a haircut trend that suits all hair textures and hair lengths. It looks especially good on short hair and is perfect for parties. This haircut has tons of layers and a fringe.
MyGlamm Recommends:
MYGLAMM SUPERFOODS ONION & MORINGA HAIR OIL
This hair oil helps strengthen and thicken my hair. It is a great pre-shampoo treatment to prevent hair fall and boost hair volume and shine.
MYGLAMM SUPERFOODS PASSION FRUIT & OLIVE CONDITIONER
I love using this passion fruit-infused hair conditioner because it literally makes my hair super soft and bouncy. It also helps me pull off party hairstyles with ease.
MYGLAMM SUPERFOODS MANGOSTEEN & AVOCADO HAIR MASK
Indulging in this deep conditioning hair mask once a week keeps my short hair healthy and nourished. It boosts shine and makes my locks smooth and bouncy.
Each of these party hairstyles for short hair are on my wishlist this season. I cannot wait to rock each of them to the upcoming parties and events I'm attending. 
Related post
Looking for the perfect date hairstyle for Valentine's day? Here's a list of the cutest hairstyle ideas.
Do you have oily hair? If yes, these hairstyle ideas are just what you need to ensure your locks look fresh and stylish no matter what.
Whether it's for a wedding or a festival, these gajra hairstyles are so beautiful, you will want to try them all. Read on to find the best ones for your traditional outfits.
If you want to experiment with your look, dreadlock hairstyles are just the ticket. Here are some of the best dreadlock hairstyle ideas to get you inspired.