15 Korean Hairstyle For Girls That Are Super Trendy At The Moment
Image courtesy - Instagram
When it comes to all things beauty, you cannot deny the Koreans their fame. From skincare to makeup to hair, they're always on top of their beauty game –– making way for new trends that are sure to take on the rest of the world. Just like the rest of the K beauty industry, Korean hairstyles are pretty popular. And if you're a K drama fan, you'd know how simple and effortless these hairstyles look. Ranging from short to long, there's something for everyone. Scroll down to see 10 Korean hairstyles for women! From glamorous 'dos to everyday ones, you're bound to find a hairdo you love. 
Different Korean Hair Styles for Female 
Remember, the key to K beauty is to look youthful rather than mature. A lot of Korean hairstyles involve bangs or soft curtain fringes that frame your face and make it look younger. Scroll down to see the different Korean hairstyles for girls and women.
Korean Hairstyles For Long Hair
Long hair is pretty fun to style, isn't it? Check out these Korean hairstyles that are perfect to pretty up those long, long locks!
1. Pony Up
Image courtesy - Instagram
Tie your hair back into a loose ponytail, with slight waves at the ends. Secure the ponytail with a hair tie that adds a little style to the hairdo. Let your bangs loose in the front of your face, to give it a soft touch.
2. Voluminous Waves
Image courtesy - Instagram
Go big or go home! This Korean hairstyle uses large waves to add volume to your hair. Tong your hair with a large barrel hair curler. Run your fingers through them to loosen out the curls. Apply a little serum and you're good to go!
3. Accessorise Away
Image courtesy - Instagram
Go for a messy ponytail with this Korean hairstyle. Make sure you first style your hair with some beachy waves. Tie it up in a high ponytail and secure it with a plain hair tie. Top off your plain hair tie with a huge scrunchie –– this'll add a whimsical look to your hairstyle. 
4. Braided Bun
Image courtesy - Instagram
Classic and stylish, this Korean hairstyle gives your updo a little bit of an elegant touch. Twist your hair into a braid, apply a little hair oil to flatten the frizz. Twist it into a low bun and add some accessories to hold it together.
 5.

Double Ponytails
An alternative to the classic high sleek ponytail is this double ponytail Korean hairstyle. It's one of the cutest and simplest hairstyles you can make. All you got to do is shampoo your hair, condition them for softness, and comb and midpart your hair. Then make 2 low ponytails and tie them on each side. And it's done!
Korean Hairstyles For Short Hair
Take your short hair to the next level with these easy-to-do hairstyles. Scroll down to see the best Korean hairstyles for short hair, that are quick and absolutely easy to recreate. 
6. Wavy Fun
Image courtesy - Instagram
Got a short bob? Style your hair by wearing it wavy and applying a whole lot of haircare products to hold the waves. Keep your bangs straight, however, the rest of your hair needs to look a little messy and undone.
7. Straight & Sleek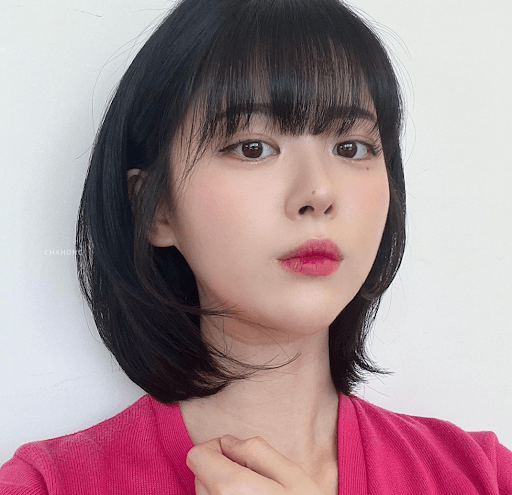 Image courtesy - Instagram
Give your hair a bit of a blowout with this Korean hairstyle. After a good shampoo wash, blow dry your short hair so that it curls inwards. Do the same for your bangs. Make sure you use conditioner to smoothen and soften your hair, so that there are no flyaways ruining your hairstyle.
8. Bun It Up
Image courtesy - Instagram
Tie your hair back into a low twisted bun. Use a fine toothed comb to flatten any strays and give your crown area a neater shape. Pull out a few strands of hair from the front, so that it frames your face.
9. Classic Bob

Korean Hairstyle For Girl

For every girl who seeks a sophisticated and chic look, this

Korean hairstyle

is just perfect! It's such an easy hairstyle to make and carry. All you need to do is to straighten your hair perfectly and apply some hair serum for an added shine. That's it!
10 . Purple Wavy Hair With Bangs
Here's another cool Korean hairstyle that's perfect for women who love experimenting with their looks! Create those soft waves on your hair and colour them purple for that oomph factor. For a little extra magic on hair, you can complement this Korean hairstyle with bangs too.
Korean Hairstyle For Medium Length Hair
The best of both worlds, medium length hair is totally fun to style. Scroll down to see Korean hairstyles for medium hair. 
11. Beach Waves
Image courtesy - Instagram
Go with the wet look with this Korean hairstyle. After you've created beachy waves on your locks, make sure to use a wet gel to set it. Run your fingers through your hair so that it appears a little more ruffled.
12. Half 'N' Half
Image courtesy - Instagram
Pull half of your hair up into a medium top knot. Make sure it is a little messy, and not very sleek. This Korean hairstyle works for both wavy or straight hair.
13. Straight Up
Image courtesy - Instagram
Wear your hair straight, sleek, and blow dried with this Korean hairstyle. Pro tip: use dryer sheets to remove static and prevent hair from frizzing up. You can also straighten your locks with a straightener, this'll make it poker straight.
14. Layered Away
Image courtesy - Instagram
Layers look great on medium-length hair, especially when you have light curtain bangs to go along with it. This Korean hairstyle makes for an elegant hairdo.
15.

Ribbon Bun

Korean Hairstyle
The ribbon bun Korean hairstyle is one of the most popular hairstyles in Korea. It's an easy-to-make hairstyle that captures the attention of people and turns heads in the crowd. To add a little bit of extra sass and style to this hairstyle, you can tie a red ribbon around your hairdo. And it's done!
MyGlamm Recommended Products:
MyGlamm SUPERFOODS Onion & Moringa Shampoo
Infused with natural ingredients like Onion, Moringa and Shikakai, this shampoo helps control hair fall, nourishes roots, removes scalp buildup and makes hair stronger too.
MyGlamm SUPERFOODS Onion & Moringa Conditioner
MyGlamm's SUPERFOODS Onion & Moringa Conditioner is formulated with natural ingredients and is free from harmful chemicals. From nourishing hair, and fighting frizz to preventing split ends, this conditioner is worth trying hands-on.
MyGlamm SUPERFOODS Onion & Moringa Serum
It's one of the most professional hair serums you can even try! This hair serum leaves your hair soft, fights dryness, combats hair breakage and protects your hair from harmful rays. So go ahead and fall in love with your hair once again!
FAQs
What Is The Most Popular Hairstyle In Korea?
It varies from long layers to short bob cuts –– however, most of the hairstyles involve bangs or fringes that soften the face and frame it.
How Can I Get Korean Hair?
While Korean hair is mostly genetic, you can follow a Korean haircare routine that will help you grow healthier and stronger hair like the Koreans.
What Is A Korean Girl Hairstyle Called?
The most popular Korean haircut is the side-swept pixie style.
Related Articles
Modern Hairstyle For Lehenga - Looking for a pretty hairstyle to amp up your lehenga look? Check out these modern and fun hairstyles that pair perfectly with your lehenga.
Hairstyles For Thin Hair - Volume is key when it comes to dealing with thin hair. Follow these hairstyles if you want to fluff that mane with the most stylish options ever.
Hairstyles For Long Hair - It's tap into your creative side! Have fun with your locks –– check out these hairstyles for long hair.
Hairstyle For Oval Face - Your hairstyle can either make or break the shape of your face. Here are some hairstyles that suit your oval face perfectly.
Medium Haircut For Girls - Chop chop! If you're looking for a refreshing cut that's not too long or not too short, we've got some inspiration for you. Here are some medium haircuts that are perfect for girls.
Korean makeup looks: Have you tried korean makeup looks? Then check this out.
If the K drama or K-pop fever is looming over your heads, then you're going to love these Korean hairstyles for women. From short to long, layers to buns there's a hairstyle to tickle everyone's fancy.
Also, Look For
Popular Categories
Makeup Products | Skincare Products | Hair Care Products | Bath & Both Products | Sanitizing Care Products | Lip Makeup Products | Face Makeup Products | Eye Makeup Products | Nail Makeup Products | Makeup Kits | Bridal Makeup Kits | Lipstick Set | Makeup Accessories | Cleansing Products
Trending Searches
Lipstick | Cleanser | Foundation | Nude Lipstick | Highlighter | Matte Lipstick | Liquid Lipstick | Nail Polish | Lip Balm | Sunscreen | Face Wash | Compact Powder | Lip Gloss | Eye Kajal | Eyeliner | Face Blush | Concealer | Lip Tint | Shampoo | Mascara | Eye Shadow | Face Primer | Crayon Lipstick | Face Serum | Hair Serum | Lip Liner | Hair Oil | Loose Powder | Pink Lipstick | Brown Lipstick | Purple Lipstick | Red Lipstick | Peach Lipstick | Sheet Mask | Night Cream | Sindoor | Moisturizer |