10 Celeb Approved Bold Makeup Looks That Take You From Bland To Bougie
I've always called myself a minimalist. But I'm not so sure anymore. Because my fav B-Town celebs have decided to ditch the theme altogether. They're playing around with makeup involving bold lip colours and heavy-handed flicks of kohl now, and I like it. 
This shift has inspired a change in me. I'm going to recreate these bold makeup looks ASAP, and I think you should too. I've put together a mood board for you to draw inspo from, and I promise you're going to love it. It's time for a transformation, don't you think?
10 Celeb Approved Bold Makeup Looks To Try Out ASAP
Blue Bloom
Like Shanaya Kapoor, throw in a little bit of blue along the lower lash line to dramatise the eyes instantly. You can go in with some jet-black kohl along the waterline first. Pat some bright, shimmery blue eyeliner or eyeshadow right underneath, and you're done. Opt for something light on the lips and cheeks to prevent drawing any attention away from the eyes. Don't you love this bold eye makeup look?
Use: Manish Malhotra Beauty By MyGlamm Glitter Eyeliner - Jade Forest
Recreate the look with the Manish Malhotra Beauty By MyGlamm Glitter Eyeliner - Jade Forest. The eyeliner has a shiny, metallic finish that has an intensely pigmented payoff. And it lasts you more than 12 hours. It doesn't get better than this!
Kohl Katastophe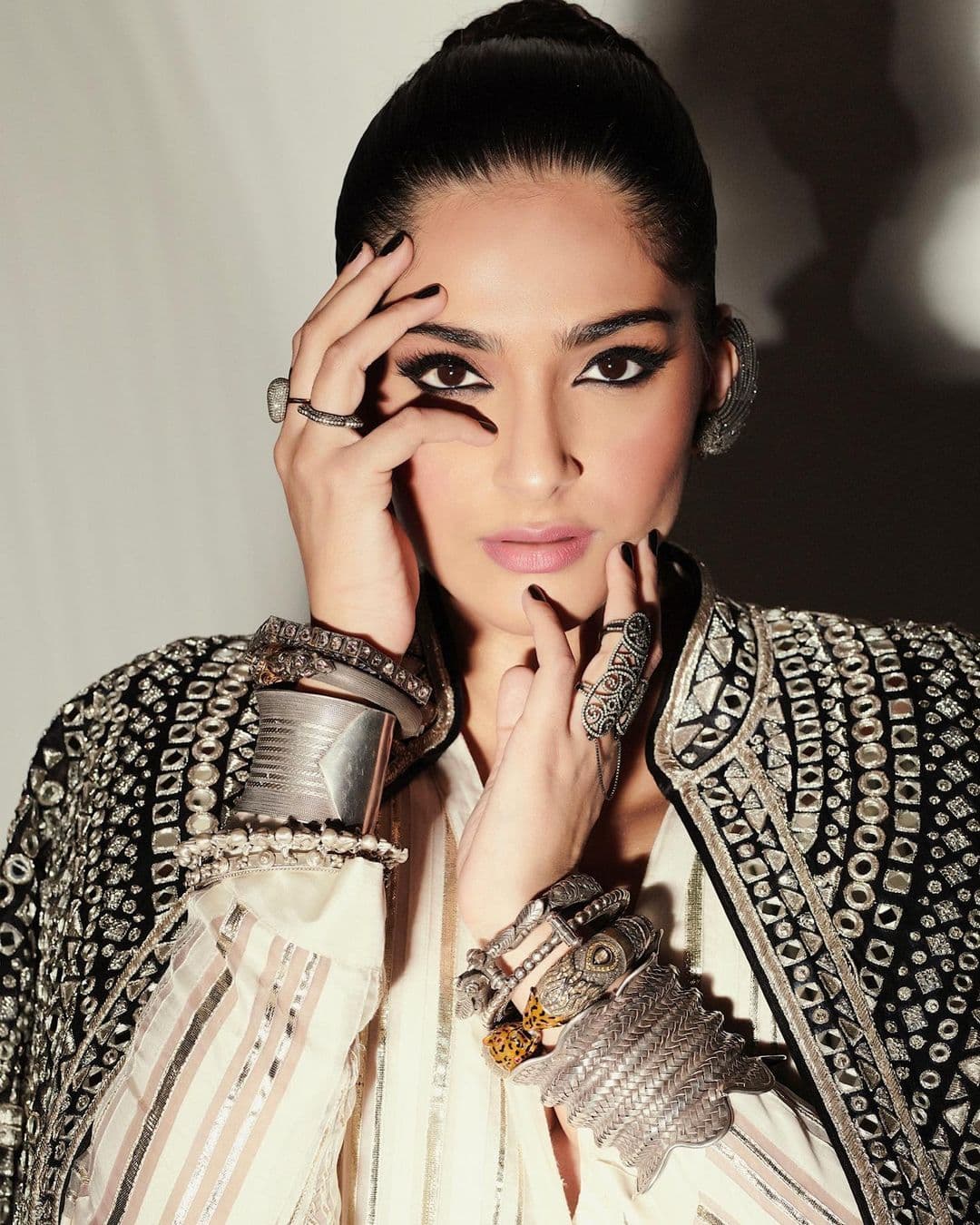 Sonam Kapoor's kohl-heavy look is simply stunning. Both the upper and lower lash lines are highlighted heavily. Bold cat-eye flicks are added to both lids. Even the inner-corners of her eyes are highlighted. This look is a sign that kajal is back, and how. 



Blood Bath
Ananya's blood-red lip does all the talking, and I'm listening. A classic, bold red lip is enough to elevate your look from bland to bomb. Panday's cheeks are slightly red and rosy to play into the aesthetic while the lids are simply sheer and glittery. 
Use: Manish Malhotra Foxy Red Lip Kit  
The Manish Malhotra Foxy Red Lip Kit contains a blood-red lipstick and lip liner that'll fill your lips in with colour in one single stroke. It's fiery, sassy, and bold — everything we love. 
Colour Coma
Deepika Padukone recently traded in her basic jet-black wings for bright blue ones. The result was poppy, playful, and fresh. She played around with pinks for the rest of the look. 
Edgy Emo 
Kriti Sanon's bold black eye makeup is gorg. She opted for an intensely heavy eye in this one. Her waterline is tightened with jet-black eyeshadow first. An eyeshadow of the same colour has been applied all around the eyes, on the upper and lower lids. The eyeshadow is winged out to create a more dramatic look. The rest of the elements are minimal. 
Use: POPxo Makeup Drama Queen Eyeshadow Kit 
Use the POPxo Makeup Drama Queen Eyeshadow Kit to recreate Kriti's look. It contains a jet black shade that you can paint the upper and lower lids with easily. Since the shades are enriched with Vitamin E, it'll soothe the skin and allow for better blending too.
Boisterously Bold
Deepika's Cannes look was all sorts of extra. The actress' lids were covered in black. Minimalism was thrown out of the window and Padukone even went in with falsies to exaggerate the look. A nude lip colour and bare lash line balanced it all out. 
Monotone Madness
Looking for a bold eyeliner look? Bhumi Pednekar's monotone yet dramatic eyes are a sight to behold. The actress loves the 'reverse eyeliner' trend, and I see why. You just have to draw your cat-eye flicks on the lower lid instead of the upper lid. Use a light purple lip colour and eyeshadow to replicate her look, and you're done. 
Use: MyGlamm Superfoods Kajal - Umber 
The MyGlamm Superfoods Kajal - Umber can do no wrong. Umber is a dark black shade that's just as long lasting as it is pigmented. It's infused with avocado oil extracts, Vitamin E & sunflower seed oil that nourish the skin around the eyes and make application seamless. 
Numbing Neon 
Like Priyanka, you can opt for a bright neon eyeliner. You don't really need to do anything else with your look. This little flick does all the weightlifting. Try matching your lip colour with your outfit like she has. 
Poppy Paradise 
Aishwara's look is a masterclass in maximalism, from the poppy purple lip colour to the bright blue eyeliner. Don't worry about having to balance things out. You can have more than one bold element in your look. 
Use: MyGlamm POSE HD - Merlot
Fill your lips in with the POSE HD Lipstick – Merlot. This long-wear matte lipstick is packed with pigment and feels so comfortable on the lips. Get it now!
Raging Red 
Sonakshi's bold eyeshadow look doesn't feature thick flicks or bold lip shades but a dramatic red eyeshadow. Notice how a little black is blended in the outer corners of the eyes for effect? Stunning!
I know I'm recreating these looks ASAP. 
Also Read: