Is Night Cream Actually As Important As Beauty Gurus Say It Is? Let's Find Out
Skincare routines aren't a one-size-fits-all kind of formula. They require thought and customisation not only based on your skin type, but also based on your needs. And that is why you have a daytime routine and a nighttime routine. Your AM routine is more lightweight and focuses on protecting your skin through the day, while your PM routine is all about working overtime to repair your skin while you catch your beauty sleep. Following the same concept, the benefits of night creams are far more than a simple moisturiser. They are rich in nutrients that instantly get working and help fix major skincare woes, while you rest up. Scroll down to see the benefits of night creams –– here's why it is an absolute must in your daily PM routine.
Benefits Of Night Cream
Moisturising is a necessity that you cannot negotiate in your skincare routine. However, a night cream goes that extra mile to repair, rejuvenate, and refresh your skin. Night creams often contain active ingredients that are a little too sensitive to the sun, and therefore work their best only when darkness falls. Check out the benefits of night cream and what makes this a better fit for your evening skincare routine.
An Instant Moisturiser
Night creams are often a lot thicker and richer in consistency than other moisturisers. This thickness ensures that your skin gets a whole lot more moisture while you sleep. A night cream ensures that your skin is replenished with the hydration it has lost during the day. This means you will wake up with softer, more supple skin, that's ready to face the harsh weather conditions head on. 
Soothes Away
Notice how light moisturisers are absorbed into the skin quickly? Well, one of the benefits of night cream is that it creates a protective barrier on your skin while you sleep and also, calms and soothes irritated skin overnight. So if you've got inflammation or redness, a dab of night cream is enough to calm your skin down, so that you can wake up to happy, refreshed skin.
Boosts Collagen
A lot of night creams come loaded with anti-ageing ingredients that not only fight the free radical damage from the day, but also boost collagen production in your skin. More collagen entails tighter and firmer skin, that doesn't look saggy. Fine lines and wrinkles are more visible when the skin looks dull, dry, and dehydrated, therefore one of the advantages of using night cream is that it makes your skin look supple and youthful.
Eliminates Toxins
Massaging night cream on your face before you head to bed allows you to stimulate a better blood circulation to your skin. This ensures that your skin is getting all the nutrients it requires to look and feel youthful. A good circulation also flushes out the bad toxins that tend to pull your skin down and make it look dull.
Preps Skin For The Next Day
When your skin is moisturised and hydrated, it radiates a glow that comes from within. Using a night cream helps you to create a protective barrier that prevents the daytime deterrents from getting in the way of that glow. It even allows for better absorption of other skincare products you plan on slathering the day after. 
Aids In Skin Cell Renewal
Night is when your skin works a little extra to heal itself and produce fresher skin cells. One of the benefits of night cream is that it helps speed up the healing process, and allows your skin to renew itself a lot faster and quicker.
MyGlamm Recommends Best Night Creams 
When reaping the benefits of night creams, you need to ensure that you opt for the correct skincare products in your routine. Go for night creams that hydrate, moisturise, and leave your skin with a radiant glow that sustains all through the night (and the next day).
Manish Malhotra Cinnamon Ginger Night Gel
St Botanica Pure Radiance Night Cream
An intense night cream that feels lightweight on the skin, this product re-energises your skin and leaves it looking well-rested and fresh. Formulated with vitamin C, E, and B3, it improves your skin's elasticity while fighting free radical damage and creating a protective layer on it. The unique formula slows down the signs of ageing too. Enriched with hyaluronic acid, jojoba oil, Moroccan argan oil, this night cream intensely hydrates and moisturises the skin, leaving it very soft and supple. The lemon peel extract aids in lightening dark spots and blemishes, giving you a radiant glow.
Rs 1,519
Buy here
The Mom's Co Natural Age Control Night Cream
Enriched with bakuchiol and niacinamide, this night cream helps reduce the appearance of fine lines, wrinkles, and dark spots. The formula also contains hyaluronic acid, which aids in boosting skin's elasticity, leaving it with a youthful glow. Thanks to the sea buckthorn oil and chia seed oil, it improves blood circulation and leaves your skin feeling rejuvenated and repaired.
Rs 678
Buy here
St. Botanica Pomegranate Radiant Glow Night Cream
A rich night cream that is loaded with vitamins, natural oils, and botanical extracts, the formula contains pomegranate seed oil, vitamins C and E, retinol, moringa oil, and hyaluronic acid. All the ingredients work together to fight the signs of ageing, while intensely hydrating and moisturising your skin, without being too heavy or greasy. Say goodbye to fine lines and wrinkles, dryness and dull skin with this cream.
Rs 799
Buy here
Organic Harvest Daily Nourishing Night Cream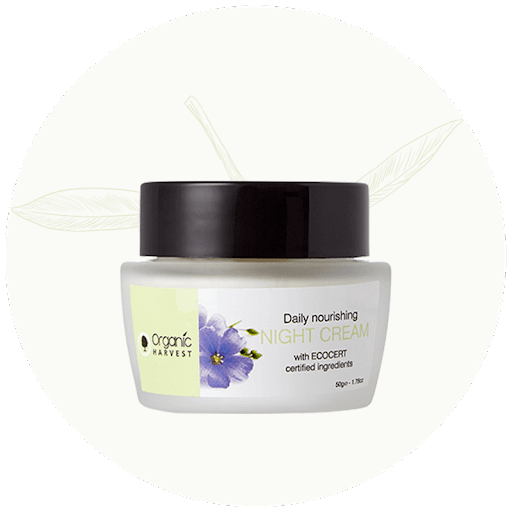 An antioxidant rich night cream, the formula of this skincare product is a great one to stimulate collagen overnight. Perfect for extremely dry skin, it helps repair damage, while moisturising the skin and reducing the signs of ageing. It also brightens the skin and takes away any dullness or uneven texture.
Rs 746
Buy here
Related Stories
4 Step Nighttime Skincare Routine For Sensitive Skin - Sensitive skin requires a little extra care and effort. Follow this four step nighttime routine that is perfect for skin that tends to flare up very easily.
Hydrating Face Creams - The best face creams are meant to hydrate, hydrate, hydrate. Check out these amazing hydrating face creams that'll keep your skin moist and nourished constantly.
Difference Between BB And CC Cream - Want to go down the tinted cream path? Here's everything you need to know BB and CC creams and which one is perfect for you.
Best Night Cream for Glowing Skin - check out these best night creams for glowing skin
Night cream for oily skin: Are you looking forward to find the best night cream for your skin care routine? Then you should read this.
Cinnamon Benefits for Skin : From reducing ageing signs to making lips plump, here are all the benefits of Cinnamon for your skin.
There's a huge difference between lightweight moisturisers and night creams. The benefits of night creams really help enhance your skin quality and actually work double-time when you sleep.
Image courtesy - Unsplash