People's Choice Awards 2019: 7 Stunning Red Carpet Makeup Looks
It's award season, and you know what that means! More celebrity makeup inspired looks you'll want to try ASAP. Last night was the star-studded People's Choice Awards 2019 and it was a stylish affair. Your favourites put their most fashionable foot forward with their amazing outfits and gorgeous makeup. From influencers to A-listers, anyone who's technically a household name was honoured at this event and the diversity on the red carpet gave us some major makeup inspiration. Here are some of our top picks from the People's Choice Awards 2019. 
Zendaya


Link: https://in.pinterest.com/pin/136022851233251979/
Zendaya has no problem stealing the show wherever she goes. The actress looked elegant at the 2019 People's Choice Awards in her jaw-dropping black gown with waist cut-outs. But it was her makeup that really caught our attention. If you were nervous about rocking orange lipstick, well, now you can learn a thing or two from this Euphoria actress. Zendaya rocked a bright coral lipstick along with matte brown eyeshadow, neatly lined eyes and blushed cheeks.
Kim Kardashian


Beauty queen Kim Kardashian looked stunning at the People's Choice Awards in her vintage outfit and subtle makeup. Her contoured face, nude lipstick and long lashes matched her snakeskin print gown perfectly.
Jenna Dewan


Link: https://www.usmagazine.com/stylish/pictures/peoples-choice-awards-2019-red-carpet-fashion-dresses/lucy-hale-18/
Jenna Dewan was the lady in red at the 2019 People's Choice Awards. The actress showed off her growing belly bump while sporting monochromatic makeup which enhanced her pregnancy glow. Her bright red lipstick, rose-colored blush and matching eyeshadow helped complete her entire look.
Jennifer Aniston


Link: https://www.instagram.com/explore/tags/jenniferaniston/?hl=en
Jennifer Aniston received the People's Icon award and we're not surprised! In fact, we're shocked she didn't receive it years ago. The actress gave an emotional speech on receiving her award and even thanked her F.R.I.E.N.D.S co-stars. While it was her iconic hairstyle that captivated an entire generation back in the day, yesterday it was her barely-there makeup that left us all mesmerized. Neatly lined eyes, mascara coated lashes, nude lipstick and rosy cheeks were all she needed to look absolutely gorgeous.
Alessia Cara


Link: https://www.instagram.com/p/B4tPpRhnbZJ/
Alessia Cara opted for a daring makeup look at the 2019 People's Choice Awards. Her purple smokey cat-eye, pink lips and rosy cheeks added a touch of glamour to her casual outfit.
Sarah Hyland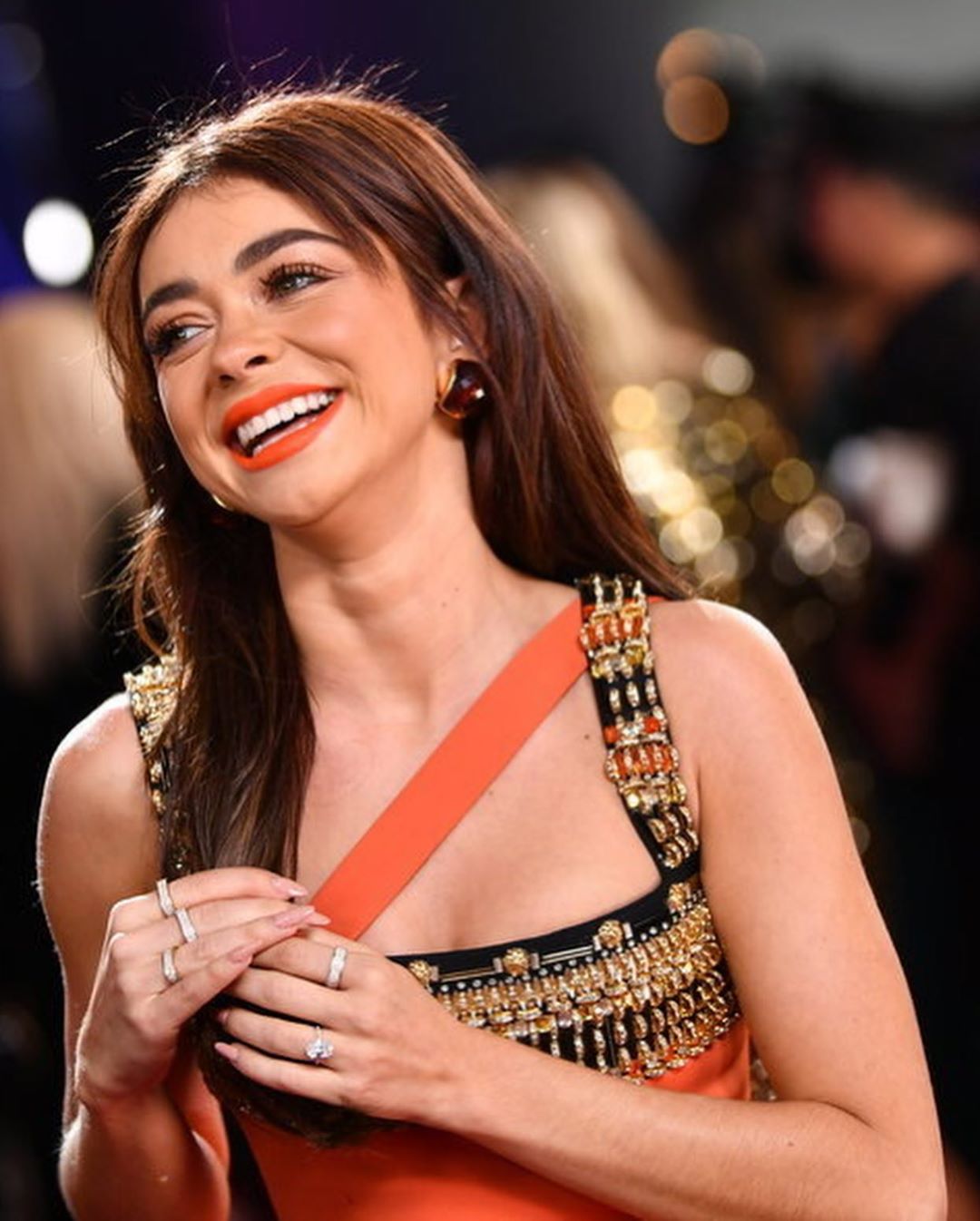 Link: https://www.instagram.com/p/B4twWC_AU6L/
Seems like orange was the most popular lipstick shade at the 2019 People's Choice Awards. Modern Family star Sarah Hyland effortlessly rocked her bright orange gown along with her matching lip colour. She completed her makeup look with shimmery bronze eyeshadow, tightly lined eyes and mascara coated lashes.
Kelly Rowland


Link: https://www.instagram.com/p/B4tm7hSB_wS/
Kelly Rowland was a showstopper at the 2019 People's Choice Awards with her elaborate gown and on-point makeup. The singer stole the show and proved that she can rock bold eyes and lips effortlessly with her scarlet red lipstick, silver covered lids and who can miss those long lashes. 

Read More:
6 Kim Kardashian Makeup Looks That Are Perfect For Work

Emmys 2019: The Best Red Carpet Beauty Looks