6 Best Bridal Makeup Looks From Iconic Bollywood Movies
It's wedding season and if you're a bride-to-be, then it's totally normal to be freaking out about everything, including your makeup for the big day. After all that planning, you'd obviously want everything to be perfect. And since the cinematic universe plays an important role in helping us decide our fashion and beauty choices, we've gathered the best bridal makeup looks from the most iconic Bollywood movies that will make your BIG day less stressful. 
Bridal Makeup #1 - Anushka Sharma in Ae Dil Hai Mushkil

Link: https://in.pinterest.com/pin/419045940320665580/
While Anushka Sharma looked stunning in her Manish Malhotra ethnic lehenga, it was her bridal makeup that stole the show. Her soft smokey eyeshadow & dark eyeliner added definition to her eyes, and her heavily blushed cheeks added a beautiful healthy glow to her face. Since she went heavy on the eyes, a simple nude lip shade was enough to complete her entire look. 
This makeup look is perfect for those who don't want to go to heavy on their makeup but still want to make a statement.
Bridal Makeup #2 - Aishwarya Rai in Jodhaa Akbar

Link: https://in.pinterest.com/pin/747667975619304049/
If you want to leave all the heaviness to your outfit and jewellery, then take a hint from Aishwarya Rai's bridal makeup look in Jodhaa Akbar. In the movie, the actress wore subtle makeup and brought all the attention to her eyes with a matte brown eyeshadow and a thin line of eyeliner on her upper lids. She completed her look with a pink lip colour and a red bindi.
Bridal Makeup #3 - Deepika Padukone in Chennai Express

Link: https://in.pinterest.com/pin/369224869424189050/?lp=true
Deepika showed us how glam South Indian brides are in the movie Chennai Express. For her bridal makeup look, the actress rocked mauve hued lips, a clean streak of eyeliner above and below her lash line, mascara and highlighter which was both subtle and glamorous.
If you're looking for something traditional with a touch of modern, then this is the makeup look you need.
Bridal Makeup #4 - Sonam Kapoor in Dolly Ki Doli

Link: https://www.pinterest.es/pin/437060338815309997/?autologin=true
While there were many bridal looks for Sonam in Dolly ki Doli, the one that stood out the most was when she played an elegant Muslim bride. She let her eyes do the talking with metallic lids, false lashes and dark eyeliner on her lower lash line. Highlighter and a pinkish nude lipstick were all she needed to complete this bridal makeup look. If you're looking to go all out without looking tacky when it comes to your makeup on your wedding day, then this is the way to go. 
Bridal Makeup #5 - Kajol in Kuch Kuch Hota Hai

Link: https://in.pinterest.com/pin/587579082603244379/?lp=true
Want to really stand out? Then take a note from Kajol in Kuch Kuch Hota Hai. While every bride wears gold on her wedding day, Kajol's character took it to a whole new level and totally slayed with subtle gold eyeshadow, voluminous lashes, a thin streak of eyeliner and gold lipgloss. She completed her look with highlighter on the high points of her face. While Kajol pulled off this makeup look, we don't recommend going for a full gold painted face. If you want to incorporate this colour in your bridal makeup, try using it on only one feature. 
Bridal makeup #6 - Deepika Padukone in Finding Fanny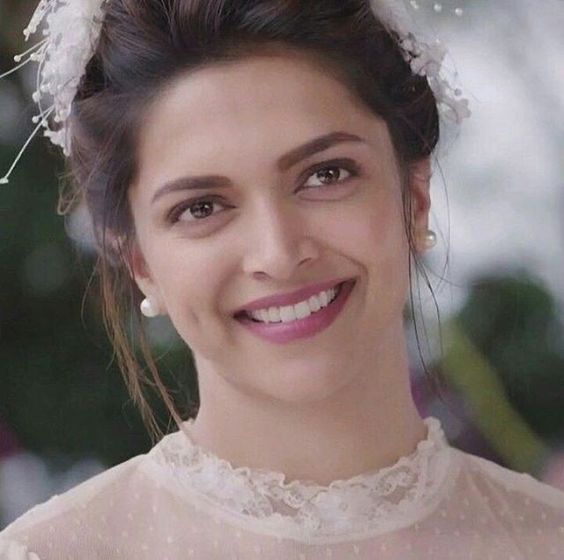 Link: https://in.pinterest.com/pin/809381364253703074/
Deepika makes it twice on our list, this time for her white wedding look. She shows us that you don't need heavy makeup to look good on your big day. For this look, Padukone looked effortlessly gorgeous with rosy pink lips, eyeliner on her upper lids and a bit of blush on her cheeks. With no major contouring or highlighting, she shows us that the 'less is more' ideology can apply to your wedding day as well. This wedding makeup look is perfect for the minimalistic bride. 

Read More: 
Add A Magical Touch To Your Bridal Makeup With This Product