5 Makeup Tips For Dusky Skin Toned Women Inspired By Deepika Padukone
It's 2020 and while we may not have hoverboards yet we do have foundation shades catering to every skin tone. No longer do women of colour need to walk around with their face and body two completely different shades. While the rest of the world has removed the stigma of only fair skin is beautiful, in India however, this concept is still gaining momentum, so dark skin beauties are left with little or no options when it comes to figuring out makeup looks to match their complexion. Luckily there are a few in Bollywood who are embracing their dusky skin, in turn giving other dusky skin toned girls out there some major makeup goals. Deepika Padukone is just one of these celebrities. This Indian beauty is not only a famous face in Bollywood but in Hollywood as well. She has been reinventing the notion of beauty and changing beauty standards in India ever since she came into the spotlight. While there are options when it comes to foundations, many dusky skin tone women are confused about the rest of their face makeup. So to celebrate Deepika Padukone's birthday we've compiled a list of her top 5 best makeup looks that are perfect for anyone with dusky skin tone.
Whether it's a minimal makeup look or going all-out, Deepika never fails to disappoint. So if you have dusky skin, take a page from Deepika's beauty guide and embrace your skin tone with the help of these makeup looks and tips for dusky skin tone women.
Makeup Tip #1 Bronzed Smokey Eyes
Figuring out the best eye makeup look for dusky skin tones can get a little confusing at times but if you're looking for a soft and subtle makeup look but still want your eyes to sparkle then this bronze eye look is perfect. A soft bronze smokey eye shadow on the lids, neatly lined eyes and a subtle nude lipstick with orange undertones left Deepika Padukone with a glowing luminous face and it can do the same for you.



Instagram: @lorealmakeup
Makeup Tip #2 Bold Red Lips
If you have dusky skin, you've heard the statement 'do not use bold lipstick shades' probably more than you should have but Deepika proved that no lipstick colour is off-limits for dusky skin tone women. Get people's attention wherever you go with bold brows and bold lips just like Deepika Padukone with a bright red lipstick shade.

Instagram: @deepikapadukone
Makeup Tip #3 Fresh Face
This 1-minute makeup look will leave anyone glowing. For those dusky skin women who don't want to go heavy with their makeup but still want to look put together then take a hint from Deepika Padukone's fresh-faced makeup look and opt for only a pinkish nude lipstick and highlighter.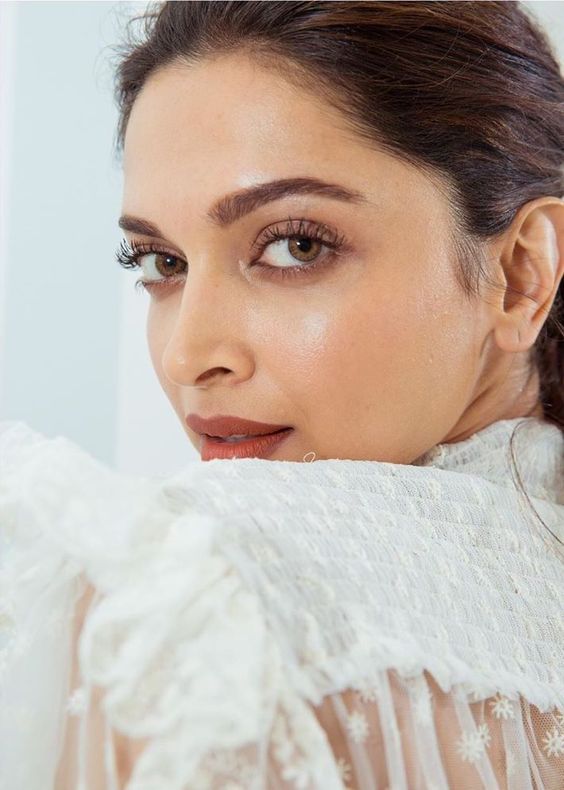 Link: https://in.pinterest.com/pin/309622543131840536/
Makeup Tip #4 Dramatic Cat Eye
Anyone can be daring with their eye makeup look, no matter your skin colour. Deepika Padukone shows us exactly how gorgeous a dramatic winged liner can look on someone who has dusky skin tone. This inverted cat-eye should be on every dusky skin tone woman's makeup to-do list.


Instagram: @deepikapadukone
Makeup Tip #5 Green Smokey Eye
Deepika Padukone has sported various smokey eyes but our favourite has to be the deep green eye makeup look and it seems like it's her favourite shade too. The actress has sported dramatic green eyeshadow on numerous occasions all of which made her look stunning. So if you have dusky skin, you have no excuse not to rock a dramatic green eyeshadow across your lids. If Deepika could do it then so can you. 


Instagram: @deepikapadukone


Read More: 
6 Best Bridal Makeup Looks From Iconic Bollywood Movies
IIFA Awards 2019: Best of Beauty